October 2014 FIDE Ratings
Just when we thought Magnus Carlsen (2863, -7) was heading for 2900, Fabiano Caruana (2844, +43) went on a rampage and netted 35 points at the Sinquefield Cup. He has tacked on a few more points at the FIDE Grand Prix in Baku and is edging closer as Carlsen prepares for his title defense against Viswanathan Anand (2785). Veselin Topalov (2800, +16) got a nice cache of points from the Sinquefield Cup putting him back in the 2800 stratosphere.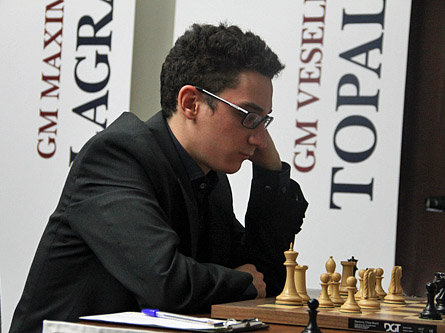 Fabiano Caruana, 2014 Sinquefield Cup champion!
Despite Alexander Grischuk (2797, +8) struggling in Baku and losing on time in a drawn position yesterday, he remains at the precipice of 2800. A subpar performance at the Sinquefield Cup took Levon Aronian (2793, -11) under the 2800 level for the first time since October of last year. He first joined the exclusive club in 2010.
Rounding out the top ten are Viswanathan Anand (2785) has been in top form lately recently winning the important Bilbao Masters. He will gain six points for that effort before challenging Magnus Carlsen for the world crown next month. The rematch has all the makings of a historic encounter.
The top ten is still a mix of veterans and youth with Anish Giri (2768, +10), Sergey Karjakin (2767, -10), Hikaru Nakamura (2764, -18) and Shakhriyar Mamedyarov (2764, +8) rounding out the top ten. Nakamura had a rough outing at the Sinquefield scoring 3/10. Vladimir Kramnik (2760) dropped from the top ten for the first time in decades.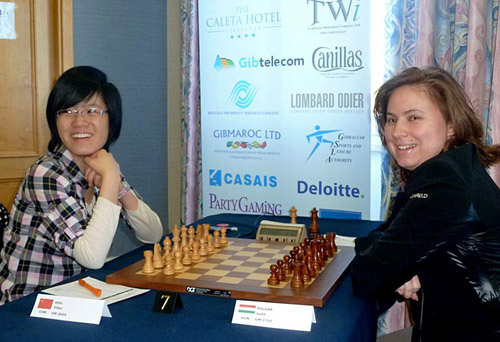 With the retirement of Judit Polgar, it is doubtful that we will see a professional match featuring the Hungarian legend and Hou Yifan. Here the two faced in a historic battle at the 2012 Tradewise Gibraltar Masters. Hou won this battle. Photo by Zeljka Malobabic © Tradewise Insurance Ltd.
For the women, a new order is on the horizon. After 25 years of dominance at the top of the women's chart, Judit Polgar (2675) is on the verge of being overtaken. Only two ELO points separate Polgar and Hou Yifan (2673, +10) after the world champion won yet another Grand Prix tournament in Turkey. No other woman has 2600 with Humpy Koneru (2581, -17) dropping out.
Ju Wenjun (2582, +21) has vaulted two positions to #3, but has yet to secure the GM title. Nana Dzagnidze (2570, +4) and Anna Muzychuk (2548, -3) are just ahead of the Russian gold-medal winning trio of Alexandra Kosteniuk (2542, -1), Valentina Guinina (2530, -10) and Kateryna Lagno (2530, -10). Dronavali Harika of India rounds out the top ten.
Of course Hou Yifan (2673) heads the girl's list as Guo Qi (2458) is 215 ELO points below her! The same could be said when Hou made her ascent behind Polgar and now is just two ELO points behind. Alexandra Goryachkina (2430) has been highly-touted, but has not improved her rating in the last year. Could this be another overhyped star? She's still very young, so perhaps success is around the corner in 2015. We will see.
GM Anish Giri
Photo by Fred Lucas.
For the Junior list, Anish Giri (2768, +10) has dethroned Teimour Radjabov (2726, +9) as the player with the most weeks at the top. He leads Richard Rapport (2720, +7) of Hungary who recently won a match against Czech's Viktor Laznicka (2666, -9). Yu Yangyi (2697, -3) is coming off of a sparkling performance in the Olympiad and Hou Yifan (2673, +10) has climbed up to #4 on the junior list. There is another Chinese at #7 in Wei Yi (2641).
The Russians are represented at the top with Vladislav Artemiev (2666) and Vladimir Fedoseev (2661). The top ten are a Dutchman, Indian and American. Robin van Kampen (2641), Santosh Gujrathi Vidit (2635) and Ray Robson (2628) close out the top ten.