2013 Florida State Championship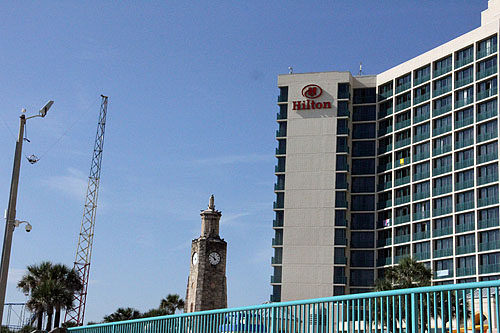 Daytona Beach Hilton Resort next to the famous clock tower and the carnival which featured the gravity-defying slingshot ride (upper left) where you are hoisted 300 feet in the air at 90 miles per hour. Drawback… $25.00 for this 90-second thrill. Photo by Daaim Shabazz.
Labor Day weekend is a busy time for chess is the U.S. Many of the state federations hold their state championships and the Florida Chess Association held theirs in Daytona Beach.
Poker star Ylon Schwartz made a surprise appearance at the Florida State Championship. Photo by lasvegasvegas.com.
The Southern Open held in July was the strongest Florida tournament in recent memory with four GMs, one IM and a slew of Masters and Experts. The Miami International franchise has long been abandoned and it was hoped that the Florida State Championship would attract a strong showing. Perhaps the prize fund was a bit modest, but what was surprising was to see poker star Ylon Schwartz among the 161 entrants.
Schwartz, a FIDE Master and National Master Miro Reverby were traveling together and had just competed in a poker tournament at the Seminole Hard Rock Hotel in Hollywood, Florida. Both players played the first two rounds won money in the blitz tournaments, promptly withdrew and headed to another poker tournament.
It turns out that the only prominent chess player entering was Orlando resident and defending champion, Danish Grandmaster Lars Bo Hansen. Southern Open participants such as GMs Yuniesky Quesada and Aryam Abreu were in North Carolina and Alonso Zapata was in Georgia. Former state champion Julio Becerra was also absent. However, players like FM Eric Rodriguez (2348) and several masters made the trip. In fact, Rodriguez played a thrilling last-round game against NM Corey Acor (2277) and could have won the title, but was held.
GM Lars Bo Hansen started off with a win over The Chess Drum's Daaim Shabazz. Photo by Daaim Shabazz.
The year's event was tougher than imagined for Hansen. After wins against Daaim Shabazz (2087) and Acor, he was held by Rodriguez and took a bye in the 4th round. This allowed both Rodriguez and scholastic star John Ludwig (2235) to catch him at 3/4. Hansen then dispatched of Ludwig while Rodriguez kept pace with a win over Ernesto Alvarez (2295).
After being under pressure the whole game and with his king in mortal danger, Ludwig beat back Alvarez's attack with …Bf5! There were various dangerous lines. In the post-mortem, Alvarez called Ludwig a "beast in tactics". 🙂
The last round would be a thriller as Hansen faced Antonio Arencebia (2219) and won a long encounter in a Caro Kann. Alvarez and Ludwig battled in a absolute tactical slugfest where white sacrificed a rook and attempted a mating attack on the exposed black king.
In the position on the right, Ludwig seems to be facing mortal danger as white has many threats. Ludwig walked a tightrope including sidestepping the win of exchange when white would have had a winning queen sacrifice. Ultimately, white sacrificed a rook and with raking bishops and pieces aimed at the black king, black had to parry many threats. Ludwig's …Bf5! saved the day.
Ludwig just threw …Bf5! on the board. Photo by Daaim Shabazz
FM Eric Rodriguez (right) pressed for the win against Corey Acor,
but came up short. Photo by Harvey Lerman.
The Florida State Championship had six sections (Open, U2000, U1800, U1600, U1400, U1200). The winners were:
The winners of the other sections were:
Under 2000: Eldon Bageant
Under 1800: William Barton
Under 1600: Matthew O'Brien (on tiebreaks) and Orson Curtus II
Under 1400: Chad Chavira
Under 1200: Charles Bell
The Chess Drum had a chance to speak to the winner of the event before the result was final (Rodriguez-Acor was still going). Hansen spoke on a range of topics such as his moving to Florida, USA, his chess idea, opinions of the world elite and the upcoming championship match.
Listen to GM Lars Bo Hansen!