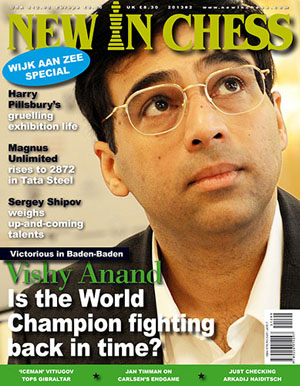 New in Chess has its usual splendor in the 2013/2 issue and it starts off with a bang. The letters section has a tome by GM Borislav Ivkov in response to GM Ivan Sokolov's critique of Ivkov's book, My 60 Years in Chess. Interesting that politics cannot escape chess.
Moving on… the new issue focuses on Tata Steel Chess Tournament held in Wijk aan Zee, the Netherlands. The 75th rendition of the tournament was celebrated for its longevity as much as the landmarks accomplished in its series. The latest was Magnus Carlsen's +7 tournament win and his vaulting to a stratospheric rating of 2872.
Despite his success there are many skeptics including GM Evgney Sveshnikov. Carlsen delivered a rather curt response. It appears that many veteran GMs from the former Soviet Union have nothing good to say about players who did not undergo classical training in chess. Carlsen, Hikaru Nakamura and the Asian players (except China's Wang Hao and Vietnam's Le Quang Liem) are often the targets of criticism.
---
"I think everyone is entitled to their own opinions. He's entitled to his, that I should have a more traditional approach and that Karjakin has better championship prospects. And I am entitled to my opinion that he's a grumpy old man."
~ Carlsen on Sveshnikov's critique of his play
---
Interestingly enough, this same issues features Jan Timman who goes into detail in refuting Sveshnikov with an article titled, "Carlsen's all-round understanding." He even proved his point by dissecting Carlsen's wins against Hou Yifan and 92-move win against Sergey Karjakin, the darling of many pro-Russian School pundits.
There was some analysis of Carlsen's formula of success and his physical fitness was indicated. You certainly need energy to compete against the best and especially someone with the pyrotechnic energy of Hikaru Nakamura. The story featured Carlsen's mauling of the American player.
However, youth and fitness are not the only thing that is important… experience and humility also help. World Champion Viswanathan Anand has exemplified these traits and seems to be rounding back into tournament form. On display was his fantastic win against Levon Aronian where he uncorked the quixotic 15…Bc5! and 16…Nde5!!
There were a coterie of good articles including one on Harry Pillsbury, the chess genius who succumbed to mental illness at age 33. These articles are very interesting because we seldom hear of these long forgotten personalities. Pillsbury was perhaps best known for his blindfold prowess. In one exhibition, he played chess, checkers, whist and recited long lists of words.
Never at a loss for words… GM Nigel Short, shown here making points at General Assembly. He writes an interesting piece on the quizzical nature of open tournaments. Photo by Daaim Shabazz.
GM Nigel Short gave his rather nuanced view of open tournament. Those who know Short knows of his complete disdain and abhorrence of these sweepstakes tournaments, especially those where several rounds in one day are held. Apart from analyzing how to traverse these tournaments, he gives some rather candid advice. If you are a professional, play in round-robins where the conditions are the best; if you are an amateur with a full-time job, go to a place where you can get a good vacation and play some good chess. It is actually very practical advice!
CONTENTS
NIC's Café
Your Move
2872, But Not There Yet
Three Metres from Heaven
Harry Nelson Pillsbury
The 'Iceman' Cometh
Beware: Brilliancy!
Open Sesame!
Fast Forward Fabiano
Carlsen's All-Round Understanding
Just Checking
Link: https://www.newinchess.com/New_In_Chess_2013_2-p-487.html