2012 Chess Olympiad: Round #9
Top Boards (Open)
USA 2½-1½ Russia
Philippines 0½-3½ China
Armenia 2½-1½ Germany
Poland 2-2 Azerbaijan
Ukraine 3-1 France
Miracle on Board? Nakamura topples Kramnik in gladiator matchup.
Photo by Daaim Shabazz.
Not exactly a miracle, but perhaps "shocking" is what is used to describe Russia's loss to the USA in round nine. With the irrepressible Vladimir "The Vanquisher" on top board, Hikaru Nakamura would have a stiff test given Kramnik's prodigious Olympiad record. As the match wore on, Onischuk had already drawn with Karjakin in a rather uneventful draw. Ray Robson was clearly worse against Jakovenko. Kamsky was in a favorable ending with a pawn plus while Nakamura was pressing with what was headed to a pawnless ending… Kramnik's menacing pawns moving forward.
Meanwhile Kamsky had obtained a theoretical winning B+R versus R ending which he duly converted. It now looked as if the USA was going to win the match despite Robson losing on board four. Nakamura had saved his last intermezzo in the form of the rare underpromotion, 62.c8(N)+! giving white the winning tempo to stifle black's rolling pawns. One-by-one, black pawns died and when Kramnik resigned a buzz went throughout the hall that Russia had lost!! Who would have picked the USA to be vying for a gold medal?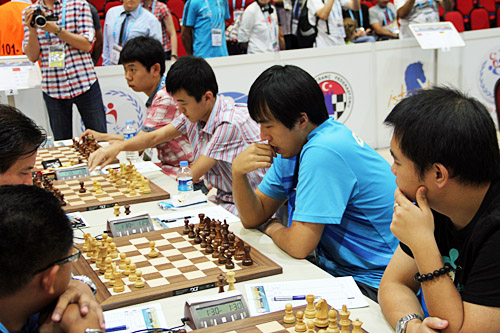 China ended the Filipinos' great run. Photo by Daaim Shabazz.
The Americans will have to face a surging China who is running through opposition with purpose. Ding Liren continues his demolition as he crushed the Philippines' Oliver Barbosa in 26 moves. Li Chao followed and Bu Xiangzhi beat the legendary Eugenio Torres with victory assured. The China-USA matchup will be a tough one as both will be determined to establish some distance.
Of course, Russia has a much easier pairing playing Argentina and they have already played all the top teams. Armenia is also lurking in the wings and has a date with the Giri-led Netherlands. Finally Azerbaijan gets a tough matchup with the Ukraine. Ivanchuk took his frustrations out on Vachier-LaGrave with a stunning piece sacrifice.
Top Boards (Women)
China 3-1 France
India 1-3 Russia
Kazakhstan 2½-1½ Uzbekistan
USA 1-3 Ukraine
Bulgaria 1½-2½ Poland
France couldn't stop China. Photo by Daaim Shabazz.
In lockstep with their male counterparts, the Chinese women are racing toward yet another gold medal after beating France 3-1. It was a matter of time before the absence of Marie Sebag would become apparent. France has certainly performed admirably. Russia kept on the heels of China beating India 3-1 who also misses their top player in the crucial round.
India is effectively eliminated from any medal hopes. The standings are China, Russia and the Ukraine (all undefeated) with matchups being China-Kazahkstan, Armenia-Russia and Ukraine-Poland. If China beats Kazahkstan, it would put tremendous pressure on the trailers to catch up. China will not look back.