2011 London Chess Classic
The four 2800-rated players will repeat (from the 2011 Tal Memorial) the headlining of a super-GM event as the London Chess Classic begins with the opening ceremonies on tomorrow. World Champion Viswanathan Anand and world's #1 player Magnus Carlsen will be joined by fellow 2800s Levon Aronian (new addition) and Vladimir Kramnik. Carlsen has won two years running.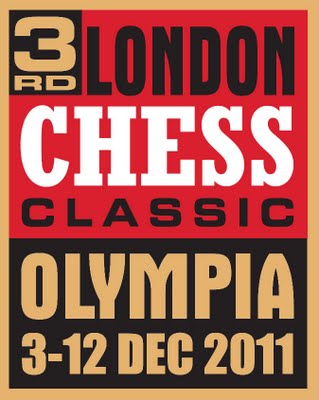 With Hikaru Nakamura in the middle of the pack, four English GMs will hold home turf in the last major event of the year. The English quadripartite will consist of GMs Michael Adams, Nigel Short, Luke McShane and David Howell. Every single player has a higher rating than last year, so we will see if there are any changes from the +2 margin of victory. Of course a non-traditional point system will be used.
The tournament is a single round-robin with time controls of 40/2 then 15 minutes with 30-second increment. "Sofia Rules" are in effect and will include the scoring system of three points for a win and one point for a draw. There will be a number of other tournaments concurrent to the Classic including a FIDE Open and a blitz tournament.
2011 London Chess Classic
December 3-12, 2011 (London, England)

#

Name

Title

Federation

Flag

Rating

1
Carlsen, Magnus
GM
Norway

2826
2
Anand, Viswanathan
GM
India

2811
3
Aronian, Levon
GM
Armenia

2802
3
Kramnik, Vladimir
GM
Russia

2800
4
Nakamura, Hikaru
GM
USA

2758
5
Adams, Michael
GM
England

2734
6
Short, Nigel
GM
England

2698
7
McShane, Luke
GM
England

2671
8
Howell, David
GM
England

2633

Official Site