Jamaican Women's Olympians (L-R): Deborah Richards (board 1), Margoe Williams (board 4), Annesha Smith (board 5), Krishna Gray (board 2) and Ariel Barrett (board 3). Photo by Ian Wilkinson.
Jamaica etched another fantastic chapter in its illustrious sporting history when the curtains came down on the 39th World Chess Olympiad in Khanty-Mansiysk, Siberia, Russia on the 3rd October, 2010. The Jamaican women crowned their country and region in glory by becoming the first team from the English-speaking Caribbean to win a category in the eighty-plus year history of the World Chess Olympiad.
Margoe Williams accepts Jamaica's 1st-place team trophy for Category 'E' winner.
Although largely inexperienced, with only captain WFM Deborah Richards having played at a Chess Olympiad before, the Jamaicans fought with pride and determination and improved with each round. In the process they recorded a Jamaican record nineteen (19) points and won category "E" (with approximately 20 countries) with some sterling performances including victories against countries such as Nigeria, Yemen and Qatar.
In addition to the landmark victory, Jamaica had the added bonuses of earning two new individual, international chess titles when Ariel Barrett and Margoe Williams were each awarded the Woman Candidate Master ("WCM") title for their performances.
With the squad of players growing stronger with coaching and participation in local and international events, even greater things should be in store for the future, especially at the 40th World Chess Olympiad scheduled for Istanbul, Turkey in 2012.
~ Peter Myers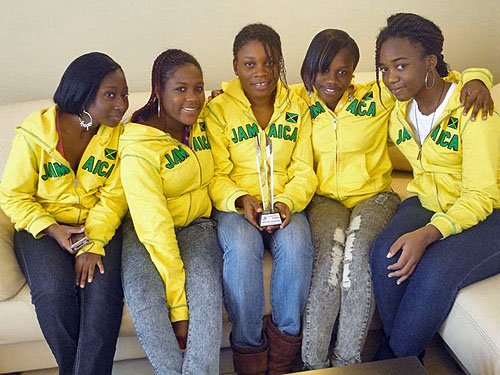 Jamaica: 2010 Chess Olympiad Category 'E' winners.
Photo by Ian Wilkinson.