Lessons learned for Botswana
Mosah Mokganedi, "We learnt valuable lessons – chess captain," MmegiOnline, 8 October 2010.
The captain of the men's chess team, Kenneth Boikhutswane, has said despite failure to bring home a medal, they learnt valuable lessons at the just-ended Olympiad in Khanty Mansiysk, Russia.
Boikhutswane said it was evident that the players need a coach because they failed to make appropriate decisions at crucial stages.
The Botswana men and women teams travelled to the Olympiad without a coach. Boikhutswane explained that in most cases, players use computer chess programmes to guide them during training. He said that locally, there is no coach qualified to handle national teams. But unlike other sport, playing without a coach in chess is normal.
Meanwhile, the women's team suffered a major setback at the Olympiad when Ontiretse Sabure was sidelined in the last five games due to illness. Boikhutswane believes the women team could have done even better with the services of Sabure. He said it was extremely cold in Russia and players found it difficult to cope.
Boikhutswane said from their experience in Russia, it is imperative to take the team through a rigorous training programme before major competitions.
Despite failing to bring home a medal, he said there was an improvement in the level of play. He said the Botswana team managed to match powerhouses like Russia. The men's team won four out of 11 matches and debutant Thabo Gumpo was singled out for a promising display. Gumpo scored 3.5 out of a possible six points.This was considered a good result as Gumpo was making his debut at the competition.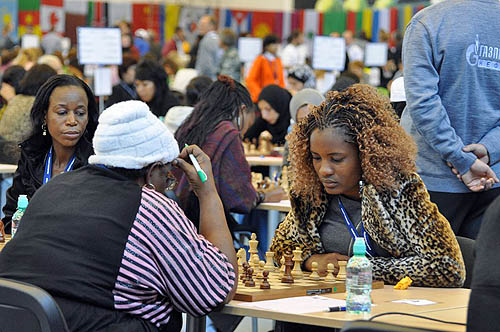 Botswana's Tshepiso Lopang in action while teammate Boikhutso Mudongo watches. Photo by chessdom.com.
The women's team gathered nine points after winning four games and drawing one. They were just two points away from winning a medal. Boikhutshwane said another positive from the Olympiad is that Ignatius Njobvu and Providence Oatlhotse have become Candidate Masters. It is also expected that some Botswana players will move up when the world rankings are released in November.
One of the players, Boikhutso Mudongo shared Boikhutswane's sentiments that the team needed a coach. She believes that they could have performed better if they had a coach. However, she expressed satisfaction with the overall performance.