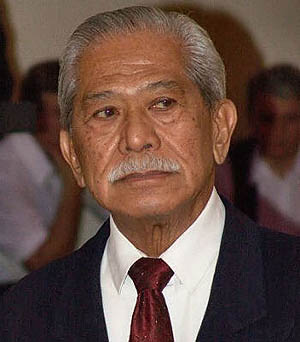 The Honorable Florencio Campomanes has passed away after suffering from cancer. He had become an icon in the Karpov-Korchnoi match in Baguio, Philippines and for initiating reforms in FIDE when he took office in 1982. He officiated over the five Kasparov-Karpov championship matches including the historic 1984-85 match which lasted 48 games.
He will be known for helping to build the chess community in the Philippines into one of the most promising federations. Campomanes was also endeared amongst the smaller federations for trying to be more inclusive. He was widely respected and revered in Asia, Africa and Latin America for trying to live up to FIDE's motto of "GENS UNA SUMUS". This was a marked change from previous leaders' orientation toward the more powerful federations.
The chess world in deeply indebted for his service and his love for the game of chess. Deepest condolences are extended to the Campomanes family and it is our hope that you celebrate his wonderful life and continue to draw inspiration from his deeds.
Casto Abundo presented the following statement:
Florencio Campomanes, FIDE President from 1982 to 1995, passed away 1:30 pm today, 3rd May in Baguio City, Philippines after a bout with cancer. He was 83. FIDE joins together in sending condolences to his family and to the National Chess Federation of the Philippines. FIDE President Kirsan Ilyumzhinov said by phone "I thank him many many many times for all he has done for chess. Please send my condolence to his family."

Campo's family is in Baguio City for the cremation services as he willed and they said "Whatever memorials federations around the world will do in Campo's memory will be much appreciated. After his February 2007 accident in Turkey, his recovery was a miracle, and the additional years he had with us was a gift from God."

I wrote an article about Campo's life in chess which can be downloaded from the FIDE site:

https://www.fide.com/images/stories/NEWS/download/campolegacy.doc

After his recovery from from his 2007 car accident, he continued to be active in FIDE, Asian and Philippine chess until his bout with cancer reached terminal stage four last year. He was still strong and hearty on his 83rd birthday last February 22nd but his health quickly deteriorated. I was at his bedside at the Notre Dame Hospital in Baguio City on 1st May. As I thanked him for all our chess years together, he smiled and said "We had fun."
5 Responses to "Florencio Campomanes dies at 83"
Leave a Reply!