Andrew Young visits BeSomeone!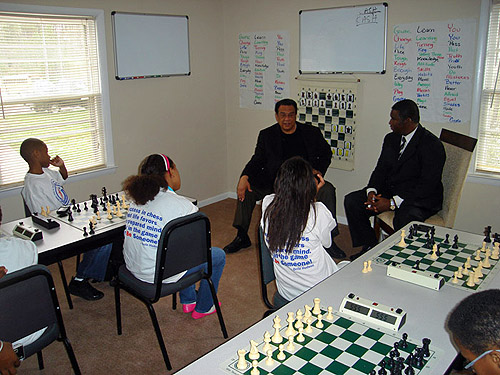 Andrew Young speaking to children at BeSomeone training facility.
Photo courtesy of Orrin Hudson.
The Honorable Andrew Young has done a lot of things in his life. He was one of Dr. M.L. King's lieutenants, a two-time mayor of Atlanta, a US Ambassador to the United Nations and has traveled to 150 countries. Despite being a famous diplomat, Young found time to speak two hours to a dozen children about the virtues of chess and the importance of education and good decision-making.
Orrin Hudson, the founder of BeSomeone, Inc., invited Young to his training facility which was once a house drug addicts had frequently perched on. One day Hudson approached two men at the house and encouraged them not to engage in drug activities across the street from Stevenson Middle School (Stone Mountain, Georgia). The men curtly told Hudson that he didn't own the building and they wouldn't leave. Hudson then found out who owned the building and then bought it!
Orrin Hudson (right) with Garry Kasparov at 2009 SuperNationals.
Photo courtesy of Orrin Hudson.
Hudson was surprised that Young had spent two hours and shared with the students nuggets of wisdom. He encouraged them to read and talked about the books he has on his iPod. "Do good work. Money will follow," he stated. These words are aimed at generations who learn instant gratification in the age of cell phones and texting mania.
Hudson was at the SuperNationals where he met Garry Kasparov and stated that he would be able to help the former World Champion with his initiative to push chess in the schools. Hudson plans to have a summer chess camp and plans to play at the World Open in Philadelphia in July.