BeSomeone student Robert Curry rises!
CONTACT INFORMATION
Janice Davis
Be Someone, Inc.
Lithonia, Georgia
info@besomeone.org
www.BeSomeone.org
FOR IMMEDIATE RELEASE: May 12, 2008
TROUBLED YOUTH RISES FROM DESPERATION TO ACCOLADES
(ATLANTA) – Robert Curry, a student at Georgia Perimeter College and participant in Orrin Hudson's Be Someone program, will be featured on The Early Show on CBS Friday, May 16, 2008, as part of its Extraordinary People series.
Robert came to the Be Someone program through his single mom Debra Curry. Debra was having trouble with Robert, seeking help from agency after agency in metro Atlanta. Desperate to find help for her son, she placed a called a 1:00 a.m. call to a complete stranger, Orrin Hudson, asking if he'd be willing to help. Hudson has been mentoring Robert ever since.
Hudson uses the game of chess to teach problem-solving strategies and life skills, and to offer kids a positive alternative to gangs, drugs, crime, and violence. In his chess workshops, kids acquire the tools to overcome obstacles, seize opportunities, and realize their potential. Hudson instructs, educates, motivates, and inspires, and uses catchy phrases, like "Push Pawns, Not Drugs" and "Heads Up, Pants Up, Grades Up, Never Give Up" to reinforce his overall message.
Hudson will appear with Robert Curry on The Early Show where he'll demonstrate how his popular chess workshops are conducted.
A chess champion, U.S. Air Force veteran, and former Alabama State Trooper and entrepreneur, Hudson points to his own life as proof that every move counts. The seventh of thirteen children, Hudson grew up in an Alabama housing project. Lacking direction and purpose during his early teens, he was headed down the wrong path. He credits a high-school teacher with getting him on the right path.
As the founder and driving force behind the Atlanta-based nonprofit Be Someone (www.besomeone.org), Hudson works with at-risk kids, helping them to build productive, fulfilling futures. Since founding Be Someone in 2001, Hudson has taught more than 20,000 kids the meaning of making every move count and the program continues to expand. "My goal is to mentor one million students, in all 50 states, by 2010. I need the help of dedicated business people, community leaders and educators to continue this work."
Hudson will be conducting a summer chess camp June 9 -13, 2008 at Redan Elementary School from 9:00 a.m. to 4:00 p.m. Investment for this world-class training is $250.00 (early enrollment) and $325.00 (after May 21). A special guest at the camp will be 5-time Georgia State Chess Champion Stephen Muhammad. Every camper will receive a trophy. Lunch and snacks will be provided.
###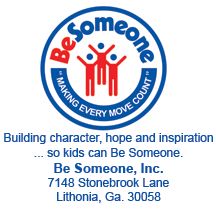 Orrin Hudson, Achievement Strategy Expert
Helping others win at the game of life through chess.
www.besomeone.org • orrin@besomeone.org
678-526-0292