African Diaspora made a colorful presence in Batumi
Aster Bantiwalu (Ethiopia)
Photo by David Llada
The Chess Olympiad is a special event and by some accounts is the most important event in chess. It is at the biennial Olympiad that various expressions of chess are seen from every corner of the planet. Apart from the colorful outfits from the various delegations, there is the infectious spirit and often the endless passion to brighten the playing hall.
African and Caribbean chess federations are not usually mentioned as being in the forefront of chess, but many are beginning to understand that chess is far more than what is shown in the professional ranks. Even in these times, smaller federations have demonstrated that they are able to win admiration for their exuberance and optimism. In Batumi, they are a dominate presence in the exhibition hall milling about, playing blitz, listening to campaign pitches and simply enjoying the moment.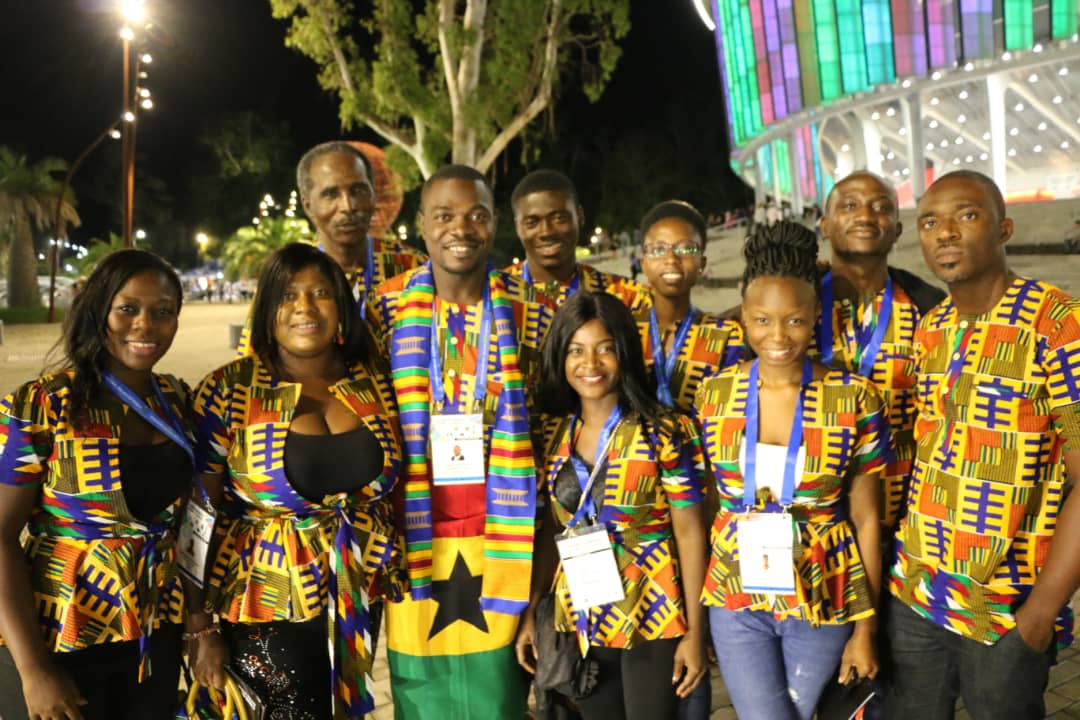 GHANA!

Photo by Ambrose Amexo

Jamaica's IM Jomo Pitterson giving encouragement to WCM Adani Clarke
Photo by Amruta Mokal
It appears that this spirit is exactly what chess needs in these days of contentious campaigning. In fact, Africans were factors in all three Presidential tickets and had a heavily contested election for the African Chess Confederations in which Lewis Ncube was victorious. There was even an online debate.
Out of the 54 African countries, 47 federations from the continent registered and participated in the proceedings. This attests to the fact that chess has begun to sprout on the continent. Cynics may believe that the strong showing is due to the elections and that may be partially true, but there is something else in the air here in Batumi.
Chess journalists: Haydn Gill (Barbados), Daaim Shabazz (USA), Jacinta Odongo (Kenya), Ian Wilkinson (Jamaica)

Zambian delegation!
Photos by Daaim Shabazz
If you look at the media coverage players and officials of the African Diaspora and being met with acceptance and intrigue. Social media is filled with many photos of the African delegations in different modes of expression. It is a welcome sight when two decades ago, players from these same countries were all but ignored. There are certainly some issues moving forward.
African delegate casts vote for FIDE President
Photo by chess-news.ru
Firstly
, the voting system of one-nation, one-vote must be maintained! This came up when
Anatoly Karpov
ran for FIDE President and
suggested making the voting system weighted based on a criteria which would favor larger, more powerful federations
.
Leading up to the Batumi Olympiad, this debate resurfaced and the refrain was that "it was shameful that (insert any African country) has the same vote as Russia or Germany." It implies smaller chess nations do not contribute their equal share, but of course we can see that many smaller federations are fully active and making attempts to grow chess in their respective countries. If FIDE ever considered giving a majority of power to the larger federations, FIDE has to ask itself about its overall mission.
African delegates discussing the issues of the day.
Photo by Daaim Shabazz
Secondly, while smaller federations must take a more aggressive approach to developing momentum, FIDE must be more proactive in developing regions… not just in election year. The last 20 years, little has been done in terms of helping to grow chess as a universal game. Hopefully, the Dvorkovich regime can figure a viable branding model for chess that any federations can use to convince sponsors and sports ministries to stay vested in the sport. It appears that chess has only gained traction in a few nations while others struggle for recognition. That leads to my third and last point.
IM Robert Gwaze receiving his gold medal at closing ceremonies at 2002 Chess Olympiad in Bled, Slovenia. Photo by Jerry Bibuld.
Thirdly
, there needs to be more promotion of the Olympiad landmarks of the African Diaspora. While there was obvious camaraderie and good fellowship among participants of various nations, there needs to be a better way of charting the progress of teams and players within the Africa Diaspora. Back in 2002 and 2004, The Chess Drum charted the Olympiad results of participating African and Caribbean teams. It was quite a laborious task since there was no chess database of results.
The Week in Chess (TWIC)
was an outstanding source, but you were not going to get any reports on specific regions.
IM Robert Gwaze's 9/9 (2690 performance) at 2002 Olympiad was thrilling to follow and is still talked about in the African Diaspora. These days chess-results, chess24 and Facebook makes it much easier to follow the statistics of your favorite teams and players. However, this is not sufficient. The former lacks the context and the latter lacks accessibility. Facebook content isn't fully indexed in search engines so information posted will only be seen by a small segment.
Apart from The Chess Drum, there has been increased coverage in smaller federations thanks to the work of Africa Chess Media, Kim Bhari's Chess Masala and Kasparov Chess Foundation for Africa. Photojournalists David Llada and Alina L'Ami have also done beautiful impressions of a variety of chess players. These efforts are not unnoticed and represent a demand for information that rarely appears on other mainstream chess websites. These resources provide a source for our players and helps them build a digital chess profile upon which they may market their accomplishments for coaching jobs, norm tournaments or simply their professional careers.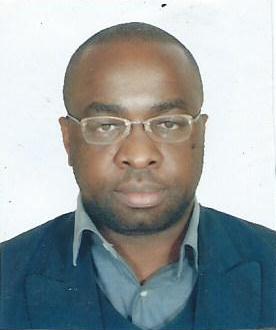 Mashala Kabamwanishi of Democratic Republic of Congo scored 9.5/10. Wonderful result! Photo by Congo Chess Federation
During the Batumi Olympiad a sterling performance was turned in by
Mashala Kabamwanishi
from the Democratic Republic of Congo (DRC). He scored a spectacular 9.5/10, but did not qualify for a medal… not even an award for highest percentage. Despite Olympiad being "point-driven," his feat was given very little attention in the chess media.
After Gwaze's gold medal performance in 2002, some of the elite players scoffed at the idea of a player winning gold while facing less competition. If we can't celebrate a 9/9 and 2690 rating performance, then there is no hope for chess. Perhaps things will change when a player getting 4.5/9 and 2850 performance wins the gold medal. There has to be more balance in medal criteria. More on that in another article.
While Kabamwanishi got no medal, he did get the FM title. While we understand and respect that there are variances of play at an Olympiad, we must recognize strong performances at all levels. Could the Olympiad be the only chess tournament in the world where you score 9.5/10 and not even get a mention? Nevertheless, we honor him here.
One quick note… ChessBase has the wrong flag associated with DRC. That is the flag of the neighboring Congo Republic. The DRC flag can be found here.
In honor of Mashala Kabamwanishi, the Congolese National Anthem…
In addition, there was the appearance of Phiona Mutesi of Uganda whose Queen of Katwe story has won her the admiration of people worldwide. She was a popular photography target in Batumi. What we cannot allow is for people to trivialize her story because of her playing level. Perhaps those who distributed the movie missed the mark in delivering the true message.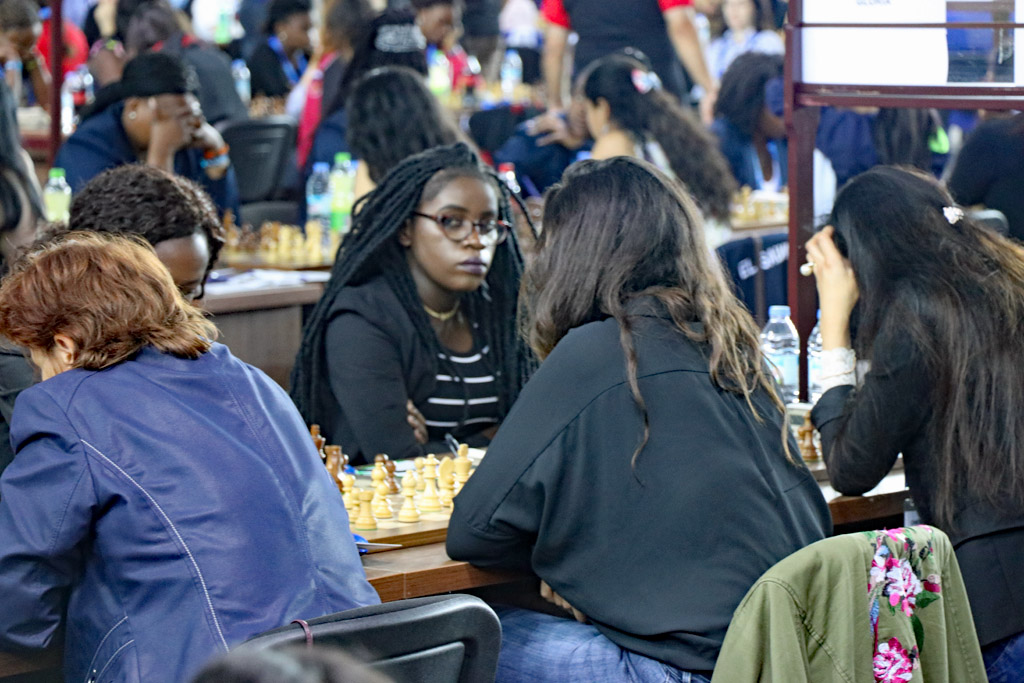 Phiona Mutesi of Uganda, the "Queen of Katwe"
Photo by Daaim Shabazz
Queen of Katwe was not about chess excellence as much as it is a story of survival and how chess help her to come out of a condition of abject poverty. Coming out of Katwe, Uganda, it is a miracle that she has gotten to the point of attending university studies. While she declined to be interviewed by The Chess Drum (due to fatigue), she did share that she was doing well in Seattle!
There are other accomplishments including the work of arbiters and officials. FIDE Arbiter Rehema Khimulu of Kenya directed her debut Olympiad with measured confidence and it was a wonderful sight. Her compatriot Purity Maina (not at Olympiad) is another pioneer in officiating as well as Botswana's Tshepiso Lopang. When The Chess Drum asked Lopang if she missed representing Botswana. She said, "I'm not missing anything!" Indeed. Lopang is fully engaged in chess and now serves on the ACC Executive Board under Lewis Ncube.
Kenya's Rehema Khimulu (FIDE Arbiter) directing Denmark-Myannmar
Photo by Daaim Shabazz
There are always a multitude of stories on how players arrived at their current state in chess. IM Andrew Kayonde of Zambia is one of Africa's bright talents and gave some interesting insights about his approach to chess in a very impressive interview. He gave a very bold reflection on his hard-fought draw… "I know he is Vassily Ivanchuk, but I'm the Zambian Champion." This is the type of confidence that breeds Grandmasters.
The idea that players are easy outs in the first round and are beginning to want and cause opponents to be cautious. There was another interesting moment when Eritrean player Araya Biniam turned in this impressive performance with the black pieces over International Master Piotr Dukaczewski.
Also was the Moroccan player Mohamed-Mehdi Aithmidou toppling Li Chao in a near 500-point scalp.
Speaking on performances, Egypt won the Category B prize anchored by GM Bassem Amin, the four-time African champion. Amin scored 8/11 with a 2766 TPR including a draw with Viswanathan Anand. Egypt has long been the top African nation and with Amin and Ahmed Adly, they continue to hold sway on the continent. They also had top junior Adham Fawzy who gained some notoriety on these pages after a scintillating win over GM Parham Maghsoodloo last year.
GM Ahmed Adly is always ready to show his exuberance.
Egypt also won the Category B medal at 2014 Olympiad.
Photo by David Llada
While Egypt took Category B, South Sudan brought home the gold…
South Sudan, winners of the category E prize pic.twitter.com/ReMXI8xliL

— Batumi Chess Olympiad 2018 (@BatumiChess2018) October 6, 2018
As far as the Americas you have the usual vivacious spirit complete with their bold colorful uniforms. However there is another story coming out of the Bahamas. Two ladies competing for the island nation have joined the national team, 30 years after they represented the country in youth chess. Six-time Bahamaian national champion Antoinette Seymour and Juliette Storr were participants in the 1983 World Youth Team tournament held in Chicago, Illinois.
I met Juliette in 1983 at the World Youth Team (under-26) in Chicago, Illinois. I went down to watch the competition. Soviets won with Yusupov, Lputian, Ehlvest, Psakhis, Dolmatov, Azmaiparashvili! Antoinette Seymour was also on that team. She's board two @BatumiChess2018 pic.twitter.com/SSpEUodb59

— Daaim Shabazz (@thechessdrum) October 1, 2018
The Bahamian Youth Team at the 1983 World Youth Team Championship, Chicago Illinois. Pictured above, the team consisted of (left to right)
Juliette Storr
,
Anthony Moss
,
Percy Rolle
,
Antoinette Seymour
. In Batumi was Antoinette's cousin
Erica Seymour
who won the Jr. Championship in 1992. She also came out of retirement after decades.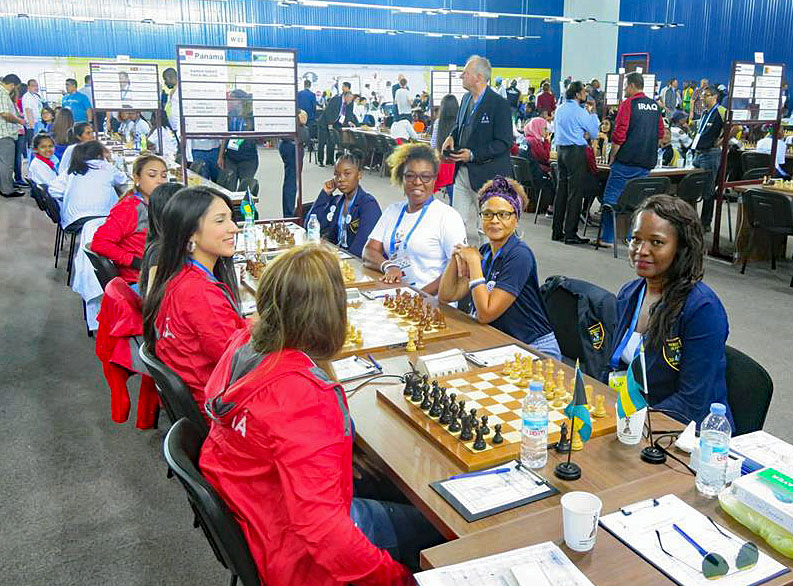 Bahamas @ 2018 Chess Olympiad (Batumi, Georgia)





(L-R) WCM Daijah Johnson, Antoinette Seymour
Dr. Juliette Storr and Erica Seymour
Photo by Bahamas Chess Federation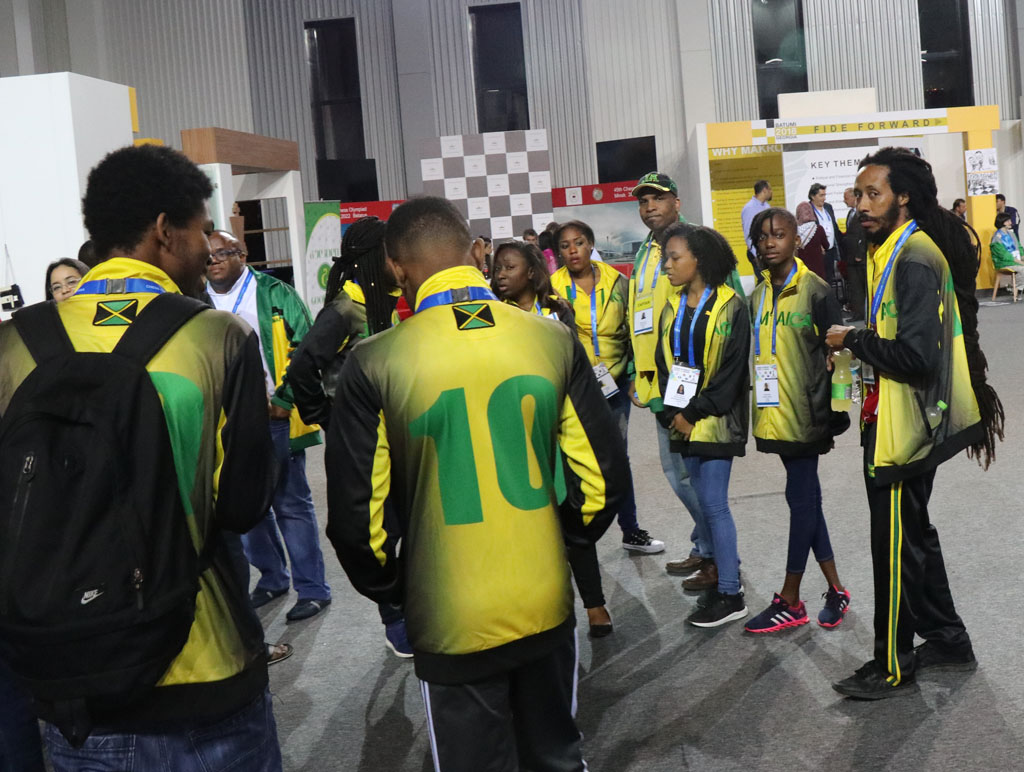 Jamaicans making a fashion statement with their
football-oriented "#10" uniforms!
Photo by Daaim Shabazz
Of course the Jamaicans always make a bold presence led by their distinguished head of delegation, President Ian Wilkinson QC. The women from Barbados had their signature hairstyles adorned with the national colors. The Guyanese had the beautiful red, black, green and gold jackets.
Ogunsiku Babatunde (Africa Chess Media)
Photo by Daaim Shabazz
Below you will find photos from the Batumi event capturing the spirit of the Olympiad. They will feature shots by various journalists such as David Llada, Alina L'Ami, Amruta Mokal and Africa Chess Media's Ogunsiku Babatunde.

Finally, I was honored to interviewed by ChessBase India's IM Sagar Shah who asked me about my vision as the founder of The Chess Drum. As a site that provides a platform for the accomplishments of players of the African Diaspora, know for a surety that a contribution was made in Batumi!
Video by ChessBase India