2022 Chess Olympiad: Round #3
Round #3 in the massive Mahabalipuram Resort & Convention Center
Photo by Mark Livshitz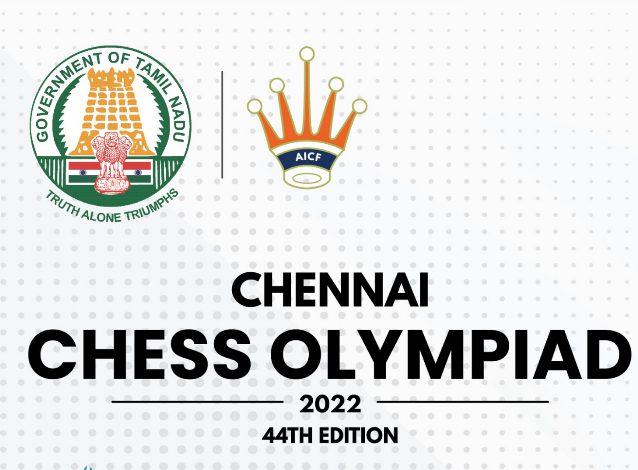 2022 Chess Olympiad: Round #3
Sunday, 31 July 2022
Round #3 had a few upsets with Norway going down and Magnus Carlsen being held by Italy's Daniele Vocaturo. Carlsen essayed the Caro-Kann simply looking for a position he could play. Vocaturo played the exchange variation and Carlsen played 5…e6 hemming in his c8-bishop. This was look like a novice move, but the position was not dangerous for black. White won a pawn, but there was no chance for an advantage and the game ended in a quiet draw. However, Norway went on to suffer a crushing 3-1 loss to Italy and dropped to 30th place.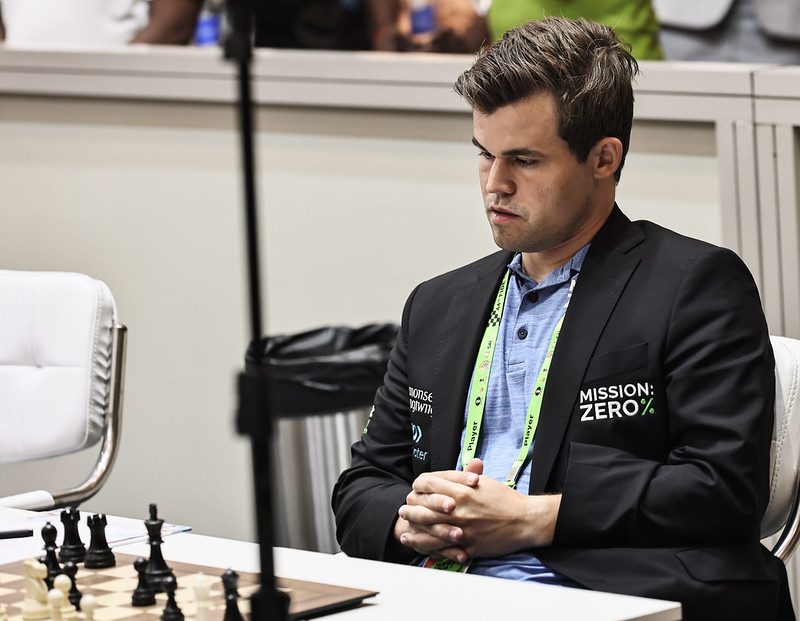 Carlsen's march to 2900 may be slowed by unpredictable Olympiad format.
Photo by Mark Livshitz
When Carlsen abdicated his title, he mentioned that his goal was to make 2900. However, it is open events like this, where plays a variety of players, he could easily lose 15-20 Elo points. It's not clear how many rounds he will play, but if Norway is not in contention, it is hard to see him playing bottom feeders. Lower-rated Grandmasters are well-prepared for him that they could stand a chance to nick him for a draw.
Germany also went down 2.5-1.5 against Austria while Ukraine was held to 2-2 by an always-dangerous Cuban team. Of course, Vassily Ivanchuk's absence was felt. The Ukrainian team still has to contend with the raging war against Russia, so it may be a challenge to keep focus. Anton Korobov lost to Cuban national champion Yasser Quesada Perez after failing to hold a bad bishop versus good knight ending. The game was instructive.
India rolls on
Twenty teams have 3/3, but top-seed U.S. has given up many board points and are last amongst the perfect teams in tiebreak points. This is important when medal winners are being determined. There were a couple of great moments by the Indian teams. Pentala Harikrishna switched with Vidit Gujrathi and played board against Greece's Dimitrios Mastrovasilis. The result was a brutal mating attack after a piece sacrifice 24.Bxh6! Take a look.
With that win, India 1 keeps pace, but so far has been upstaged by India 2 who dished out another 4-0 beating.
Praggnanandhaa does the unimaginable against Yannick Peletier- from a completely lost position, he keeps grinding, and slowly his opponent's advantage disappears. Finally, in an equal position, he wins on time!
This win guarantees India B a hattrick of 4-0 victories. pic.twitter.com/a07Ahs60kw

— ChessBase India (@ChessbaseIndia) July 31, 2022
This was possible because of the miraculous play of R. Praggnanadhaa who stood as the brink of a devastating loss, but kept defending well against Switzerland's Yannick Pelletier. After getting a big advantage in the middlegame, the Swiss player kept making small inaccuracies and after 41.Bxd6 (instead of 41.Bh4!) his advantage started to dissapate. Black's outside passed pawn would rule the day. Unbelievable!
Chess24 commentator Lawrence Trent predicted that India 2 will score higher than India 1 and so far, he's on the mark. One thing is for sure, the future is bright for India. There may also be a bright future in many nations as far as chess is concerned. ESPN carried a story about our global game.
From Malta, Djibouti and Iraq, Chess Olympiad brings the global family to the board https://t.co/uYPqyPV5jo #FIDEChessOlympiad2022 @thechessdrum

— Daaim Shabazz (@thechessdrum) July 31, 2022
Women's Section
The story today was Mongolian win over the U.S. Seeded 28th, Mongolia held on the top two boards and won on the strength of their lower boards. America's Carissa Yip suffered her second loss in a row and the young talent needs to realize that her play needs to be more stable in a team event. In this game, she defended an Exchange Ruy Lopez, but misjudged the position and entered a knight ending a pawn down.
Despite her struggles, Carissa Yip needs sunglasses because her future is so bright.
Photo by Lennart Ootes
On the next board was also a knight ending. Tatev Abrahamyan was embroiled in a battle with Bat-Erdene Mungunzul and could have held the draw, but blundered with 51.Nd5 instead of 51.Nd3. Black had two potential passed pawns and gave an instructive lesson. After white's 53.Ke2, black executed a combination leading to a won ending. Can you spot it?
In Abrahamyan-Mungunzul, black continued 53…h4! After 54.gxh4 gxh4 55. Kf3 h3 56. Nb6 h2 57. Kg2 black plays 57…Ne3+! and after 58. Kxh2 Kc7! white resigned. The point is that white would have to play 59.Nd5 Nxd5 60.exd5 a4 after which the a-pawn runs in for a queen.
This is a serious setback for the U.S. who last won a medal in Dresden 2008.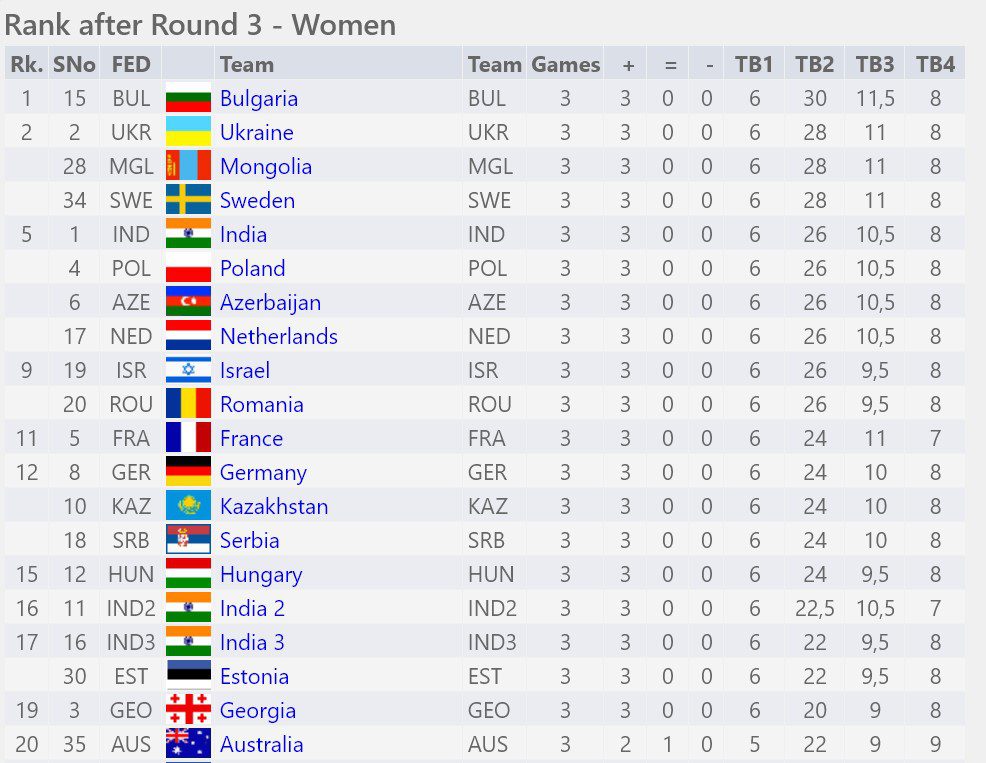 Full Broadcast (05:48:13)
Video by FIDE