2022 Chess Olympiad: Round #2
Current World Champion Magnus Carlsen made his debut against Uruguay
and had to play 90 moves to secure the win.
Photo by Lennart Ootes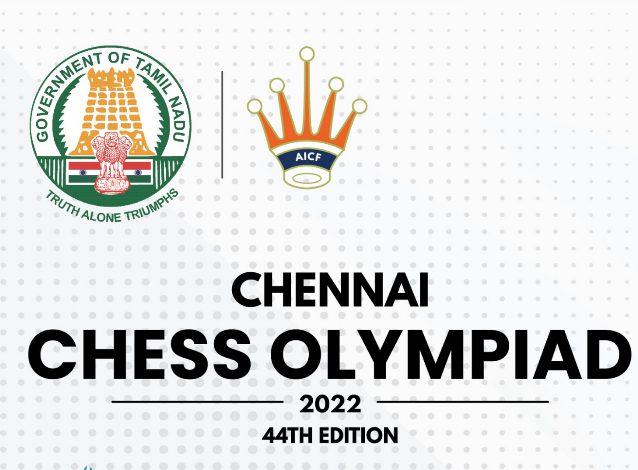 2022 Chess Olympiad: Round #2
Saturday, 30 July 2022
Round #2 had a major upset as 73rd-ranked Zambia toppled Denmark, ranked 27th. The Danish team touted four Grandmasters and one International Master as an alternate. Zambia is carrying four players with three IMs, an FM and no alternate. While the Zambian IMs held down the fort, FM Nase Lungu delivered mate on IM Martin Haubro for the margin of victory. After this win, there was only IM Chitumbo Mwali trying to hold at least a draw against GM Thybo Jesper Sondergaard. In fact, Mwali was a pawn up in a textbook rook ending with no losing chances. So social media started to buzz in anticipation of an upset.
Zambia is on the verge of upsetting Denmark as Lungu delivers mate on the board! Zambia's highest standing was 47th in the 2010 Olympiad. Don't let the Africans' Elo ratings fool you. ?? @FIDE_chess @AfricaChessConf @thechessdrum #FIDEChessOlympiad2022 pic.twitter.com/OqbI9YIxZk

— Daaim Shabazz (@thechessdrum) July 30, 2022
Notes by ChessBase.com

There it was! Zambia had defeated Denmark and African social media was jubilant. However, none of the photographers took any photos of Zambia-Denmark. The upset was not mentioned in the official report, and there were no interviews to capture the moment. We are left with our imagination of the joy the team must've felt. Lungu was the hero of the day!
Zambian President Mukubulo Chilufya received congratulations from FIDE President Arkady Dvorkovich. Zambia's best performance was at the 2010 Olympiad in Khanty-Mansisysk where they finished an impressive 47th. That performance was achieved without their first Grandmaster Amon Simutowe.
Zambia Twenty Years Ago at Bled Olympiad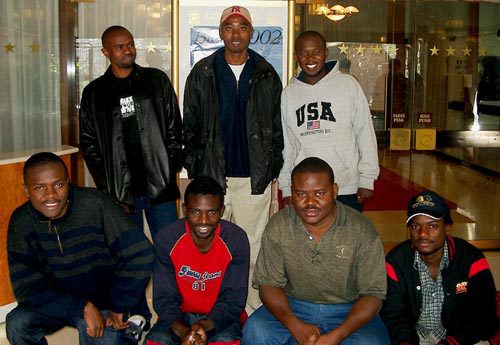 Zambia at 2002 Olympiad Team in Bled, Slovenia: (kneeling, from left to right) IM Amon Simutowe (Bd. 1), Stanley Chumfwa (Bd. 2), FM Nase Lungu (Bd 3) and Tizenge Mbambara (Bd. 4); standing, from left to right, are Gershom Muzende (Bd. 5), Malupande Lungu (Bd. 6) and David Zulu (captain). Photo by Jerry Bibuld.
Carlsen makes his debut!
.@MagnusCarlsen arrives at Olympiad after six years and first time in Chennai since he won the World Championship in 2013

?Shahid Ahmed#Chess #ChessBaseIndia #ChessOlympiad pic.twitter.com/aIvcUn8Rt1

— ChessBase India (@ChessbaseIndia) July 30, 2022
Magnus Carlsen has been in the news a lot later given his decision not to defend his title. The chess world was in shock over the news and trying to adjust to the new reality of another champion. Carlsen has been good for chess, but his exiting the cycle was a polarized discussion. Nevertheless, he will continue to compete and promptly showed he can continue winning tournaments.

Today Carlsen played Georg Meier who previously represented Germany before switching to Uruguay, his mother's birth country. The chess world thought the switch was strange, but he was having difficulties with the German Chess Federation and a very public dispute with German player, Elisabeth Paehtz. Today he played an inspired game against Carlsen and seemingly had a chance to hold, but made some critical errors and found himself worse in a queen ending. Here is the 90-move battle:
Notes by ChessBase.com
Favorites hold… India's six teams still cruising
All of the top ten teams won easily as India continued defending home turf. Arjun Erigaisi drew his first game of the tournament against International Master Andrei Macovei. The U.S. gave up valuable points by yielding three drawn games. Leinier Dominguez got his second win in a row. In the official report, they referred to Dominguez and 'the Cuban.' These half-points will be critical in the end.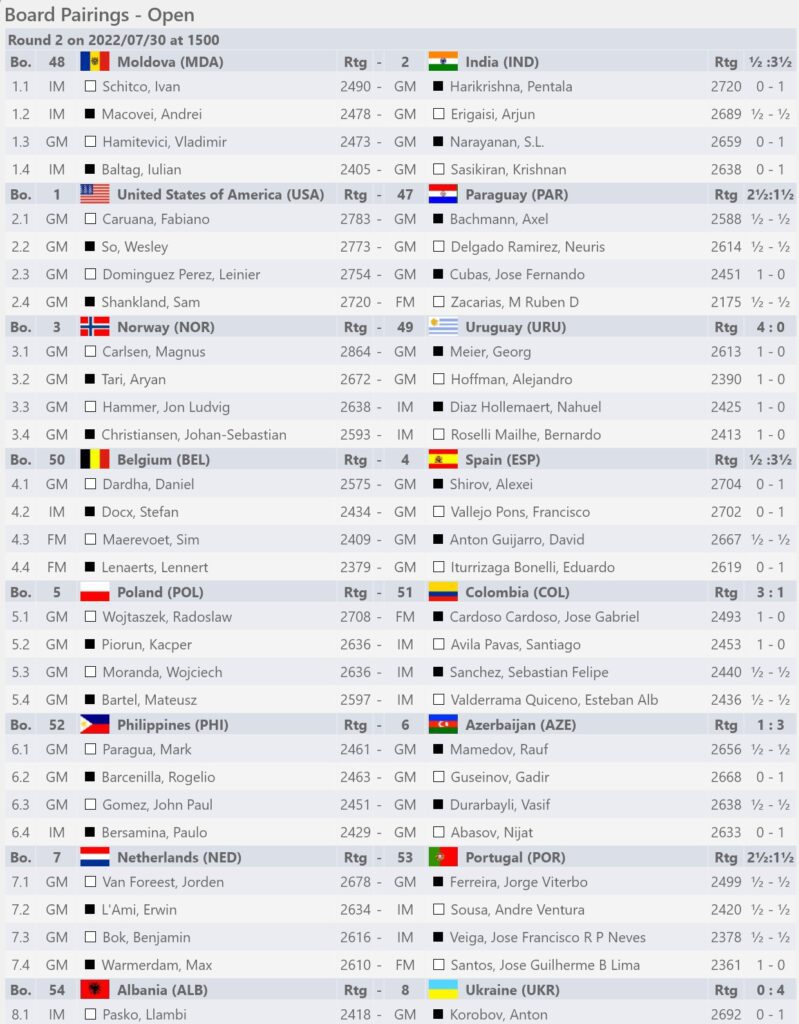 So far, the standings are looking normal. India 2 is in the second position joining nine other teams with 4-0 victories in first two rounds. The top seed American team is in 37th place, but teams generally have to find a rhythm. Will Levon Aronian round into shape for his new team? Will the U.S. miss the competitive spirit of Hikaru Nakamura? Will India 2 and its young superstars be the surprise of the tournament? We shall see.

Women's Section
The ceremonial first move as Humpy Koneru gets set to play Argentina's Marisa Zuriel.
Photo by Lennart Ootes
Most of the favorites continued marching on. On first board, Humpy Koneru gave up a draw to Marisa Zuriel in a Benko Gambit Declined that turned into a Benoni. The Argentinian played well and after a tough struggle, the game ended peacefully. Second-seed Anna Muzychuk was crushed by Turkey's Ekaterina Atalik, but Ukraine won on the other three boards to keep pace.
Notes by ChessBase.com
Interesting Personalities!
It is very entertaining to hear Judit Polgar tell stories about her days as a player on the Hungarian national team. There were many challenges when Polgar was one of the elite players in the world. As the only female in the top 100 or top 10, she struggled for acceptance but proved her worth by scoring sensational attacking victories. Viswanathan Anand was asked what he thought of the gender issues in chess, and he gave a poignant answer.
I remember how much meant to me when many years ago @vishy64theking was asked and he said about me: She is one of us.? #ChessConnectsUs #ChessHasNoGender https://t.co/NQl6ICsq01

— Judit Polgar (@GMJuditPolgar) July 30, 2022
Playing in her first Olympiad at age 12, she scored 12.5/13 for a gold medal. It must've warmed her heart to see 8-year-old Palestinian girl Randa Sedar playing as the tournament's youngest participant. She won her game today!
Wholesome ??

Youngest player at the 44th #ChessOlympiad – ??'s #RandaSeder with her teammates ?#India4ChessOlympiad | @FIDE_chess | @DrSK_AICF | @Bharatchess64 | @ROIRamallah pic.twitter.com/cVX3QLImme

— All India Chess Federation (@aicfchess) July 30, 2022
Unfortunately, most of the matches were non-competitive with a majority of 4-0 results. Some of these women's teams were the first of their nations, so they are still getting used to such a big stage. Patricia Kawuma of Uganda mentioned in an interview that she had been playing only four years.
Interview with Patricia Kawuma & Gloria Nansubuga
Video by FIDE
Chess is a Global Sport
I also do not believe that we have to overly estimate the moral importance of Zambia, Burma, and Paraguay and their non-caring, when seen from the chess world. Reality is that chess is a European sport, which has become big among Indians and Chinese too. We have become vastly richer for it and it is a great thing. But it is still a predominately European sport.


~GM Jacob Aagard on Facebook
The Jacob Aagard Principle that chess is a "European sport" is against everything the Olympiad stands for. Perhaps the Danish-Scottish Grandmaster will notice that the energy seen in India comes from a long eastern history. Zambians also proved today that they are passionate about chess and showed it by beating Aagard's native Denmark. The truth of the matter is chess is hard to hold as a profession. If you are going to spend hours studying chess, you also need to support yourself.

Despite the Eurocentric landscape of professional chess, it is enjoyed by the masses around the globe. If chess was once a European sport, it may be in its best interest that it is not. It is often thought that European countries are financially and logistically more equipped to host these massive Olympiad events. However, it is also appropriate that two of the best Olympiads in history were in Dubai (1986) and now Chennai (2022). Perhaps it is time for Africa to host the event.
Full Broadcast (06:12:28)

Video by FIDE