Black History Month 2022-Day 25: IM Watu Kobese
Watu Kobese with his Xhosa-language chess book, "Masidlale Uthimba".
Photo by Mariska Morris.
IM Watu Kobese has been the most recognizable chess player South Africa has ever produced. His life is one of many stories. Learning chess at the age of four, Kobese learned the game by watching his father Arthur Kobese and would later become one of South Africa's top players. This was despite the apartheid regime not allowing Blacks to compete on the national team.
FIDE President Dr. Max Euwe traveled to South Africa in 1974 on a three-week fact-finding mission to evaluate allegations of racism within the chess community. At the time, there were two opposing bodies (SACF and CAPSA). After South Africa was placed under international sanctions, the world chess body (FIDE) also sanctioned its chess federation.
This was due (in part) to pressure generated by Jerry Bibuld who aggressively lobbied for sanctioning of the ruling federation that supported the apartheid regime. Thus, Kobese could not compete for his country. He contends that apartheid sanctions did not stop his chess development.
In a 1998 interview, he explains,
In 1989, I obtained a purse to go study chess in Germany. In a tournament in South Africa, I had drawn against German GM, Ludek Pachman, and I had just won five tournaments in a row in South Africa… I had improved. Thus, I obtained the purse. I remained 3½ years in Germany, where I studied with Ludek Pachman and GMs Miroslav Filip and Lothar Vogt. They emphasized how it was necessary to study. And I played in my first international tournaments.
Kobese showed rapid improvement and he contends that this training in Germany made an impression on him. He played in Bad Woerishofen, Badenweiler, Krumbach in (Germany) and also played in the prestigious Capelle La Grande (in France). He also felt the weight of racism in Europe. When he complained, the response was, "Why are you still here?" The urging of 'go back to Africa' is an old racist trope thrown when one refuses to condemn racist behavior but suggests that the victim either tolerate it or leave.
He played well in Europe and later picked up two GM norms, but due to stagnation in the federation, had not been able to get the 3rd. Kenny Solomon became the first South African player to earn the GM title after winning the 2014 African Championship in Namibia.
IM Watu Kobese at 1998 U.S. Masters in Honolulu, Hawaii.
He had beaten Judit Polgar in Cap d'Agde that year.
Photo by Jerry Bibuld.
After returning back home from Europe, he found a new South Africa. Nelson Mandela had become the President in 1990 and sanctions were lifted in 1992. His first tournament in representing South Africa was the 1994 Chess Olympiad in Moscow, Russia where he scored 6½/12.
He then played in a number of strong tournaments including Linares (Spain), Groningen (Germany), and visited the U.S. for the first time beating American Grandmaster John Fedorowicz and the well-known San Francisco Mechanics Institute. He also had taken Hungary to task, beating both Judit Polgar in Cap d'Agde, France, and Peter Leko in the 2001 FIDE World Knockout Championship. He forced Leko to tiebreaks before losing.
Analysis of IM Watu Kobese – GM Peter Leko
Video by Calvin Klassen
---
"Certain people say to me that I am
completely insane to have chosen
this profession."
---
Photo by Yolande Du Preez
Kobese returned to the U.S. to play in the historic Wilbert Paige Memorial tournament in Harlem, New York. It was the strongest assembly of Black masters in history (at that point). Kobese scored 6/9, but it was clear that he paving the way for Kenny Solomon also made the trip and had an impressive showing.
Historic Wilbert Paige Memorial (Harlem, New York)
Photos by Daaim Shabazz


Pre-Tournament blitz battle… South Africa's old vs. new generation: FM Norman Rogers watches as FM Stephen Muhammad and GM Maurice Ashley battle in the background. Elvin Wilson (standing left) and Grace Nsubuga (sitting right) watch the thrilling match.

FM Ron Simpson vs. NM Grace Nsubuga (foreground)
IM Watu Kobese vs. FM Stephen Muhammad (background)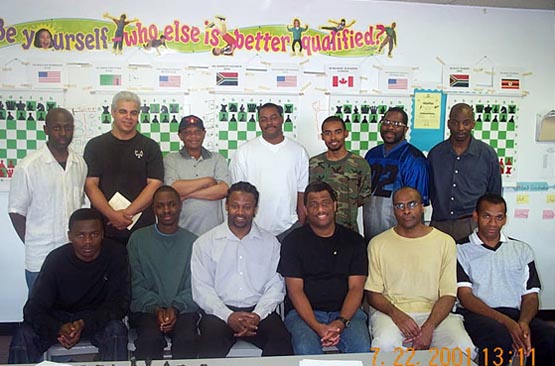 2001 Wilbert Paige Memorial (Players and Commentators)
Seated (L-R): IM Amon Simutowe, NM Grace Nsubuga, GM Maurice Ashley (commentator), FM Ronald Simpson, IM Michael Schleifer, FM Stephen Muhammad. Standing (L-R): NM Jerald Times (commentator), NM Ernest Colding, IM Watu Kobese, FM William Morrison, FM Kenny Solomon, NM Norman Rogers, NM Elvin Wilson (commentator). In this photo, both Simutowe and Solomon became Grandmasters. Muhammad became an International Master. As of 2022, two players in the photo are now deceased: Schleifer (2009) and Simpson (2013). Photo by Daaim Shabazz.
Olympiad Action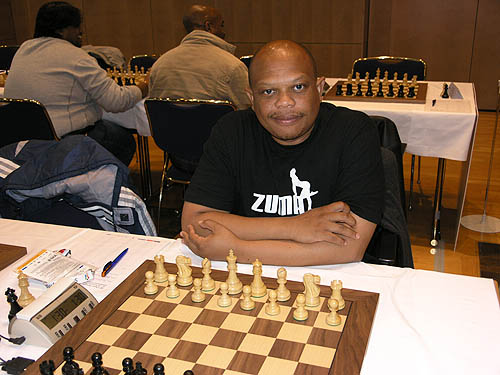 Kobese in action at 2008 Chess Olympiad in Dresden, Germany
Photo by Daaim Shabazz

Kobese playing Mauretania's Ould Taleb
at 2014 Chess Olympiad in Tromso, Norway
Photo by Daaim Shabazz
A veteran of 11 Olympiad tournaments and long-time the country's top player, the International Master has focused on training the next generation of talent. Apart from his coaching, he is the author of a Xhosa-language chess book titled, "Masidlale Uthimba." He recently got a business opportunity when Mazda approached him for an inspirational ad shoot. The beautiful Mazda ad poignantly tells the story.
Video by Chad Naidoo on Mazda Southern Africa