Black History Month 2022-Day 26: IM Michael Schleifer
Playing on both sides of the border, Michael Schleifer was the top junior in Canada and rose through the ranks to compete in the Canadian Closed. Schleifer, known as "Schlee" to his friends, starred in the New York Open as a young master. He earned his FM title in 1997 and his IM title a couple of years later. He caught the eye of Jerry Bibuld who would later invite him to compete in the Wilbert Paige Memorial.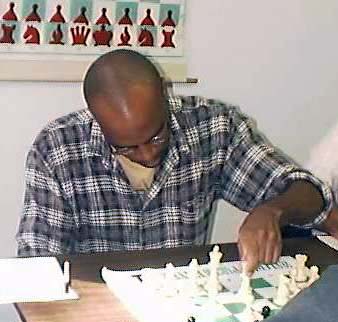 IM Michael Schleifer
Born in 1967, Schleifer told The Chess Drum that he was of Jamaican ancestry. His German paternal grandfather moved to the island and took a Jamaican wife. Together they gave birth to Michael's father who immigrated to the Ontario province, the city of Toronto. Schleifer was coaxed into chess by his brother who took him to a tournament. After that, he started his evolution as one of Canada's top juniors.
I started chess at about 9 yrs. After an approximate 3-year lapse I started to play again. Then at about 13, my brother brought me to a tournament and from there I was hooked. At 16 I became a master. Thus, in the early to mid 80's I was one of my country's top junior players. For me, the struggle is the most important aspect of Chess.
Here is one of his games as a 19-year old.
His participation in the Wilbert Paige Memorial was very important. He arrived in Harlem the day of the first round on the bus. He was rather quiet at times and was not impressed by loud trash-talking, but was rather amused by it. Maurice Ashley kept challenging him to blitz after demolishing others. Schleifer would not be rattled and stated that he had sparred with the likes of Canadian Grandmaster, Alexander Lesiège. He said that he and Ashley played later and were about even.
Michael Schleifer at the Wilbert Paige Memorial, 2001
One of his close friends Brad Thomson posted this comment
Michael often spoke fondly of the chess tournament in Harlem. He said he felt very much at home and that everyone was fantastic. And he would laugh while trying to recreate some of the brotha' lingo, as he would call it. Give him the bone, or something to that effect, was his favourite. Schlee, as he was known to his friends up here, also said that he played some of his best chess in the Harlem tournament.
Here are his games at the historic tournament:
While Schleifer was a calm person, he did have his moments. In an interview with En Passant magazine, Brad Thomson asked him about his storming out after losses and crumpling up the scoresheet. He stated that he was being overly self-critical of his own play. However, he had some shining moments as his resume below will show. He ultimately gave up competitive chess and began playing poker. He died suddenly in Montreal on November 21st, 2009 of a brain aneurysm. He was cremated a couple of days later. (obituary)
Here is a beautiful game that he annotated for The Chess Drum…
Tournament Performances of Schleifer
2007 Toronto Open Champion
2003 2nd, Québec Invitational (Québec Champion)
2002 1st, Eastern Ontario Open Championship
2001 1st, Eastern Ontario Open Championship
2001 2nd, Wilbert Paige Memorial, Philadelphia, PA, USA
2000 1st, Ottawa Open Championship
2000 1st, Toronto Open Championship
1999 Pan-Am Open Champion
1999 Awarded IM title for 2/3 score in 1999 Canadian Championship
1999 2nd, Canadian Championship; 6/9 (+5 =2 -2)
1999 1st, Toronto Open Championship
1997-8 1st, Eastern Ontario Chess Association Grand Prix
1998 Ottawa Open Champion
1997 Awarded FIDE Master title
1997 1st, Eastern Ontario Open Championship
1997 1st, Ottawa Open Championship
1997 Ontario Open Champion
1996 1st, Eastern Ontario Open Championship
1994 Canadian Active Champion
1994 1st, Ottawa Open [2] Championship
1994 1st, Ottawa Open [1] Championship
1993 Ottawa Open Champion
1993 Eastern Ontario Open Champion
1992 1st, Ontario Open Championship
1992 1st, Toronto Open Championship
1981-2 Ontario Under-16 Champion; 5/5
Source: https://web.ncf.ca/bw998/CanadianChess/History/CanadianChessBiographiesS.html#SCHLEIFER