Ortega is Cape Verde's 2022 Chess Champion
Cape Verde held its national championship December 7th-11th in the capital of Praia with their top player IM Manuel Ortega defending his title. Federação Cabo-Verdiana de Xadrez (FCX) is a relatively new FIDE member having joined the community of chess nations in 2016. Ortega has been their top player for many years and has collected his third title.
Top Finishers
António David Anes (2nd), IM Mariano Ortega (1st), Gil Teixeira (3rd)
Cape Verde is one of those African nations not often in the international spotlight. Known as an important location for trade in the 15th century, it has subsisted primarily in the service and transport industries. While the archipelago lies off the coast of West Africa, it is 3,000km from the Iberian Peninsula consisting of Portugal and Spain.
The tournament to determine the Absolute Champion was held in the city of Praia at the "home" of the Cape Verdean Football Federation. Over an eight-day period, the round-robin saw the top seed come out on top with an overwhelming 7/7 score. Following are a couple of his games.
Selected Photos
(2022 Cape Verde National Championship)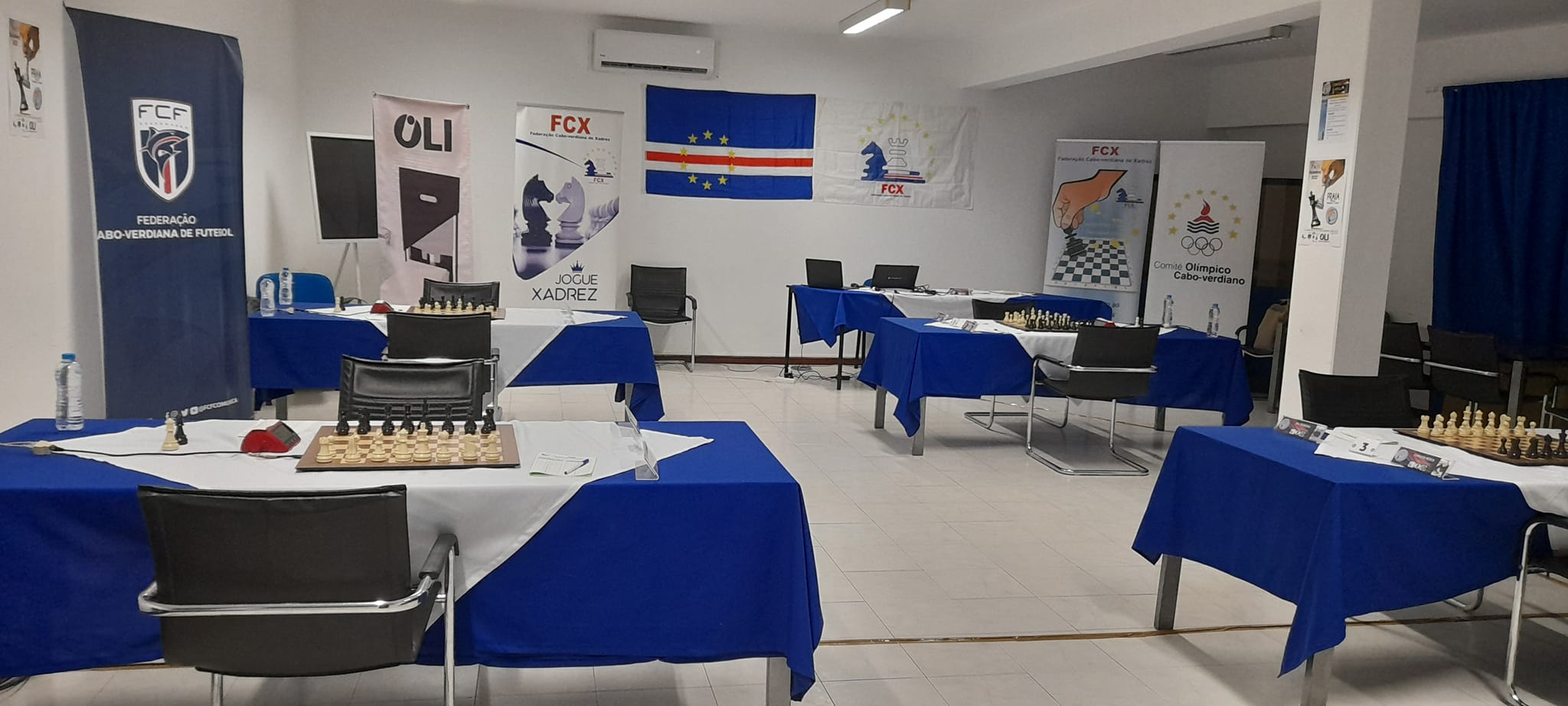 Photos by Federação Cabo-Verdiana de Xadrez (FCX)
Final standings
1. IM Mariano Ortega – 7 points
2. António David Anes – 5
3. Gil Teixeira – 5
4. José Carlos Vaz – 4
5. António Monteiro – 2½
6. WCM Célia Rodriguez – 2½
7. Luís Barros – 1½
8. Carlos Moes – ½
Interview with IM Mariano Ortega (in Portuguese)
Video by RTC – Rádio Televisão Cabo-verdiana
Due to her standing in the championship, Célia Rodriguez is declared the national women's champion.

The arbiter of the tournament is also the President of the Cape Verde Chess Federation, Francisco Carapinha. He received a statement of support from Tshepiso Lopang, the President of the African Chess Confederation.  The Minister for Sport and Youth, Dr. Carlos Monteiro presented the championship trophy.
The tournament winners with sports and federation officials. Parabéns!
Photos by Federação Cabo-Verdiana de Xadrez (FCX)
Website: https://www.fcvx.org/
Facebook: https://www.facebook.com/xadrezcv/
Public Awareness/Marketing