The Chess Drum's Highlights of 2022!
The year 2022 was an exciting one and seemed to zip by quickly. We had a big announcement from current World Champion Magnus Carlsen, arguably the best Chess Olympiad in history and perhaps the biggest controversy in decades. There were also heartwarming stories such as National Master Tyrone Davis traveling to Nigeria to help with Tunde Onakoye's "Chess in Slums" program and Tony Ballard's testimony on how chess helped him cope with prison life. Both are sponsored by the non-profit, "The Gift of Chess."
National Master Tyrone Davis III playing Benjamin, a boy whom he is sponsoring. Tunde Onakoya (left) looks on with other kids from the Makoko community in Nigeria.
Inmate Tony Ballard celebrating "The Gift of Chess"
Photos by Gift of Chess
In other media reports, we saw chess earn international spotlight in a NIKE ad with Spike Lee playing chess. We saw Emory Tate's son, Andrew Tate go viral and professional football players battle on chess.com. What other unique story did we see in 2022? We saw a couple of books released. Mike Abron tells his story of playing in a tournament in all 50 U.S. states while Lyndon Bouah helped Kenny Solomon tell his story of earning the most coveted chess title.
There were new federations announced (Belize, Cayman Islands, Dominica, and Niger) and others like the Cayman Islands charting a new course in history with new events. Enyonam Sewa Noël Fumey's bid for FIDE President came to an abrupt halt when he could not garner enough votes to be a certified ticket. Despite this, it was a valuable lesson discussed in African chat groups.
Everyone was enthusiastic about the Olympiad and getting back to playing over-the-board chess. The continent was well-represented at the 2022 Chennai Olympiad.
Togo made an impression…
Photo courtesy of Federation Togolaise des Echecs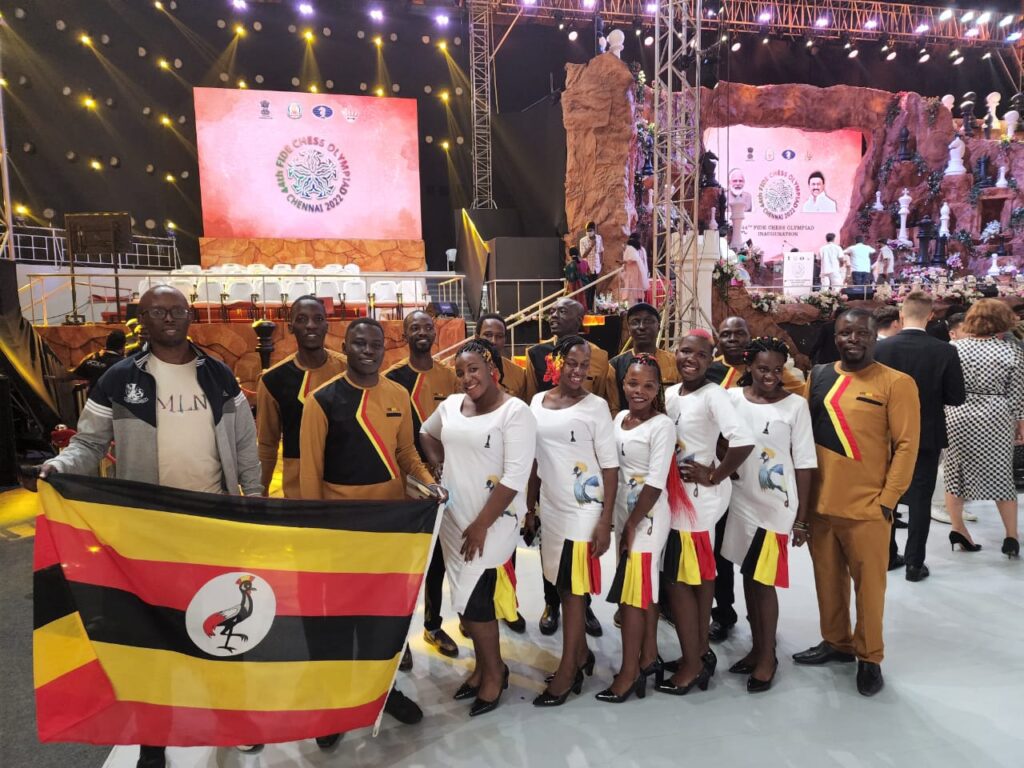 …. as did Uganda!
Photo courtesy of Ugandan Chess Federation
Although Uganda won a prize for "best dressed," Angola should have also been in that number.
Photo by Mark Livschitz
Africa charted a new course with the election of Tshepiso Lopang. It is an important moment for African chess and it brings hope that the continent will take on a larger role.
Tshepiso Lopang, African Chess Confederation President 2022-2026
Photo by Mark Livshitz
Nakamura, Carlsen Own 2022
Now for some of the more "meaty" topics. The Chess Olympiad in Chennai, India was one of the most memorable events of the year. After being postponed, India took the mantle and put together a first-rate event that some organizers could not manage in two years!

online chess is still experiencing a boom and Hikaru Nakamura has become an international sensation with his Twitch channel often attracting 25,000 viewers (1.5 million followers). Despite this, over-the-board (OTB) chess still provides the human element. Nakamura won the 960 Championship and streamed his analysis after each round. He also played in a number of events, but even in those he didn't play in, he made an impact. More later.

It was a banner year for GM Hikaru Nakamura.
Photo by David Llada
Carlsen also had a successful year winning many tournaments with authority, particularly those online. In a recent "State of Chess" interview, he stated that he felt top-level events should be played mostly online. It appears that Carlsen is tired of matchplay, over-the-board chess, and classical chess. Given his withdrawal from the championship cycle and his increase in activity online for quickplay, it may be where his personal energy is focused. He just won the World Rapid & Blitz, but he'll certainly require more energy for 2023.
The World Champion was a lightning rod of controversy in 2022. First, he decided to upset the championship cycle by choosing not to defend his title. Then he ignited the most far-reaching chess controversy in decades. During the 2022 Sinquefield Cup in St. Louis, he decided to withdraw from the tournament under suspicion that Hans Niemann had cheated against him. This story spread around social media like wildfire. The Chess Drum covered the saga in four separate posts and a video overview.
Carlsen bolts Sinquefield after loss; rumors swirl (6 September 2022)
After the Carlsen-Niemann firestorm, what now? (17 September 2022)
Carlsen quits against Niemann… the saga continues (20 September 2022)
The Anatomy of Carlsen-Niemann cheating controversy (20 October 2022)
Carlsen-Niemann cheating controversy revisited
Video by The Chess Drum
In the final analysis, what has happened to Hans Niemann is a tragedy. The amount of venom spewed on this 19-year-old is pathetic. Nakamura opined that Carlsen thought Niemann had cheated or had been cheating. A firestorm started and several videos were made to examine the credibility of Niemann. After having to endure the storm of criticism and trolling for a month, Niemann filed a $100 million-dollar lawsuit.
My lawsuit speaks for itself https://t.co/rOfUxiNYCH

— Hans Niemann (@HansMokeNiemann) October 20, 2022
The criticism has not abated. During the Rapid & Blitz, onlookers critiqued Niemann's every move. They analyzed his losses, his missed wins and continued to make the most crude comments. The repeated puns about anal beads (which started as a joke) are worn-out and beyond silly, but still popular taunts. Since Carlsen and Nakamura are both two of the most powerful figures in chess, their statements and actions carry tremendous weight. It is that weight that is now in the throes of a legal battle that will be discussed further in 2023.
2022 Norms!!
There were a number of norms earned by players in the African Diaspora, most notably three by Tani Adewumi. The first was April 2022; the second was July 2022; the third was November 2022. However, he needs to score one in an open tournament. Justus Williams earned his first GM norm and Zhemba Jemusse of Zimbabwe earned his third IM norm. Other successes are Brewington Hardaway's K8 title and his near-miss of an IM norm.
Yesterday I finished playing the 2022 Spice Cup in Saint Louis. I needed a draw in the final round for my first IM Norm but played a bad game and lost. I ended with 5/9 gaining 66 fide points. My fide rating will now be 2345. My next tournament will be in NYC starting January 12. pic.twitter.com/oKVsLsZfa4

— Brewington Hardaway (@BrewChess) December 24, 2022
FM Zhemba Jemusse earns IM norm at Olympiad!
Photo by Lennart Ootes
Gone But Not Forgotten
IM Nestor Tomas Velez Betancourt
May 5th, 1956 – June 28, 2022
Lastly are the players we lost in 2022… FM Ignacio "Nacho" Perez, IM Nestor Velez, Keith Eubanks, and Sultan-Diego Sulayman. Also lost were Amadou Jallow (Gambia), Guy Esungi (Democratic Republic of Congo), and Webster Kafumbwe (Zambia), who were past officials of their respective federations. All of these men had a passion for chess and contributed to the cause in different ways. As we go into a new year, let's make the most of it by offering contributions to chess and showing a bit of human kindness as we promote the game we love.
December
November
October
September
August
July
June
May
April
March
February
January