Adu's living nightmare after zonal 4.2… now stranded!
IM Oladapo Adu at the Liberian border, the day before a torturous journey across two countries by bus, by foot, by motorbike, and canoe. As they crossed the border of Ghana, they were met with armed patrol with guns drawn! Photo by Oladapo Adu.
Nigeria's Oladapo Adu competed in the Zone 4.2 Individual Chess Championship in Freetown, Sierra Leone ending prematurely on March 20th. Authorities wanted to make sure the players could return safely to their respective homes before West African borders begin closing due to the coronavirus outbreak.
After placing second in the tournament, the Nigerian International Master attempted to make his way back into Lagos, Nigeria, but Air Côte d'Ivoire canceled his March 22nd flight. So Adu, Mario Kpan (Côte d'Ivoire), and John Solarays (Ghana) took the grueling trip by road on March 21st. Adu would attempt a trip starting in Sierra Leone and then cutting through Liberia, Côte d'Ivoire, Ghana, Togo, Benin and ending Nigeria. An Indiana Jones in Africa adventure was ahead.
Food makes everything better!
After a tiresome bus trip from Freetown, they arrive in Monrovia, Liberia. While Kpan remained in Liberia, Adu and Solarays spent the night, had a nice meal, got a good night's rest, and resumed via motorbike. They walked through the bush to arrive at the bike station. According to Adu,
There were about 2 bike rides. One from Liberia to the border of Côte d'Ivoire and the other from the border to Danani.
Adu describes this leg of the journey as "torture." The motorbike ride turned out to be a 4-hour journey through the thick Liberian forests to the eastern border. The country is known for its high-quality redwood trees as well as rubber trees, one of the main exports. As fate would have it, the bike got a flat tire in the middle of nowhere.
---
"The roads are narrow in some places, some places are just like dirt roads some very high and winding roads it's just like an adventure trail."
---
Breakdown in the middle of nowhere!
How do you manage such a situation? The driver managed to fix the tire, and they were on their way. They finished the day's journey on the other side of the Côte d'Ivoire border with a 3-hour bike ride to the small town of Danané.
SDS Bus Station from Danane to Abidjan… 12 hours ahead!

It's been a loooong trip!
After spending a night in Danané, Ivory Coast, they rode a coach bus 12 hours the country's width through Abidjan. Then they headed toward the Ghanaian border. They crossed the border into Ghana by canoe (!), but were stopped by Border Patrol, who had drawn their guns!
Ghana had closed its borders due to the coronavirus outbreak. They allowed Solarays to proceed since he was a Ghanaian national, but police officials sent Adu was sent back to the Ivory Coast-Ghana border. There he spent the night, minus his luggage. His bag was on another vehicle when the authorities interrogated him and Solarays.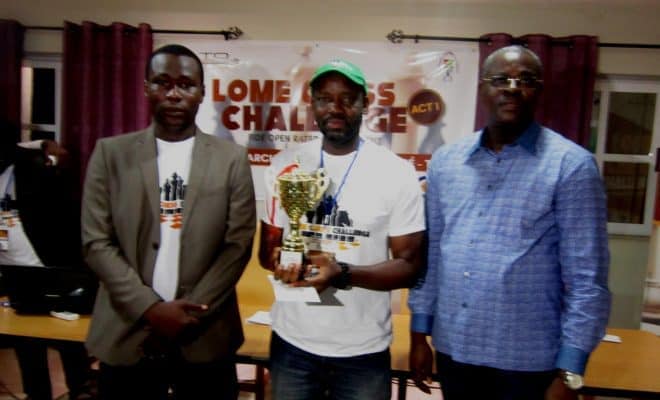 In happier times, Adu winning Lomé Chess Challenge in March 2019. Togolese Chess Federation Commissioner Abalou Bodjona (left) and Togolese Chess Federation Vice President Abby Edah Ndjelle flank Adu. Photo by Simeon Egbade
The next day he rode four hours back into Abidjan on March 24th, where he was in contact with the chess community. A Togolese chess player Abalou Bodjona paid for accommodations and expenses for Adu the first ten days in Abidjan. Adu's luggage was still missing, and he only had the clothes on his back. Adu was grateful for Bodjona's help.
---
"I heard ECOWAS borders open July 15th 2020.
That's good news for me!"
---
Members of the Ivorian chess community had been able to help secure accommodation in Abidjan. Dr. Essoh Essis and Simplice DeGondo coordinated to assist Adu, but not under the auspices of the Ivorian Chess Federation.
For a week, he was sharing a room with two others. Not a good situation given the threat of viral infection. In the meantime, Adu has tried to contact the Nigerian Embassy in Abidjan and Nigerian Sports Ministry without much success. He has also conducted a couple of interviews about his harrowing plight.
Video by The Avalon Daily
Adu told The Chess Drum that the Economic Community of West African States (ECOWAS) would reopen on July 15th. "That's good news for me," said Adu. At this point, he will be able to return back to Lagos. There was a story run in the BBC news about Adu's plight and his disappointments. Adu also told The Chess Drum that he expected more from his own Nigerian Chess Federation, where he serves on the board.
Currently, Adu's situation is unstable as he is now sharing a place with two others, whom he describes as being "kind" and "helpful." He will soon have to vacate this location and is uncertain on his next stop. There is presently flooding taking place, which makes mobility difficult. Adu requires financial assistance for his next 17 days in Abidjan plus expenses to get back to Nigeria. Below is a GoFundMe page if you would like to donate.
All photos and videos courtesy of Oladapo Adu
(except where indicated otherwise)