Thomas Saah, Liberia's National Champion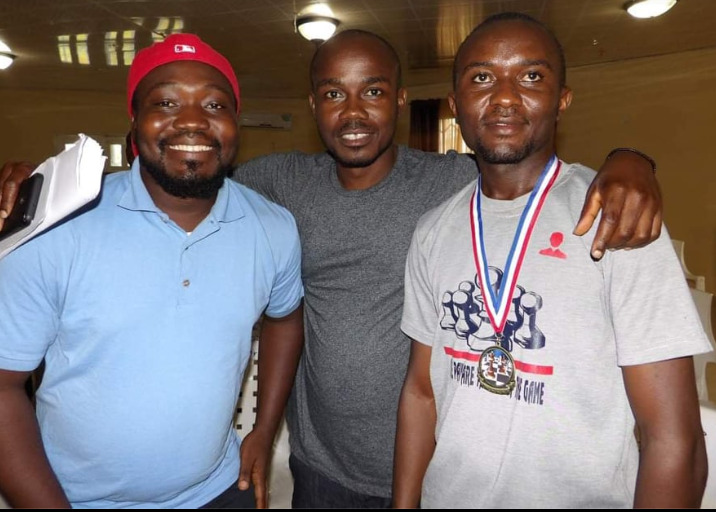 Left to Right: Former Champions James Stephen Tondo III and FM Barcon Harmon with Thomas Saah wearing his championship medal. Photo by Mario Kpan.
Kenya Chess Masala has just reported on the Liberian National Championship ending this past weekend in Buchanan City, Liberia. The winner of the championship was Thomas Saah, who in his impassioned victory speech, gave a warning to Nigeria and pledged that the regional power would not have its way in West African zone.
Saah talled +6 or 7.5/9 enroute to his first championship and with it, qualification for the Olympiad team. He was a part of the historic Batumi team that featured FM Barcon Harmon, CM (now FM) Jacob Jallah, James Tondo III and Tom Sawyer.
Wesley So and Hikaru Nakamura with Liberia
at 2018 Chess Olympiad in Batumi.
Photo by David Llada
Liberia has had activity for many years and in 2007 Parker Barcolleh had launched an initial appeal to help the Liberian chess community. It took efforts by some dedicated pioneers and seven years later the Liberian Chess Federation was born. Two years later they joined FIDE. In another two years, they participated in the 2018 Chess Olympiad in Batumi, Georgia. Saah will lead them to Khanty-Mansisyk for the 2020 Olympiad.
Thanks to Kenya Chess Masala's Kim Bhari for coverage!
Results: https://chess-results.com/tnr495363.aspx?lan=1&art=1