Bahamas' Roussos passed FIDE exam… at 13!



Many of us in chess enjoy playing the game. Some of us like to write about it. Others like to serve as organizers and directors. When you are a small country, everyone has a defined role. Olga Roussos decided on her role early on.
Back in September, Olga took the FIDE Trainers exam in the Bahamas and passed! The seminar was hosted by The Bahamas Chess Federation, and The Bahamas Ministry of Education and Ministry of Youth Sports and Culture. It was held by FIDE trainer, Brazilian Grandmaster and President of the Brazilian Chess Federation, Darcy Lima.
It wouldn't be so amazing to pass a FIDE exam except the fact that Olga was 13 years old at the time. Now having just turned 14, she is setting a course to train the next generation of chess players on the islands. The country is still reeling from the effects of Hurricane Dorian, but this is a bright spot.
The Bahamas Chess Federation is under the direction of President Elton Joseph hopes to propel the community forward. Olga, named after her grandmother, is also a promising student who excels in the STEM subjects (Science, Technology, Engineering, Maths). Congratulations!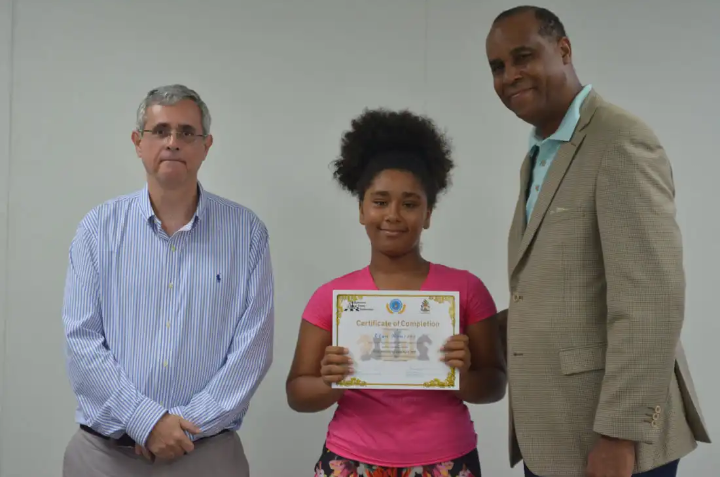 Olga Roussos getting her Trainer's Certificate from FIDE Trainer and Brazilian GM Darcy Lima. Evon Wisdom, Senior Education Officer, Interscholastic sport, Ministry of Education, Bahamas is on the right. Photo by Desiree Clark.