Long-time Cleveland master Dr. David Allen, Sr. has passed away after a long battle with diabetes. He was well-known throughout Ohio and the Midwest for his chess coaching and was particularly passionate about the African-American plight in chess. Born January 31st, 1960, David was a couple of months shy of his 60th birthday. His son Jason Clinton made the announcement on social media Friday, November 22nd.
This morning, my father, David Allen Sr., passed away. He had been suffering from complications caused by Diabetes for the last year, but in the past few months his health had taken a bad turn. To everyone who knew my father, I want you all to know that he loved and cherished you with all his heart. Much of his life was dedicated around chess, and he taught many people from their early lives to their adulthood how to play. He used chess as a vehicle to teach life skills to young adults, and wanted nothing more than to give back to the community. His legacy lives on throughout the lives he touched not only in Cleveland, but America.
Allen conducting an exhibition
When The Chess Drum interviewed David in 2000 he stated that his journey started when he purchased a chess set in 1971. He grew up in the working-class industrial town of Cleveland where chess had a number of strong masters such as IMs Calvin Blocker and Dmitri Ghizdauv. He mentioned locking horns with some powerful players of his day including scoring draws with Larry Kaufman, Ed Formanek and Milan Vukevich.
Allen reached his peak rating of 2396 in 1991 and returned to 2300-level nearly 20 years later in 2010. He also enjoyed playing blitz on chess.com as "RuffumUP". He famously participated in the Chicago-Cleveland blitz match. While his result was not up to previous form, he was one of the favorite personalities in the room and made quite an impression on those who met him. His last tournament was the Cleveland Holiday Open in December of 2018 and he ended his career at his rating floor of 2200.
In the end, he was a fixture in Midwestern chess scene and scored more than 100 tournament victories. He admitted that these tournament were of the local variety, but he was proud of his result in the U.S. Amateur Team Midwest where he score 5/6 against average opposition averaging 2350 USCF. Here are a couple of his games…
Those who had the opportunity to meet David knew how much pride he had in his sons and would always mentioned their development in chess. His oldest son, David Allen, Jr. was a scholastic standout in Ohio. Both Jason and Jonathan Clinton also earned accolades during their scholastic careers. However, he also shared his craft with many players and was a coach at John Adams High School were they won the state title in 1989.
David Allen, Jr. and David Allen, Sr.
Photo by Daaim Shabazz
Jonathan Clinton, David Allen, Sr., Jason Clinton
Photo by Nathan Kelly
There were also many other students he worked with including Diamond Shakoor who was a mainstay on these pages during her scholastic days. Allen also traveled to Detroit to train young talent and give simultaneous exhibitions. Kevin Fite of the Detroit City Chess Club reflected on how Allen "did Simuls at the the Detroit Institute of Arts, chess camps and gave lectures."
---
Dr. Allen not only worked with kids in the Cleveland area but he would drive down often to work with our kids in Detroit. He did Simuls at the the Detroit Institute of Arts, chess camps and gave lectures. He also hosted many sessions with our kids in Cleveland.
~Kevin Fite, Detroit City Chess Club
---
Those who may remember Allen would remember him as a very humble servant, but he was one of the select Black masters who proudly extolled the virtues of chess. He enjoyed being a part of this movement and took pride in being a "Drum Major" for chess. He will be remembered for becoming one of the ambassadors of this great game.
The obituary reads…
He leaves to cherish his memory Farrell Clinton and Sherrita Allen; three sons: David J.C. Allen, Jr., Jason Clinton and Jonathan Clinton; three step-children: Marion Clinton, Denise Clinton and Terance Ashford, Jr.; sister Pauletta Newett, brother Sanford Newett; three grandchildren; Jhamilla, Jemiah and Jayla McKenzie; great-grandson Jayden; and many more extended family and friends He will be clearly missed.
Kneeling (L-R): FM William Morrison, NM David Allen, Sr., Daaim Shabazz, David Allen, Jr., NM Sulaiman Smith. Standing (L-R): NM Charles Covington, NM Frank Street, FM (later IM) Emory Tate, GM Maurice Ashley, NM Jones Murphy, Jr., FM (now GM) Kenny Solomon, NM Grace Nsubuga, NM Ernest "Steve" Colding. Photo by Frank Johnson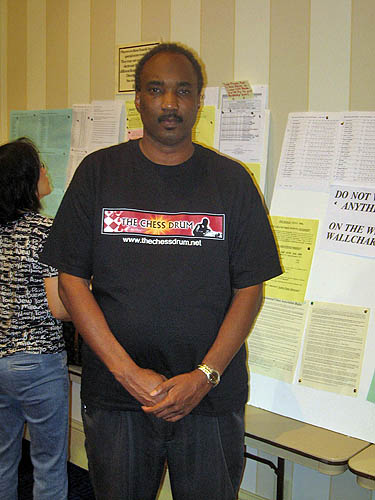 Dr. David Allen, Sr.
(January 31, 1960 – November 22, 2019)
Memorial Services for David Allen, Sr.
Saturday December 21, 2019 at 3:00 pm.
Pernell Jones & Sons Funeral Home
7120 Cedar Avenue Cleveland, Ohio 44103
16 Responses to "Cleveland master/coach David Allen passes away"
on 26 Nov 2019 at 10:17 am

2

Chiara [ Ms Pat ] Seldon

Mr Allen was co-worker an so many times he would speak on and share the joy he had for his sons Mr Jason and Mr Jonathan – Mr Allen will be truly missed – May the Lord comfort and keep you all in perfect peace – God Bless You and Your Family

on 01 Dec 2019 at 10:41 am

3

Raymond Bouyer

We were opponents on the chess board many times, mostly during high school years. I played for J.F.K. he for Adams

I always admired his dedication to the game
And I consider him a friend. Sad to hear he's gone.

It was a life well lived.

Raymond Bouyer

on 01 Dec 2019 at 7:40 pm

4

Lionel Davis

LOVE MY BROTHER.

on 03 Dec 2019 at 7:15 am

5

Charles Jones

David was my locker partner at Nathan Hale, tennis doubles partner at John Adams, chess teammate at both Nathan Hale and John Adams as he played first board and I played second. Most of all, growing up, David/Homer was my close friend, playing basketball, chess, tennis and just hanging out together. I miss my partner, opponent, teacher and brother.
Jason, please Facebook me.

on 03 Dec 2019 at 8:31 am

6

Sherrita Freeman Allen

Thank-you very much to everyone. Who knew David Homer Allen Sr. This Sherrita Allen I been knowing David for soon to be 38 years. We have our Son David Allen Jr. 37 years old. David won't be able to attend his Dad's Memorial service. But I Sherrita Allen his Mom ( me) held the phone up to his Dad ear. That was about a couple of months. It was a conversation I will never forget, David made promises to his Dad, tears were there lots of them. His Dad was very weak and tried. But he nodded his head and smiled. In reply to what our Son was saying. We all will truly miss David he touched a lot of people. David has 2 Families me and David Jr, also 2 other Sons Jason 25 and Jon 24. Their Beautiful Mother Farrell of 25 years devoted by his side. He also help raise Farrell other 2 Sons and Daughter. Total 6 childrens. Father of the year award every year. Lol. I promise we will keep David memories alive. Look for me Sherrita Allen and our Sons back in the Chess Arena. We will post the Memorial at a later date. Checkmate. From Sherrita Freeman Allen. RIP YOU WILL ALWAYS BE IN OUR HEARTS WE LOVE YOU. ? 12/3/19 8:23am Cleveland OH

on 05 Dec 2019 at 8:42 pm

7

Sherrita Allen

Mr. David Allen Memorial Service will be Saturday December 21, 2019 at 3:00 pm. At Pernell Jones & Sons Funeral Home. Located at: 7120 Cedar Avenue Cleveland, Ohio 44103. We hope that you will come to David Memorial. Thank-you to all for Donations, Prayers, you kind words. We The Family truly and Sincerely Appreciate. From Sherrita Freeman Allen December 5, 2019 8:41pm.

Thanks Sherrita!

Mr. Daaim Shabazz, I truly appreciate all that you All have done for David Allen Sr. I hope to come and meet you one day.
Thank-you Sincerely, Sherrita Allen and Family

Mr. David Allen Sr.
Please send Sympathy cards, Acknowledgements, etc., to: Sherrita Allen
1600 W Royalton Rd Apt 8
Broadview Hts., Ohio 44147
I would like to read them at David's Allen Sr. Memorial Service on December 21, 2019 Saturday at 3pm. Pernell Jones & Sons Funeral Home. 7120 Cedar Ave. Cleveland, Ohio 44103. Thank-you.

on 16 Dec 2019 at 11:12 am

11

Kaptain kirk

Wow David is gone! I remember years ago,how we were compared as the best players in the Cleveland area and this went on for years until we finally had our match great memories.

His love for his son was evident, my memories of David was seeing his son with him and he encouraging his son's chess play,, I thought "what a true dedicated father." "RIP" Kaptain

Thank-you Mr. Daaim Shabazz, for such a lovely card. I Sherrita Allen really appreciated everything you have done. Our Entire Family are truly grateful. Thank-you Mr. Kaptain Kirk (smiling me) I am David Allen Jr. Mother. I will share your message to him. I also lost David Allen Sr. Mother (my Mother n Law) on December 19, 2019. A couple days to a moth when David passed November 22, 2019. Her Funeral was Friday December 27, 2019. David Memorial Service was December 21, 2019 a few days before his Mother. David and his Mom were both in 2 different Nursing homes for about a year and a half. Almost the same sickness. Also both health decline around the same time too. God works in mysterious ways. I truly believe they are together Mother and Son. No more suffering. We ask that you please continue to keep the Family in prayer. Keep beating The Chess Drum in memory of Dr. Mr. David H. Allen Sr. Thank-you to Everyone Have a Safe and Happy New Year 2020. From Sherrita Allen, Cleveland Ohio

Mr. David Allen will be Buried on Monday 10th 2020 at 12:30 pm. At The Wester Reserve VA Cemetery Seville Road, Rittman Ohio. This is from Sherrita Allen I would like to inform All. Today is August 7, 2020. The Family would like to Thank everyone for your Prayers, Cards, Flowers and other gestures. This is Mr. David Allen Final service, He passed November 22, 2019. Stay safe and May God Bless you and your Families. Thankyou Sincerely From Sherrita Allen, Cleveland Ohio

I hear about this sad news. I would see Dr. Allen at major tournaments but never met him in person. I'm sorry for your loss—my Condolences.

on 07 Aug 2021 at 10:17 am

15

sophia lynn

RIP. David Allen
a true GEM to chessmaster
I would visit my hometown OHIO and drive up to see the WNBA basketball games and met Calvin who play chess he introduce to the guys and I would see them at the world open events.

pleasant ,kind and a Blessing to the chess community

Sophia lynn in the DMV (dc va md)

David Allen, Sr. called me, "Old Friend." We first met at The Parma Open in 1987. Another friend and I were playing skittles for a few dollars a game and when David came around commenting on the game, I tried to shew him away by saying, "We're playing for money," which didn't shew David away. Instead he became excited and attracted. I didn't know who David was then. Good thing I didn't put my money on the table against him then. I had the pleasure of watching and listening to David mentor youth and seeing lights brighten on their faces from sudden realization of truth from David's words. The Cleveland community and Chess World at large are weakened by David's departure. I miss you, Bro!!! : ) See you soon.
Leave a Reply!