2017 Africa Tour with IM Makoto



IM Rodwell Makoto
addresses students in Nairobi, Kenya
IM Rodwell Makoto is the latest Master to participate in the African Tour sponsored by the Paul Allen Foundation and organized by the Kasparov Chess Foundation and MiniChess Kenya. He follows GM Kenny Solomon who visited Kenya in February. GM Pontus Carlsson and IM Daniel Jere also conducted classes. GM Maurice Ashley will arrive in June.
At the end of the program, the masters will have conducted training sessions in Botswana, Namibia, Zambia, Kenya, Rwanda and Tanzania from February to June 2017 reaching more than sixty locally based trainers. These trainers will then teach more than 1,500 children through indirect training sessions. IM Makoto, a Zimbabwean based in South Africa, arrived in Nairobi on April 6th.
According to a report at the Kasparov Chess Foundation,
Rodwell arrived at 1730 at JKIA Airport and was met by Githinji Hinga of MiniChess Kenya and Mr Joseph Atwoli. By 18:30 he was at the vibrant Motor Sports Club where he met some local players and engaged them in a few games of blitz. He played several games against some of the top Kenyan opposition and won them all easily. Eventually he decided to start giving time odds and eventually only only lost one game to Mr. Francis Ngesa, former CK Vice Chairman.
Playing a bit of blitz with the locals.
On Friday, Makoto addressed students and visited the Kenya Academy of Sports and its Director, Mr. Douglas Ratemo. On Saturday, he conducted a training session at Lotos Inn and Suites. It was a rigorous lesson plan with homework included!
A different cohort of trainees participated in this second tour as a result of the decision taken to train 36 trainees in Kenya due to the large number of applications received.
The 2nd cohort of trainees were:
Robert Moseti
Titus Gichuka
Josphat Owila
Victor Hongo
Morrel Omondi
Trevor Mulindi
Boniface Kathurima
James Sean Kang'aru
Erik Oyugi
Evelyn Gichuru
Lucy Wanjiru
Omoke Georgina Marube
His sessions covered…
opening, middlegame and endgame themes and drills
strength training
training techniques and resources and
ChessBase and computer software and useful internet links
Photos of surrounding communities… wonderful!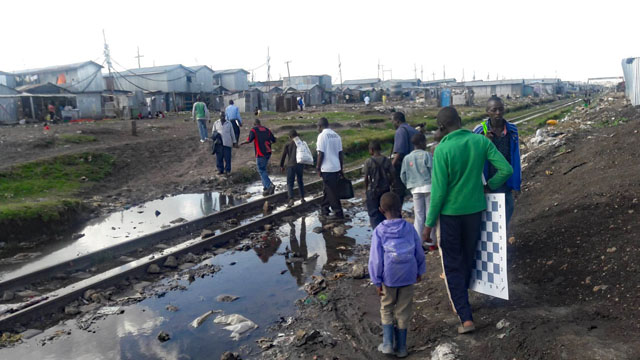 Making the trek through the township.
Certainly a lot different from the way other players started playing.
Makoto juggling a ball 🙂
Makoto conducts class at New Dawn Community School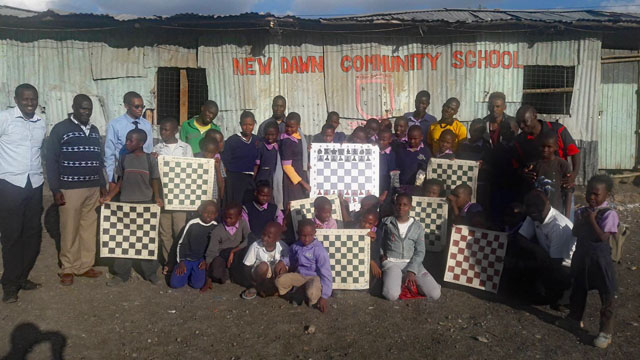 Makoto did final assessments and left on the 13th in time to participate in the Easter Open in Zimbabwe. Githinja Hinga's MiniChess Kenya branch has identified the following four partner schools to receive a donation of chess equipment and chess instruction from the new trainees:
Nairobi Primary School
Moi Avenue Primary School
City Primary School
Madaraka Primary School
Paul Allen: https://www.pgafamilyfoundation.org/
KCFA: https://www.kcfafrica.com/