Championship shows changing face of U.S. Chess
The recently-ended 2017 U.S. Championship was quite an exciting affair with Wesley So and Sabina Foisor winning their respective titles. There were quite a number of unexpected results as veterans Alexander Onischuk and Varuzhan Akobian scored some crucial victories to put themselves in position to win the tournament. Akobian lost the last round to Hikaru Nakamura while Onischuk won to force a playoff with Wesley So. So went on to win the playoff and thus, his first U.S. Championship. Foisor won by a full point in an emotional outpouring months after her mother passed away suddenly.
GM Elshan Moradiabadi embraces his fiancee Sabina Foisor
after she won the 2017 U.S. Women's Championship.
Photo by Daaim Shabazz
While the overall championship had a similar field from last year, the women's championship had a bit of intrigue with five juniors in the field. These girls were not just placeholders but took several scalps with Jennifer Yu beating 7-time champion Irina Krush, 4-time champion Anna Zatonskih and defending champion Nazi Paikidze. Maggie Feng scored +1 and beat Sabina Foisor. Carissa Yip upset Zatonskih while Apurva Virkud beat Anna Sharevich. These results practically changed the face of the tournament. Despite the loss to Feng, Foisor was able to win in style in the last round over Virkud. The women's field seems to be where the "men's" field was 20 years ago… dominated by a cadre of Eastern European immigrants. The tide is changing.
Scholastic power in the house!
Yu, Yip and Feng playing bughouse with GM Yasser Seirawan
Photo by Daaim Shabazz
It has been an interesting evolution in women's chess with the rise of the number Asians competing in the championships in the past several years. Go to any given tournament and there are about 25%-30% Asian children playing. This mirrors the success of chess on the international level in China, India and Vietnam. Top-level American chess evolved from the "Fischer Boom" products (i.e., Yasser Seirawan, Mark Diesen, Larry Christiansen, John Fedorowicz, Joel Benjamin and Michael Wilder) followed by onslaught of the Soviet emigres.
At the 2003 U.S. Championship, Alexander Shabalov made a bold prediction that Hikaru Nakamura was going to be a future champion. Can the same be said about Jeffery Xiong? Photo by CCSCSL
After two decades of dominance, these naturalized citizens went on to train some of the the next stars emerging now. You have the many top American-made products near the top including Nakamura, Fabiano Caruana, Ray Robson, Sam Shankland and Daniel Naroditsky. Now Jeffrey Xiong has risen and will be a threat to make the Olympiad team in 2018. The men's field look completely different from 25 years ago when the entire field were from the former Soviet Union. These championships were marred by endless draws.
This year four expats from eastern Europe were present Gata Kamsky (Russia), Alexander Onischuk (Ukraine), Varuzhan Akobian (Armenia) and Alexander Shabalov (Latvia). They represent the veterans of the group and have performed in stellar fashion during their careers. This competitive spirit has provided lessons for up and coming stars and in some cases, coaching. As chess becomes more diverse, we will begin to see interesting stories surface. Wesley So, a Filipino representing the U.S., is an interesting story and may combine with Caruana and Nakamura to make a run in the world championship cycle.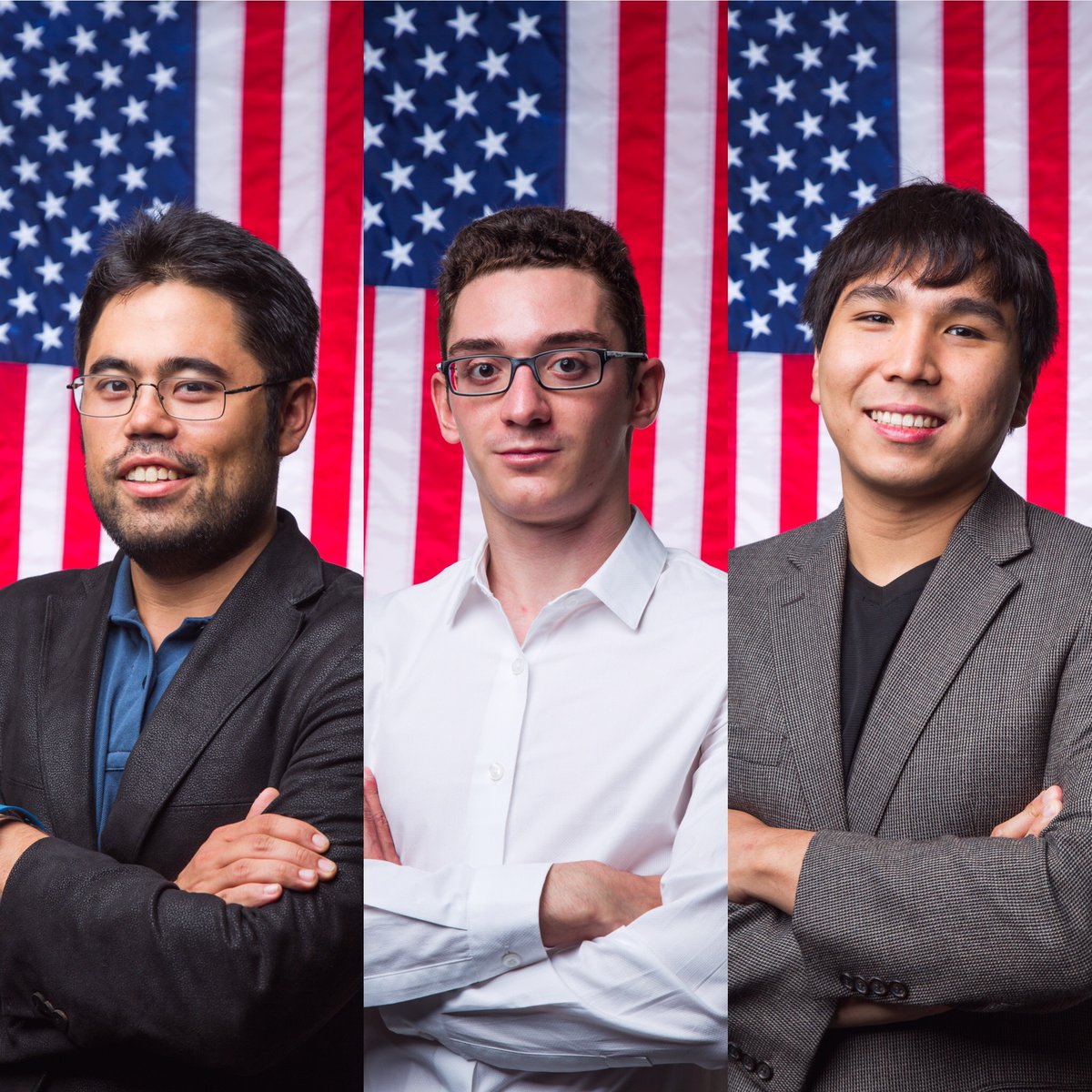 THE GOLD STANDARD!
Hikaru Nakamura, Fabiano Caruana and Wesley So
Photo by Chris Bauer
It appears that U.S. Chess has evolved and on the eve of Supernationals in Nashville, it seems to be headed in the right direction. This is much more impressive when you realize that Nakamura is only 29, Caruana 24 and So 23. With a pipeline of young talent coming through it appears that U.S. chess has changed literally and figuratively. Much of the talent is homegrown and U.S. chess will be a force for decades to come.
Official Site: uschesschamps.com
YouTube: https://www.youtube.com/user/STLChessClub
PGN Games (TWIC): Open, Women