Early Reactions to $1,000,000 Chess
Chess will never take its true place as the "KING OF GAMES/SPORTS" if we do not think big and aim for the galaxies!!

~Ian Wilkinson, President of Jamaica Chess Federation

Can't wait for the tournament!!! It's going to be a historic event! I play 4-5 tournaments a year, but this one will be the most important for me.

~GM Gregory Kaidanov
Early reactions to GM Maurice Ashley's "Millionaire Chess" tournament slated for October 2014 have been mixed ranging from unbridled excitement to sharp skepticism. Above were two comments of optimism. Two below are are of pessimism…
i wont go as a matter of principle, if you are paying that much its not for the love of the game.

~FF22Raptor posted at chess.com

Anyone who is say a genuine under 2000 will be chucking their money away to give to some sandbagger, these big class prizes are just ridiculous.

~Psychiatrist posted at chessvibes.com
GM Maurice Ashley
Photo by millionairechess.com.
Two weeks ago, Ashley announced his $1,000,000 chess festival to a chorus of applause by some who feel that it would give the chess circuit a needed boost. Ashley has been voicing his concerns about the stagnation of American chess circuit for the past several years. He has not only voiced his concerns, but has sought to do something about it. In 2005, he organized the $500,000 HB Global Chess Tournament. It was considered a rousing success from the players' viewpoint, but the sponsor choose not to reinvest.
When Ashley announced the "Millionaire Chess Open", the initial questions and concerns were the obvious. Most of the concerns centered around the $1,000 entry fee. This is of course an "upfront cost" required by March 2014. Many have opined that paying such a fee seven months before the event is prohibitive. When asked for an alternative strategy, "Rama Gitananda," posted at Chessvibes.com,
"Don't have a $1,000 penalty for not paying early. Some people may need time to raise the money OR they may not know if they can play until after the 'early bird deadline'. A $100 – $200 penalty is enough. If a person discovers after your deadline that they can actually play then they may be put off by the $2000. entry fee. Of course if a player refuses to do an advance entry and just shows up on the day of the tournament – THEN charge him what you will."
Since Ashley had stated that poker players have been playing much more to win the famous prizes, many felt that there was a connection being drawn to poker. After launching the tournament, Ashley had even asked if chess players are less passionate about chess than poker players are about poker. There were comments on chess.com and poker blogs about a man who spent a year recycling cans to get the $10,000 entry fee for the World Series of Poker (WSOP). Apparently, this became the "Cinderella" story of that WSOP tournament.
WGM Jennifer Shahade has endorsed the Millionaire Chess Open and will most likely be doing double duty between chess and poker. Photo by cardplayer.com.
No one is advocating that a person collect cans to pay $1,000 entry fee, but the point is that if one is determined, then perhaps there is a way to raise the funds. Even then, chess players had another issue… winning!
The difference with poker players is that they bet on their skills and luck. Chess players know that if they are not good enough, they will be crushed and almost certainly lose a grand.
another comment…
ANYONE can win at no limit Texas hold'em poker if you understand the game and have played it enough times. The proof is there for all to see. Poker has a massive luck factor.

But Joe Bloggs, paying a thousand bucks thinking he's pretty handy at chess would have to be a total loon to think he'd beat a GM and even worse a super GM. If Naka and Co enter then you can say goodbye to your money.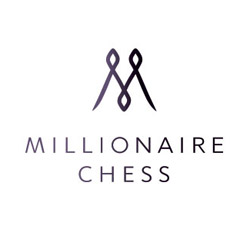 Not sure everyone would agree with this assessment of poker, but the rigid probability may give amateur poker players a better chance. Of course in chess that is why you have different sections where players of the similar ratings will compete… not a GM against a 1600 ELO player. Players will have a chance to win one of 50 prizes playing those of their own strength. "srdiamondd" posted an insightful comment on chess.com.
The true chess player will not just see this as "a must win your money back event" only. If everyone had to be guaranteed to win then that would truly be some fantastic event like our club has for our youth.
he continued…
If you don't go, you can't win, and that is guaranteed. I hope to enjoy the hospitality of the organizers who I trust will be doing their best to make this a memorable event.
To address these concerns and others, Ashley came out with a response a few days after the event. He expounded on the goals and the value-added benefits that make this tournament different from others. Others simply felt the tournament details left a bit to be desired or had an issue with the chances to win.
---
The total prize fund of the Open section is $407,000! In addition, we go to 50 places in each section instead of 10 in most events. Please crunch the numbers any way you wish, and I think you will see that we stack up very well.
~GM Maurice Ashley
---
One well-known player had concerns that the tournament did not provide any "breakthrough" and that the economic model is identical to other major open event. So what do you get for $1,000? Ashley posted some of the responses at The Chess Drum and below he addressed the fee/prize issue.
If you look at the prize to entry fee ratio of our event, you will find it is the best of any major tournament in the US. The total prize fund of the Open section is $407,000! In addition, we go to 50 places in each section instead of 10 in most events. Please crunch the numbers any way you wish, and I think you will see that we stack up very well.

As for value, this event will far outstrip any other due to all the additional amenities we are offering (opening breakfast, VIP suite, gift bags on entry, live broadcasting, super-enhanced security, blanket TD service, etc). Add the MIT Media Lab technological innovations to the mix, and I guarantee you will not walk away from this event thinking this is just another Open tournament. We plan to make your jaw drop by the time it is all over. (See post)
One of the factors playing to Ashley's advantage was the success of the HB Global event and the fact that the prizes were paid out promptly afterward. The tournament was a hit amongst its attendees and perhaps the sponsors' withdrawal kept it from becoming a mainstay on the American chess landscape. What it did was raise the standards of tournaments, but with the Millionaire Chess Open, he plans to make the tournament one in which sponsors will want to be a part of.
GM Ashley (pictured left) helping to award winners with prizes at HB Global. The tournament was a rousing success with the players! Photo by Daaim Shabazz.
Since the announcement, several strong players have expressed support such as GMs Gregory Kaidanov, Dmitri Gurevich and Robert Hess. Other chess personalities such as commentators WGM Jennifer Shahade and IM Lawrence Trent have given the event endorsements. Some of high profile players have shown skepticism.
WGM Natalia Pogonina posted on chess.com,
Interesting experiment, although I won't be participating. First of all, they are not offering conditions to anyone. Secondly, the format is basically "winner takes it all". For example, $40k for 1st and only $5k for 4th in the 2350-2499 group. I have no idea why certain pros waste their time and money playing in such events. Gambling spirit maybe?! Anyway, let's see how this goes.
While she is correct that Millionaire Chess franchise is not offering conditions (at this time), there is NO accuracy in the "winner takes it all" format she articulated. There are 50 prizes in each section. In addition to the 50 prizes in the Open Section there are eight additional prizes, with four each in the under-2350 and 2350-2499 class of players.
---
A pessimist sees difficulty in every opportunity. An optimist sees opportunity in every difficulty.
~ Winston Churchill
---
While some argue that this tournament is unaffordable for "most chess players", it hopes to attract 1500-3000 entrants. Perhaps some fail to understand what Ashley is trying to accomplish and it will be a gargantuan task for the company to reveal the glory of chess on one of the world's biggest stages. It is up to chess players to prove that chess deserves a higher profile.
For answers concerning the Millionaire Chess Open,
visit the FAQ page at https://millionairechess.com/tournament/faq/