2013 U.S. Championships (Round #7)
GM Gata Kamsky was unable to overcome GM Alejandro Ramirez.
The tournament is coming down to the wire with the penultimate round tomorrow. Today at the top of the field changed little, but a few other contenders inched closer. Gata Kamsky-Alejandro Ramirez had an interesting battle in which a tactical melee ensued. Kamsky came out on top and seemed to be heading toward a decisive result when he overlooked Ramirez's saving shot 30…Bh3! At this point, white had to cede his advantage and they soon shook hands.
Larry Christiansen 'chilling' in between moves against Alex Stripunsky.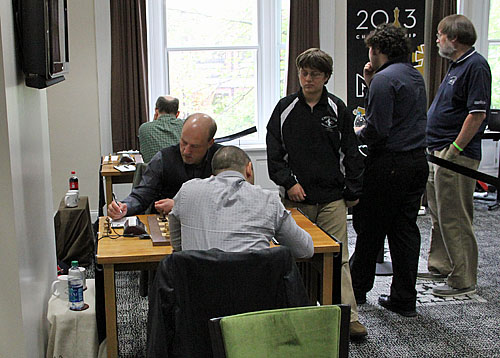 Akobian-Shabalov was quite a fight! Samuel Sevian takes a glance.
Young Grandmaster Conrad Holt chuckled when told about The Chess Drum's reference to him as the "Lightening Holt". He said, "Usually it is 'Thunder Holt', but 'Lightening Holt' is a new one. Befitting of his new moniker, Holt jolted Alexander Onischuk with a rarely-played line against the Nimzo-Indian 1. d4 Nf6 2. c4 e6 3. Nc3 Bb4 4. Qc2 O-O 5. e4 d5 6. e5 Ne4 7. Bd3.
The two actually played this once before at a 2012 University of Texas-Dallas (UTD) GM Invitational event, but Onischuk played 14…Qxd5 instead of the game's 14.exd5. Holt started an aggressive plan on the kingside prying open the position with 29. e6 Bxe6 30. g5! Black was forced to sacrifice the bishop with 30…Rxd4 31. cxd4 hxg5 32. Rxg5 Bh3.
FM Jorge Sammour-Hasbun considers it an honor to be competing after such a long hiatus from competitive chess. Despite his rust, he is still a phenomenal blitz player.
Onischuk had told Holt in the press room that he thought white must be winning that position at some point. Nevertheless, he held the position to remain only a half-point back. Meanwhile Holt is having a wonderful tournament. He told The Chess Drum that he is studying physics at UTD and was taking final exams during the event. Holt is from Wichita, Kansas, a place where there is little competitive chess, but he has basically honed his skills on the Internet and through software programs. Interesting story, but of course given the success of Magnus Carlsen and Hikaru Nakamura, these methods are all too common.
In other important games, GM Timur Gareev routed GM Ray Robson in a very complicated line moving the Uzbek into one point of the lead with two rounds remaining. Young guns are still playing well as IM Kayden Troff held GM Gregory Kaidanov while 12-year old IM Samuel Sevian got his first win of the event beating GM Meliksat Khachiyan. Khachiyan tossed a piece in time pressure.
Irina Krush widened her lead after her opponent Viktorija Ni blundered.
In the women's competition, IM Irina Krush cemented her lead with a win over WIM Viktorija Ni. With a one-point lead going into the penultimate round, it will be very difficult to catch the defending champion. After registering her first win yesterday, WFM Sarah Chiang helped Krush's cause by holding WGM Tatev Abrahamyan.
National Master Alena Kats
Photos by Daaim Shabazz.
The "other" of the Irina/Iryna duo won as WIM Iryna Zenyuk toppled WGM Sabina Foisor after sacrificing her queen for two pieces and dangerous attack. Foisor ended up in a mating net. It is interesting that the woman's standings is nearly identical to relative ratings.
In round #8, the marquee matchup will pit Krush against one of her main competitors in Abrahamyan. IM Anna Zatonskih who beat NM Alena Kats will play Zenyuk. These four players represent the top four players in the standings. Should be an exciting round!
2013 U.S. Chess Championship

St. Louis, Missouri, USA

Round #7 Friday, 10 May 2013)

#
White
Pts.
Rating
Black
Pts.
Rating
Result
1
GM Kamsky, G
5.0
2741
GM Ramirez, A
4.5
2551
½-½
2
GM Holt, C
4.0
2513
GM Onischuk, A
4.5
2666
½-½
3
GM Gareev, T
3.5
2674
GM Robson, R
3.5
2620
1-0
4
GM Benjamin, J
3.5
2534
FM Bryant, J
3.5
2442
1-0
5
GM Akobian, V
3.0
2616
GM Shabalov, A
3.0
2544
0-1
6
GM Shankland, S
3.0
2612
Norowitz, Y
3.0
2451
1-0
7
IM Troff, K
3.0
2421
GM Kaidanov, G
3.0
2593
½-½
8
GM Stripunsky, A
3.0
2570
GM Christiansen, L
3.0
2579
0-1
9
GM Shulman, Y
2.5
2570
GM Finegold, B
2.5
2505
0-1
10
GM Hess, R
2.0
2595
FM Sammour-Hasbun, J
2.5
2463
½-½
11
FM Sevian, S
2.0
2371
GM Khachiyan, M
2.0
2518
1-0
12
GM Ivanov, A
1.5
2529
GM Arnold, M
1.0
2538
0-1

Women

1
WIM Zenyuk, I
3.0
2243
WGM Foisor, S
2.5
2300
1-0
2
IM Zatonskih, A
4.5
2466
WFM Kats, A
2.0
2144
1-0
3
WGM Belakovskaia, A
2.0
2263
WGM Baginskaite, C
2.5
2278
½-½
4
WFM Chiang, S
1.0
2098
WGM Abrahamyan, T
5.0
2280
½-½
5
IM Krush, I
5.5
2470
WIM Ni, V
2.0
2262
1-0

Games
Official Site: https://www.uschesschamps.com/
Drum Coverage: https://www.thechessdrum.net/blog/2013/05/03/2013-u-s-championships-st-louis/