The U.S. Championships resumed today after a well-needed rest day. Gata Kamsky and Irina Krush were leading the field coming into the round, but the field was closing fast and the pace was blistering with decisive games (60% men – 76% women). Kamsky would face his main rival in Alexander Onischuk who was a scant half-point behind. Meanwhile Krush would face Sabina Foisor who was struggling to find solid ground.
Alexander Onischuk faces off against leader Gata Kamsky, 1/2-1/2.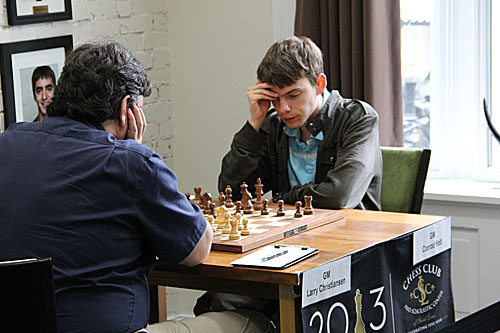 'Big Larry' was felled by a diminutive 'Lightening Holt', 0-1.
Kamsky and Onischuk played a tough struggle, but ended indecisively. Along with Onischuk, Alejandro Ramirez has notched three wins in a row after beating Joel Benjamin to climb into joint second on 4.5/6. Nineteen-year old Conrad Holt beat Larry Christiansen to move up fourth place. John Bryant is another youngster having a wonderful tournament and is on 3.5/6 after drawing Timur Gareev in a Modern Defense. Ray Robson scored his third win in a row after losing his first two games and is tied with Gareev, Bryant, and Benjamin on 3.5/6.
After 15. Bf4, Belakovskaia snatched a pawn with 15…Nxd5?? 16. Nxd5 Qxd5 17. Bxf5+! Kb8 (rook is now vulnerable) 18. Bxe5 Bc5 19. Qxd5 Rxd5 20. Bxg7 Re8 21. Bh3 netting a piece.
In the women's field Krush saw her lead whittled down to a mere half-point as she was held by Camilla Baginskaite while Tatev Abrahamyan beat Anjelina Belakovskaia. Abrahamyan took advantage of a blunder, netted a piece on move 15 and the game. Here on the right, Belakovskaia played 15…Nxd5?? Abrahamyan contemplated the position and forged ahead to find the right intermezzo with 16. Nxd5 Qxd5 17. Bxf5+! On the top board, Irina Krush attempted to muddy the waters with a double pawn sacrifice but Foisor decided not to fill her stomach with greed and immediately returned both pawns for a comfortable draw.
Irina Krush (right) was unable to break through against Sabina Foisor. Her lead has been whittled to a mere half-point.
Sarah Chiang was relieved to win her first game against Viktorija Ni, 0-1. Photos by Daaim Shabazz.
Sarah Chiang won her first game against Viktorija Ni. Chiang, the youngest participant at age 15, felt relieved at her first win and received inspiration from her coach Gregory Kaidanov before the game. When asked if the rest day helped she commented that she spent time at the Innovative Concepts Academy and did school work after that!
One of the issues with the timing of the tournament is the number of students competing. Both GMs Marc Arnold and Conrad Holt were in the throes of their final papers and exams and in fact were completing assignments between rounds. One player was even taking an exam that had to be proctored. Perhaps something can be done about the time conflict, but the issue is that the Chicago Open is only two weeks after so conflicts abound.
2013 U.S. Chess Championship

St. Louis, Missouri, USA

Round #6 (Thursday, 9 May 2013)

#
White
Pts.
Rating
Black
Pts.
Rating
Result
1
GM Onischuk, A
4.0
2666
GM Kamsky, G
4.5
2741
½-½
2
GM Benjamin, J
3.5
2534
GM Ramirez, A
3.5
2551
0-1
3
FM Bryant, J
3.0
2442
GM Gareev, T
3.0
2674
½-½
4
GM Christiansen, L
3.0
2579
GM Holt, C
3.0
2513
0-1
5
GM Robson, R
2.5
2620
GM Shulman, Y
2.5
2570
1-0
6
Norowitz, Y
2.5
2451
GM Akobian, V
2.5
2616
½-½
7
GM Shankland, S
2.5
2612
IM Troff, K
2.5
2421
½-½
8
GM Kaidanov, G
2.5
2593
GM Stripunsky, A
2.5
2570
½-½
9
GM Shabalov, A
2.0
2544
GM Hess, R
2.0
2595
1-0
10
GM Finegold, B
1.5
2505
GM Khachiyan, M
2.0
2518
1-0
11
FM Sammour-Hasbun, J
1.5
2463
GM Ivanov, A
1.5
2529
1-0
12
GM Arnold, M
0.5
2538
FM Sevian, S
1.5
2371
½-½

Women

1
WGM Foisor, S
2.0
2300
IM Krush, I
5.0
2470
½-½
2
WIM Ni, V
2.0
2262
WFM Chiang, S
0.0
2098
0-1
3
WGM Abrahamyan, T
4.0
2280
WGM Belakovskaia, A
2.0
2263
1-0
4
WGM Baginskaite, C
2.5
2278
IM Zatonskih, A
3.5
2466
0-1
5
WFM Kats, A
1.5
2144
WIM Zenyuk, I
2.5
2243
½-½

Games
Official Site: https://www.uschesschamps.com/
Drum Coverage: https://www.thechessdrum.net/blog/2013/05/03/2013-u-s-championships-st-louis/
One Response to "2013 U.S. Championships (Round #6)"
Photos from Round #6
Photos by Daaim Shabazz.

Action in the women's group with GM Robert Hess looking on.

14-year old Kayden Troff has impressed thus far.

FM John Bryant vs. GM Timur Gareev, 1/2-1/2.

Arbiter Francisco Guadeloupe

GM Ray Robson vs. GM Yury Shulman, 1-0.

IM-elect Yaacov Norowitz

Arbiter Carol Jarecki

FM Jorge Sammour-Hasbun vs. GM Alexander Ivanov
Leave a Reply!