Will Gwaze be next African GM?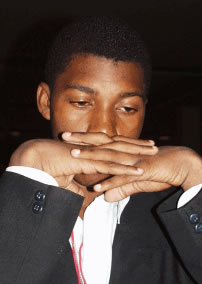 It has been almost nine years since IM Robert Gwaze won a gold medal by scoring a sizzling 9/9 at the 2002 Chess Olympiad. There has been question of his whereabouts and activities. Most of his fans would like to know what he is doing to pursue the Grandmaster (GM) title. Gwaze is currently in Zimbabwe and doing quite well. He won the Botswana Open last month, but is looking for opportunities abroad.
The Chess Drum's Daaim Shabazz put him in touch with László Nagy of Hungary, the man responsible for the famous "First Saturday" tournaments. Nagy has made an open invitation to African players seeking norms. The tournament is more commonly known as a "Rites-of-Passage" for players seeking IM and GM norms and has been in existence since 1992. A number of top players have played there and it reads like a list of "Who's Who in Chess." (official site)
Here is what Gwaze had to say about his plight:
I get a fair number of tournament invitations every year. And very often I'm offered free entry plus accommodation. It is getting to the tournaments which is my main obstacle as I can't afford to fly myself to Europe. So instead I end up settling for events within my reach even though they don't add up that much to my chess. Thanks for putting up my name to Lazslo. He indeed invited me to the three GM events coming up soon. It's such a wonderful and great opportunity four me to get my 3rd and final gm norm. Unfortunately I have to let this chance pass due to the same reason, I can't afford the air ticket to go there.
Gwaze told The Chess Drum that while he is eager to earn his last GM norm and has changed his approach to chess and now employ a physical training regiment. While he has secured a "sponsorship" from a Zimbabwean clothing company (FaithWear), but it does not entail travel expenses. He is looking to make the last stretch to earn the last GM norm and get the last 70 points for a 2500 rating. If anyone wants to assist Gwaze in this effort, please contact him via Facebook.
IM Robert Gwaze competing in 2010 South Africa Open
against Jordan Star (0-1)