The Chess Drum was in the building!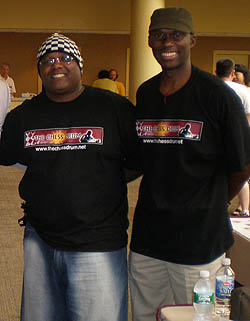 Over the years, the World Open has been a reunion of sorts and it serves as the best social networking chess event in the land. At the tournament, one may notice all types of chess paraphanelia including monogrammed boards from various tournaments, engraved chess clocks and of course the ubiquitous t-shirt.
This is basic attire for chess players and there are some very creative slogans. I have seen shirts saying "Show me the money" to others putting a hex on the opponent. Another said, "I'm not dead yet." Some other popular shirts are those from past tournaments, but those becoming increasingly popular are those affiliated with some type of chess organization. I saw shirts from St. Nicholas Park and Glenn Bady's Challenging Heads and many from local chess clubs and schools.
Frank Johnson of shootfilm.net wearing Chess Drum shirt. Daaim Shabazz of The Chess Drum wearing wuchess.com shirt. Orrin Hudson representing his own besomeone.org.
Before leaving Florida, I packed away a load of Chess Drum t-shirts to bring to the World Open and it is interesting how a t-shirt can how to build bridges. In marketing these are called brand-building techniques, but it is also a show of support of the organization's mission. I appreciate all the support given to the mission of The Chess Drum over the years.
There are many stories that often go untold or unnoticed. Let's hope that more will recognize the contributions being made by those featured on the site and continue to add to the universal language of the chess.
Nate Stevens and Daaim Shabazz (above left). More photos coming!