2015 London Chess Classic (Round #3)
Round #3: Sunday, 6 December 2015
Alexander Grischuk ½-½ Anish Giri
Maxime Vachier-Lagrave 1-0 Veselin Topalov
Fabiano Caruana ½-½ Hikaru Nakamura
Viswanathan Anand ½-½ Magnus Carlsen
Michael Adams ½-½ Levon Aronian
Former World Champion missed his chances against a Berlin.
Photo by Ray Morris-Hill.
There are certain opening trends in top level chess. Over the years, we have seen many theoretical battles played out over the board until there is an epic game that turns the tide. Right now, that opening is the Berlin Defense against the Ruy Lopez. There were three games related to the Berlin which received reactions among viewers.
In my day we were still allowed to play openings other than the Berlin #LondonChess

— Nigel Short (@nigelshortchess) December 6, 2015
Well… there you have it. We are in the era of the Berlin Defense popularized by Vladimir Kramnik as a risk-free response to the Ruy Lopez. All of the Berlin-related games were drawn, but not before some scares. Viswanathan Anand got the upper-hand against Magnus Carlsen's Berlin, but made some inaccuracies and fell behind. In the end, he was able to hold the rook ending.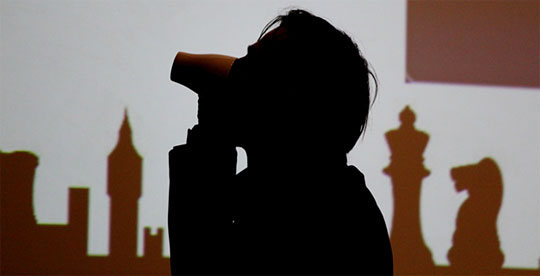 Grischuk went in the tank for over an hour on move 20.
Maybe the coffee isn't strong enough.
Photo by Amruta Mokal.
The other Berlin Defense was handled by Anish Giri who also fell behind and was on the precipice of disaster. Alexander Grischuk had a healthy dose of preparation and at one point shared that the natural 19…Nxd6 loses! Giri did not go down that path, but ended up worse. Unfortunately, Grischuk had fallen low on time, made some inaccuracies and let Giri off the hook.
month, Fabiano Caruana and Hikaru Nakamura played an exhibition match in which Caruana surprisingly won. Perhaps this gave him confidence. The all-American matchup didn't go all the way to Berlin, but only halfway.
Nakamura couldn't be pleased with his prep this round.
Photo by Amruta Mokal.
The anti-Berlin with 4.d3 started a different type of game and the strategy almost paid off. It appeared that Caruana had positional grip with attacking chances after 15…b4. Nakamura decided to toss a pawn for activity and tied up white's forces. Caruana's attempt at counterplay yielded nothing and Nakamura took a half-point.
The decisive game of the round was a Sicilian Najdorf (of course)… kill or be killed. Veselin Topalov is fortunate to have nine lives in this tournament because he'll need them. He's already lost two. The 6.h3 line has been employed at the top level to sidestep main lines of 6.Be2, 6.Bc4 and 6.Bg5. This move is the cousin of 6.g3 but there is the option of also playing g4 after h3. In actuality, MVL got nothing special out of the opening except a little space.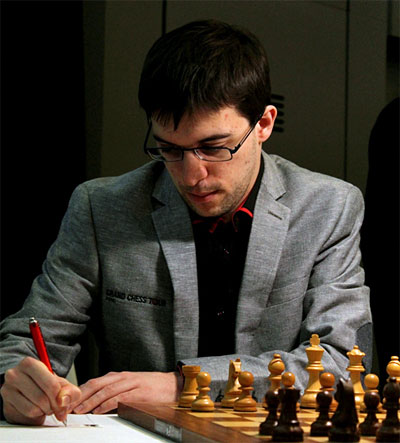 MVL got an early Christmas present from Topalov.
Photo by Amruta Mokal.
White then decided to raid the queenside and an imbalance was created and when the smoke cleared there was a white passed a-pawn. This pawn served as a distraction and black's weakened kingside became a problem. Black's 34…Rxa5? led down a path of destruction. The desperado 36…Rxf2 was losing, but 36…Qc1 gave more chances… probably still lost.
Games of Round #3
Games (Round #3): https://www.thechessdrum.net/palview7/london15-3.pgn
Replay of Round #3
Video by CCSCSL.
Official Site: https://www.grandchesstour.com (live games)
Video Archive: https://livestream.com/accounts/3913412/events/4518826
Drum Coverage: https://www.thechessdrum.net/blog/2015/11/29/2015-london-chess-classic-london-england/