Millionaire Open #2 gets Caruana!
Caruana faced Nakamura at last year's Sinquefield. Both will compete in this year's event as well as the Millionaire Open. Photo by uschesschamps.com.
On June 26th, Fabiano Caruana was officially listed under the U.S. Chess Federation. This move comes after last year's transfer of Wesley So of the Philippines. Along with Hikaru Nakamura, these three players will be Olympiad teammates, but will also be adversaries in future competitions at home and abroad. One such event is the Millionaire Open in October.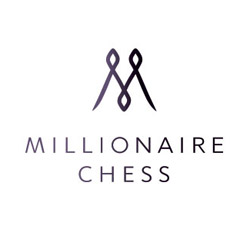 Caruana has recently registered for the Millionaire Open which is gaining momentum quickly. MC2 boasts a large contingent of strong players including the top seeds Caruana, Nakamura and So along with contingents from more than 40 countries. (see list)
Fans from around the world will be excited to see the American brass lock horns in the brutal Swiss system where you fight for every point regardless of color. The high-powered technology and media coverage will set standards of excellence and we can look forward to excitement in a new era of American chess.