3-D Chess by Raja Concepts
FOR IMMEDIATE RELEASE
Media Contact: Lauren Eastman
(415) 867-7664 or lauren.eastman@gmail.com
* * *

Celebrate Family Gatherings This Holiday with The Chessboard®
Bring the Family Together with a Game of 3-D Chess
Ignite the Senses and Enhance Conversation
San Francisco, CA (November 15, 2011) — Just in time for the holidays, Charles Smith, owner of RAJA Concepts, LLC, announced the availability of The Chessboard®. The innovative, elaborate three-dimensional board makes a perfect holiday gift for players, collectors and chess aficionados alike. It is a perfect gift to bring the family together during the holiday season, as well as a beautiful collector's piece.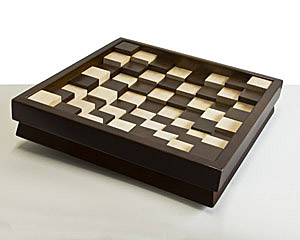 "The Chessboard® a perfect accompaniment for match play and a consummate conversation piece for collectors, said Smith. It's 3-D design heightens players' excitement over the flat board and increases the use of strategy and tactics among players."
Created out of beautiful sustainable woods, The Chessboard® brings the game back to its authentic roots, but in a modernized fashion. As the game of Chess itself is modeled on war, the 3-D design evokes the feeling of a colosseum, with steps leading down to the "battlefield." The patented, durable design contains the customary 64 squares arranged in an eight-by-eight grid and meets United States Chess Federation (USCF) standards. While the rules of the game remain the same, The Chessboard® elevates the senses and imagination during match play for all skill levels from beginner to grandmaster.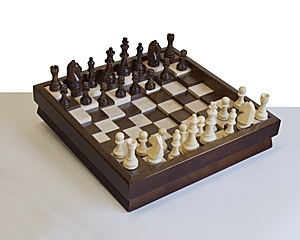 There are countless benefits to Chess. The game assists with pattern recognition, strategy development and tactical advancement, while teaching proper etiquette and mental discipline. Particularly in a computer and video game era, chess teaches children to think ahead and plan. The game is known to increase spatial, numerical and even verbal aptitude in students, and has been shown to increase self esteem. According to America's Foundation for Chess, the game is one of the "fastest growing sports in elementary schools". It has also become part of required curriculum in more than 30 countries.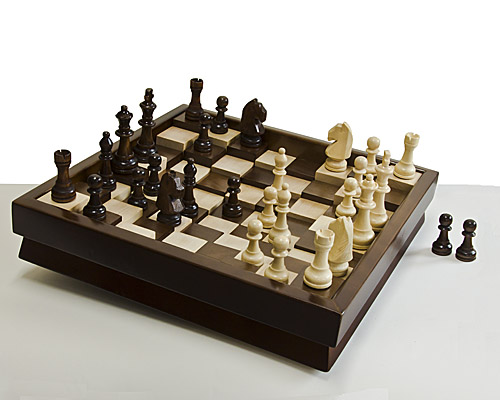 For older players, the cognitive skills associated with the game are credited with delaying Alzheimer's Disease and memory loss as it stimulates certain areas of the brain related to memory.
Charles Smith, owner of RAJA Concepts, LLC.
About The Chessboard®: The Chessboard® is a must have for chess players and collectors alike. It is available for sale online at www.rajachessboard.com for an introductory price of $199, not including shipping. Pay Pal and all major credit cards are accepted.
The Chessboard® guarantees prompt shipment and delivery, as well as complete customer satisfaction. A 30-Day Return Policy applies to each purchase for a full refund or credit.
About RAJA Concepts, LLC: RAJA Concepts, LLC designs and manufactures games, toys and children's vehicles. The Chessboard® represents one of several patents submitted by the company to the United States Patent and Trademark Office under the heading of intellectual property.
RAJA Board ($199) www.rajachessboard.com
# # #