Do Blacks have a Chess History?
February is "Black History Month" in the U.S. and each year people of African descent celebrate the accomplishments of their past and present. Blacks have storied histories in science, law, business, politics, arts and athletics. Most may not know or realize that Blacks also have a fairly rich (albeit recent) history in chess.
Queen Nefertari of Egypt playing Senet.
While the story of Theophilus Thompson is well-known and the triumphs of Walter Harris, Frank Street and Kenneth Clayton are known, there is new history being written each day. Recently Kim Bhari unveiled copies from old Kenyan chess newsletters. One of them had classic photos of the legendary K.K. Karanja giving simuls. When told about the photos, Karanja told The Chess Drum that they nearly brought tears to his eyes. Unfortunately there is much history that has not been documented or revealed.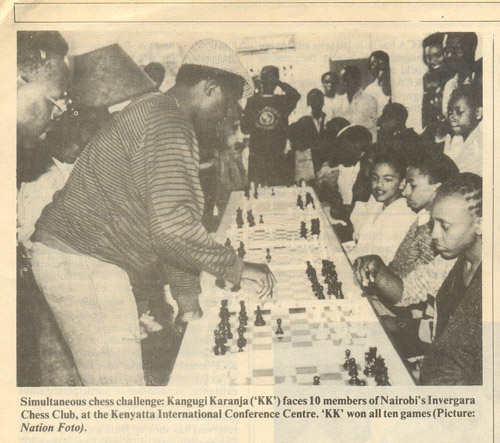 This historical footnote was recently unveiled by Kim Bhari of Kenya. Kangugi 'KK' Karanja giving a simultaneous exhibition at Nairobi's Invergara Chess Club.
In fact, history from the U.S., the Caribbean and Africa is being unearthed from old file cabinets, photo albums and from retired players. It is important that this information is made available so we can share these triumphs and allow them to be examples of inspiration for generations to come. The history is still new enough that many of the pioneers are still around to provide rich insights about chess decades ago.
Theophilus Thompson's book, "Chess Problems" published in 1873.
In this Black history segment, I will post pictures of chess figures in Black history… some you will know and some you will not. If you have any old photos from the past, please share them here.