2010 UWI Masters (Jamaica)
Masters Debut at UWI Chess Tournament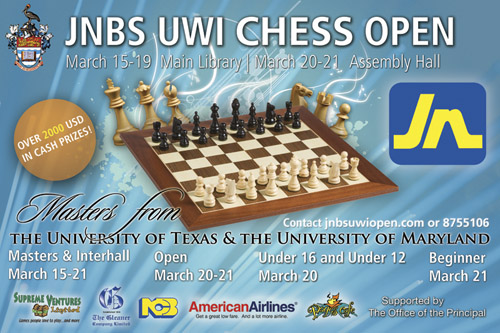 Grand Master Timur Gareev from the University of Texas at Brownsville and International Masters, Marko Zivanic from the University of Texas and Giorgi Margvelashvili from the University of Maryland will debut at the UWI Chess Open from March 15-21, 2010.
Also among the line up are National Masters, Damion Davy and Brandon Wilson from UWI, Mona. The tournament is also expected to attract at least 300 local chess players from high schools and colleges from across Jamaica.
The Chess Tournament commences with an Opening Ceremony on Monday, March 15, 2010 at 10 am at the Undercroft, UWI, Mona and will be followed by Round 1 Masters Section matches at the Multifunctional Room, Main Library, UWI, Mona. The Tournament continues on March 16-19 with Masters Rounds and a special collegiate match featuring UWI vs UTech on March 17 at 3 pm.
University of West Indies
(Jamaica's Mona Campus)
The Open section for all levels of chess players takes place on March 20-21 at the Assembly Hall, UWI, Mona. The event culminates with a closing ceremony on Sunday, March 21, 2010 at 8 pm at the Undercroft, UWI, Mona.
Players in the Masters section will win over US $2000 in cash awards and players representing their colleges and university will compete for the title, "Caribbean Collegiate Champion" along with other prizes. Other players in the beginners and open section will also win cash prizes and medals.
The Tournament is designed to promote Chess as an avenue for mental development among youth and provide opportunities to expand Chess in Jamaica. Registration fee for Men is JA$1550, Women and Juniors is JA$ 1250 and UWI/ UTech students is JA $1000.
The event is sponsored by Jamaica National Building Society, National Commercial Bank, Pages Café, Supreme Ventures, The Gleaner Company and American Airlines. For more information visit https://www.jnbsuwiopen.com/

All Games (PGN format)