Drum Interviews @ Dresden Olympiad!
GM Pontus Carlsson (Sweden) – Carlsson was Sweden's 16th GM and the second Black player to earn the coveted GM title. In this interview, he gives a candid interview about the Olympiad, rule changes, his career and his future. Carlsson always speaks candidly on issues and if you've seen him in person, he is certainly a man with an original sense of style (12:25 minutes).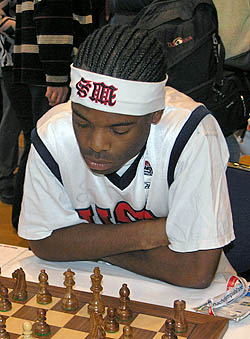 GM Pontus Carlsson (Sweden)
Photo by Daaim Shabazz.
Sani Mohammad and Adeyemi Lekan (Nigeria) – The President and Vice President of Nigerian Chess Federation discuss the historic Olympiad trials along with the teams' performances and the future of Nigerian chess. There is also the issue of visas which is touched on. Lekan asserts that this was the best possible Nigerian team and explains why. Interesting. (10:33 minutes)
Barthelemy Bongo Akanga Ndjila (Gabon) – The Gabonese Chess Federation is only one year old and this is the first Olympiad ever. Unfortunately, the tournament ended on a sour note when the team forfeited on board #1 resulting in a protest. Clearly distraught and disappointed, he explains the situation in his second-language, English. (13:34 minutes).
Lewis Ncube (Zambia) – The current Vice President for FIDE discusses a number of issues including visa issues in Dresden, 2010 Olympiad, Africa's progress, FIDE new Olympiad rules, and his future in FIDE. He closes by mentioning the importance of Amon Simutowe in the promotion of chess. (14:43 minutes)
GM Levon Aronian (Armenia) – Leading his team to a second consecutive gold medal, the affable Grandmaster talks about the Olympiad environment, the Armenian motivation leading upto the gold medal. Notice that Aronian speaks English without much of an accent. (4:16 minutes)