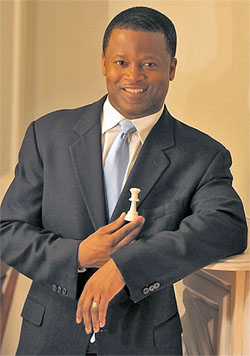 GM Maurice Ashley will attend the "Yes I Play Chess!" event in conjunction with Women's History Month festivities. The event will be held on March 29th and is designed to teach women and girls the game of chess.
Ashley will provide chess instruction and then give a 30-board simultaneous exhibition. There is an admission fee of $5.00 for youth and $10 for adults. The event will take place at the Trinity Center for Women and Girls in Sports at Trinity University.
The Brooklyn-based Grandmaster has been spending time with community projects in the past six years including the HB Global Chess Challenge, authoring the book, Chess for Success and a proposing a program to get chess in the prisons. He has also taken on the responsibility to help rising talent and has worked with Medina Parilla, Darrian Robinson and latest sensation, Joshua Colas.
For more information contact,
Cheryl Richardson, Host
FLAME Financial
(202)332-6011
businessease@aol.com
Derrick Carter, Co-Host
(240) 472-5808
drock5691@yahoo.com
Register today! Seating is limited. Download PDF registration form here!