USCF Life Master James E. Gwyn, Sr. (1930-2018)
When Orrin Hudson informed The Chess Drum of the passing of James E. Gwyn, Sr., he recounted the mentorship that he received from the New Jersey resident. Gwyn was months shy of his 88th birthday. A U.S.C.F. Life Master, Gwyn had not played in a chess tournament since 2007, but still enjoyed playing and teaching until the last stages of his life. Gwyn was on the top 100 list for Seniors and reached a peak rating of 2250. He first became a National Master in 1985 when he was 55 years old! The Chess Drum salutes you!
James Edward Gwyn, Sr. (also known as "Checker Joe", "Check", and "Tiselo") was born on December 11, 1930 in Wilmington, Delaware, to Hattie Smith Walker and Reverend James Leonard Barnett. He was raised by a great aunt, Mrs. Mary Warner.
As a high school student, he was adept in piano playing, skilled in boxing, and extremely gifted in math, often serving as math teaching assistant. James was also an avid swimmer, Penn Relays track runner, and checkers player.
As a high school upperclassman, he became eligible for a college scholarship, but he said that another classmate with a slightly higher grade average deserved that scholarship, but had been passed over because of his extremely dark skin. Therefore, James transferred to another high school, and forfeited the opportunity so that the scholarship could go to his deserving classmate.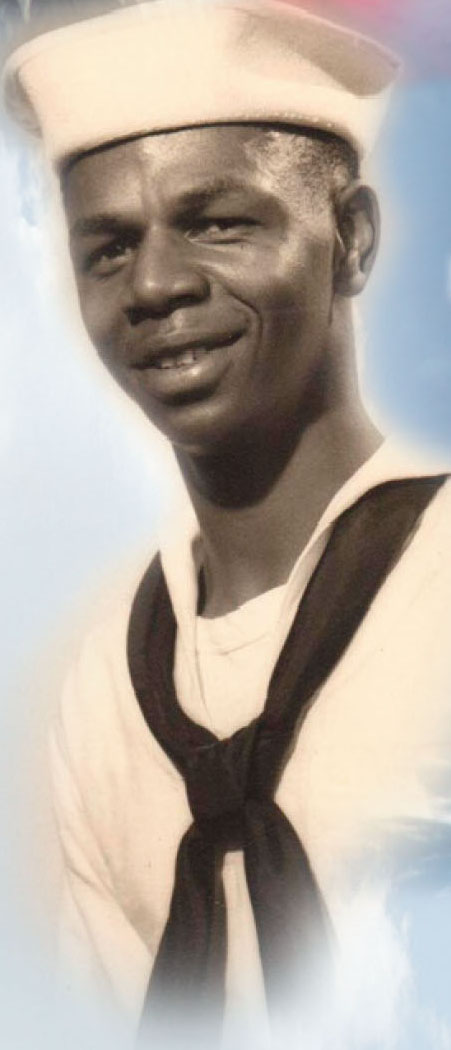 After high school, James joined the U.S. Navy and took engineering classes. He was assigned to the USA Midway aircraft carrier for several years and served during the Korean war. The Midway is now set up as a museum in San Diego. During his Navy years, he toured Italy and France, and was easily conversant in his high school French and in Italian. When he was stationed in the Norfolk Naval Base in Norfolk, Virginia, he met and married college student, Emily Crocker.
As a young adult, he was drawn to chess, and became a talented player during a time when few people of color were playing tournament chess, achieving a Masters rating, often beating grandmasters. He won numerous tournaments, trophies, and prize money over the years, and received permanent Life Master status with the United States Chess Federation. While playing chess and mentoring students, he raised a family and held many jobs, including assistant engineer at Automatic Switch Company in Florham Park and QC Supervisor at A-G in Newark, NJ.
After his first wife passed away, he met and married Belle Jackson. He received Jesus Christ as his Personal Savior at Faith Fellowship Ministries and became a member during the late 1980's, subsequently serving at length on FFM's Evangelism Team. After retirement, he drove school buses for Saint Joseph's High School in Metuchen and for the Plainfield Board of Education. For a period of time, he mentored students in chess at Clinton School in Plainfield.
Gwyn with a couple of proud trophy winners at a BeSomeone event!
Photo courtesy of BeSomeone, Inc. (Orrin Hudson)
He was predeceased by his parents, his first wife, Emily Crocker Gwyn, three brothers; Henry Walker, George Walker, Jr., and Eugene Walker, and one sister, Susie Washington. He is survived by his devoted wife, Belle S. Gwyn, a daughter, Janyce (Temi) Thompson, three sons, James (Renita) Gwyn Jr., Rodney (Donna) Russell, and Bernard Russell, a step-daughter, Mary Jackson, a sister, Arnetta Barnett, ten grandchildren, Justin Gwyn, Evelyn Russell, Lynsey Gwyn, Courtney Gwyn, Kiara Russell, Tiara Russell, and Brandon Russell, Rochelle Russell, and Kendra Russell, and Kenyatta Russell, and four great-grandchildren, four sisters-in-law, including Josie Porter and Helen Hines, and seven brothers-in-law; Edgar (Carol) Jackson, Lester (Elizabeth) Jackson, Willie (Fannie) Jackson, Leon Jackson, George (Anne) Crocker, Clifton (Eunice) Crocker, and John (Nell) Crocker, a cousin, Evelyn Smith, and a host of nieces, nephews, and extended family. His chess-playing opened the door to the mentoring of countless young men and decades-long friendships with Robert Abdul and Orrin Hudson.
Obituary Link: https://www.judkinscolonialhome.com/obituary/James-E.-Gwyn/Plainfield-New-Jersey/1813046