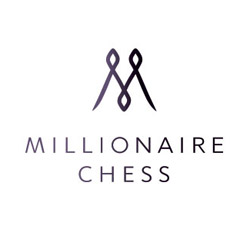 The second Millionaire Chess Open (MCO) will have at least two of the world's top ten players in the field as America's Hikaru Nakamura and Wesley So have registered for the marquee tournament. This comes as good news as So will defend his crown from last year's $100,000 winning. Nakamaura was not present for the inaugural event, but will certainly add a bit of intrigue to the tournament.
The first MCO set a record for the highest prize fund for an open tournament at $1,000,000. The tournament also had a number of novelties, but the idea of a deep prize fund attracted nearly 600 players. The result was an organizational success, but still with some improvements needed. This year the tournament has tweaked the format including a faster time control and a different distribution in the prize fund.
Amy Lee and Maurice Ashley present a triumphant
Wesley So with the winner's check.
Photo by Paul Truong.
GM Hikaru Nakamura (USA, 2776) will come with guns blazing.
Photo by CCSCSL.
What will be interesting is to see if other strong GMs will join the fray. If not, will we settle for a Nakamura-So showdown? The two played a "Death Match" at chess.com where Nakamura won convincingly. However, Wesley So is playing the best chess of his life and recently scored 8.5/13 at the Tata Steel Open pushing his elo to 2787.5 on the live list, a few points above Nakamura. Such a showdown will be a match made in paradise.
Perhaps it would be presumptuous to believe that Nakamura and So will waltz through to the final. As of today Wang Hao of China has been added as has Le Quang Liem with other GMs to come. Rest assured, there will be elite players to join in this historic event, but for now Nakamura and So are the headliners. The tournament will be held again in Las Vegas from October 8-12th. Should be a great event!
8 Responses to "Nakamura @ Millionaire Chess #2"
on 31 Jan 2015 at 10:45 am

1

Lionel Davis

oh, looks like a nice fight goin on her!, nice word too, PERSUMPTUOUS! gotta look that one up! Yeah and I saw a few of Robsons games from the last one, clearly hes been doing so real work outside of the computer button pressin stuff, good to KNOW that.

on 31 Jan 2015 at 6:36 pm

2

Guy

Very nice article Daaim! We want to classify chess as a sport as it should be, but some of us frown when chess players like Nakamaura makes Muhammad Ali or Sonny Liston remarks (talking trash happens quite often in competition). Naka will will help draw in more elite players to join in MC2 and he will also raise the level of excitement if it comes to a head-on fight between him and So.

on 02 Feb 2015 at 12:32 pm

3

Lionel Davis

oh , very interesting, Um at the Buffalo Public Library check this out. Missed M1, what kinda crowd did they have there the first time? and do THE CHESSDRUMMERS think Naka will draw them 2?

[…] The Chess Drum […]

Are there any satellite-like tournaments for MCO 2015 in the states? I'm hoping there will be many satellites just like the WSOP does for its Main Event tournament.

I have not heard of any tournaments yet. There were only one last time and I have not heard of any new ones. It will take awhile for the concept to take root. It's a new idea in chess.

on 03 Feb 2015 at 1:57 pm

7

Mikhail Patzerinski

Is it true that Nakamura was against the MCO when it was first conceived? If so, I'm glad he's changed his mind.

He was against the format. He didn't think there was much improvement over Goichberg-style tournaments. He also felt that all the rounds should be classical instead of being mixed time controls for "Millionaire Monday".
Leave a Reply!