Millionaire Chess Open: Day One
As the players were milling about in the dining area for breakfast you could tell there was something different about this event. Everyone present seemed to be in a good mood as players from around the U.S. and 41 other countries assembled in Las Vegas for The Millionaire Chess Open. The event started with a bang as GM Maurice Ashley opened the historic festival by effusively thanking everyone for their support and hoping that this would be the beginning of a new era in chess.
GM Maurice Ashley and IM Lawrence Trent
Daaim Shabazz and Adia Onyango, two early supporters of MCO
Ashley introduced his business partner Amy Lee who recounted the 408 days since the idea was hatched and likened it to a child being born! She spoke of how the idea unfolded and blossomed into a quest to revolutionize chess. The crowd was certainly appreciate that Lee, a self-made entrepreneur has made such a sacrifice despite being a chess "outsider".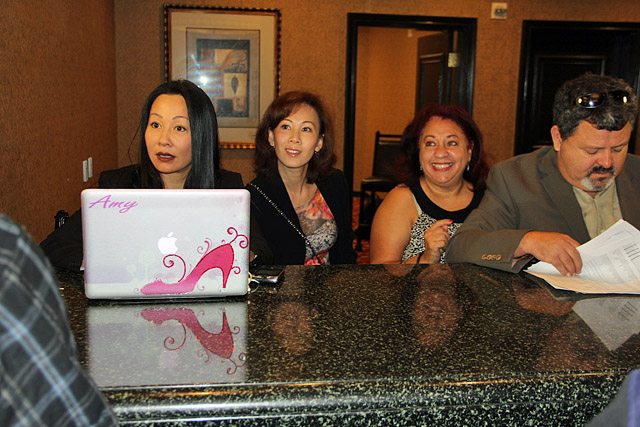 Amy Lee and staff working hard!
The red carpet treatment for chess players!
Ashley introduced Dan Nainan, an Indo-Japanese comedian who took pride in self-deprecating humor. Nainan made perhaps the greatest comedic faux pas when he asked a mostly American audience if we remembered Boris Spassky and not Bobby Fischer! His performance covered a range of topics ending with impersonations of several Presidents. It was a rather lukewarm reception by the audience with scattered laughs and polite applause at the end.
GM Maurice Ashley going over the tournament rules. Photo by Daaim Shabazz.
After Ashley gave a lengthy breakdown of the tournament regulations he continued to build up to the opening of the first round. He invited participants to take pictures by the red carpet with the backdrop board of sponsors. Everyone appeared to be in a good mood as they lined up on the red carpet to pose with Ashley or any combination of people they desired. This was something not seen at chess before at an open tournament and it appeared to be Ashley's way of saying that chess players were deserving of red carpet treatment.
The first round started after announcements and instructions by Francisco Guadeloupe the Chief Arbiter. As the players were positions at the boards, there were a few introductions. Now the players were ready to make history and were told "start your clocks". The Millionaire Chess Open had begun.
On the first day, there was already a big upset as FM Justus Williams took down GM Sergei Azarov. The young star goaded the Belorussian GM into a murky tactical mess. Azarov sacrificed an exchange but Williams had tremendous compensation and gobbled pawns in gluttonous fashion. With an exchange to the good and an armada of pawns, white scored a knockout and immediately sent a buzz around the playing hall. First major upset of the Millionaire Open. I asked Williams who he had beaten and he did not know the opponent's name! Maybe it is best to be naive!
FM Justus Williams upset GM Sergei Azarov in the first round!
Photo by Daaim Shabazz.
In the second round, there were a couple of more upsets as GM Le Quang Liem was upended by Chinese national IM Wan Yunguo. Le inexplicably blundered a piece in a better position. IM Jeffrey Xiong beat GM Alexy Dreev when the All-American scholastic player kept prodding in the drawn ending.
Round #1 (Full Broadcast)
Round #2 (Full Broadcast)
Standings: https://millionairechess.com/the_standings/standings-open-section/
Drum Coverage: https://www.thechessdrum.net/
CONTACT: MILLIONAIRE CHESS
email address: contact@millionairechess.com
official website: https://millionairechess.com/
Twitter: https://twitter.com/HighStakesChess
Facebook: https://www.facebook.com/millionairechess
YouTube: https://www.youtube.com/MillionaireChess