Four Tie at National Congress
Philadelphia is becoming a marquee arena for the top tournaments in the U.S. The city hosts the Philadelphia Open, the World Open and the National Chess Congress during America's Thanksgiving weekend. This year the tournament more than 500 players in 11 sections. The tournament also included a Fischer-Random event. The Premier section was ultimately led by four Grandmasters: Sergey Kudrin, Alexander Shabalov, Aleksandr Lenderman and Giorgi Kacheishvili all finishing with 5/6. IM Ilye Figler and FM Gregory Markzon took the under-2400 prize with 4½/6.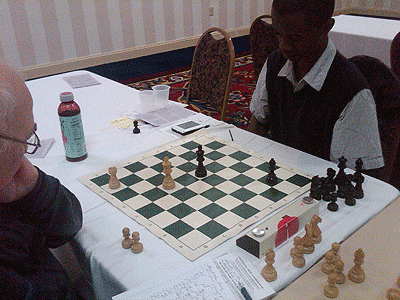 IM Ilye Figler trying to hold position an exchange down (photo one). Figler moved his king over to the wrong corner (photo two). A kibitzer shows the drawing idea (photo three). Photo by Glenn Bady.
Figler was party to a controversial game with IM-elect Farai Mandizha. Mandizha had outplayed Figler in the latter stages of the game on was a clear exchange up. However, this exchange was the dreaded K+R vs. K+B. This game is generally a draw since all the weaker side has to do is get to the corner opposite the color of the bishop for stalemating possibilities.
This ending lasted from move 56 until move 124, well over the 50-move limit for a draw. Figler had harsh words for Mandizha who kept trying to win the game even after it appeared that Figler understood the defense. When the arbiter game over, he immediately declared a draw. Why Figler did not summon the arbiter at move 106 is not known.
There were a lot of young players. New York state champion FM Aleksandr Ostrovskiy and Justus Williams had a good showing in the Premier section with 4/6. Wiliams lost his first two before winning four in a row including a nice win over fellow Master Yefim Treger. There were some interesting interviews done by WIM Jennifer Shahade. They can be seen here.