PRESS RELEASE 9: October 25, 2004
SPAIN REPEL BARBADOS 3 ½ - ½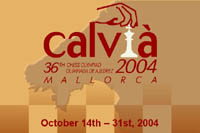 ---
The C Team of hosts Spain registered a painful 3 ½ - ½ win over Barbados on day 9 36th World Chess Olympiad, currently being played in Calvia, Spain.
Playing on the main stage at these championships for the first time, the pride of Bajan Chess, Denny, Warner, Farley and Corbin, was out in full strength, eager prove their worth and advance the team's standings.
But in a day where nothing seemed to go right, Warner sacrificing two pieces for an attacked which stalled, the in form Corbin meeting his match for tactical wizardry and Denny winning the exchange but faltering in the follow through, Barbados look 4-0 in the eyes only to be spared the embarrassment by a gritty draw from Terry Farley on board 3.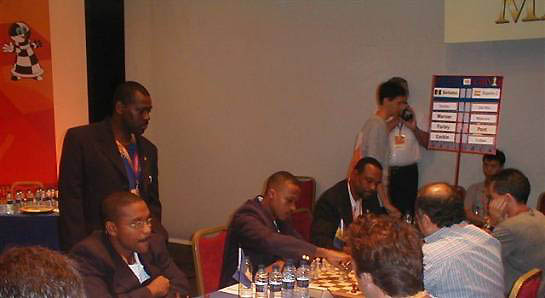 FIDE Master Delisle Warner (board 2), Team Manager Peter Dawson, Terry Farley (Board 3) and FIDE Master Dr. Philip Corbin in action against Spain
In an interview with Team Manager Peter Dawson afterwards, he said "this loss was a hard one for the team emotionally. The guys really put their heart into doing their best today, but it was not to be. On the positive side we must not lose sight of Terry's draw, it represents an improvement over our last two meetings with the Spanish where in 1988 and 2000 they shut us out 4-0."
Armenia joined Israel as the second team not to lose toUkraine when they held them to a 2-2 draw.
Winning for Armenia was Grandmaster Rafael Vaganian (Elo 2640) over Former World Champion Ruslan Ponomariov (Elo 2710), while Grandmaster Andre Volokitin (Elo 2652) score the equalizer for Ukraine against Grandmaster Smbat Lputian (Elo 2634). The games between Grandmasters Vassily Ivanchuk (Elo 2705) and Alexander Moiseenko (Elo 2653) against Vladmir Akopian (Elo 2692) and Gabriel Sargissian (Elo 2611) ended as draws.
.
Russia battled to a hard fought 2 ½ - 1 ½ win over India to narrow the Ukraine's lead by a mere ½ point, but still have their work cut out for them as the Ukrainians top the standing with 27 points 3 ½ ahead of the Russians on 24 points.
The USA scored a big 3 ½ - ½ win over Spain's A Team to jump to 3rd spot with24 points. Armenia and Israel share 4th position with 23 points each.
The Caribbean's top team Cuba regained their top 10 standing with 3 ½ - ½ drubbing of Denmark. The Cubans are 9th with 22 ½ points.
Puerto Rico stunned Portugal with a 2-2 draw and the Dominican Republic took down Guatemala 2 ½ - 1 1/2. Trinidad & Tobago also had a good round scoring an urgently need 3 ½ - ½ victory over San Marino.
Jamaica was not so fortunate dropping 3-1 to Hong Kong, but the rest of the Caribbean teams were generally happy with Surinam 3-1 over Kenya, BVI and Aruba 2 ½ - 1 ½ against Guernsey and Bermuda, and the USVI drawing 2-2 with Rwanda.
The women's competition is all but over with Defending Champions holding an almost unassailable 6 point lead with 23 ½ point. In fact so significant is the Chinese lead that they can afford to default their next two matches before the rest of the field catches them.
Russia, USA, India and Hungary all on 17 ½ points are now left to settle in the next five round who will take silver and bronze.
Live viewing of the top board matches can be followed every day on the Chess Federation web site www.barbados.org/chess.
---
~Allan Herbert~