PRESS RELEASE 8: October 24, 2004
BARBADOS AND GUATEMALA FIGHT TO 2-2 DRAW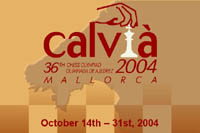 ---
High on their 7th round 4-0 drubbing of Uganda, Barbados slugged out a 2-2 draw against Guatemala at the 36th World Chess Olympiad, currently being played in Calvia, Spain.
The Guatemalans thought they had the match secured, after International Master Carlos Juarez Flores (Elo 2391) and Roberto Flores (Elo 2207) successfully restricted National Champion FIDE Master Kevin Denny (Elo 2234) and FIDE Master Delisle Warner to draws on the top two boards, and FIDE Master Carlos Reyes (2188) scored an upset win over Terry Farley (2247) on board 3.
But as he has done on so many occasions, FIDE Master Dr. Philip Corbin (Elo 2242) pull one out of the coals to tie the match 2-2 when he out foxed FIDE Master Guillermo Jaurez Flores (Elo 2221) on board 4.
Ukraine´s dominance at these championships were reinforced with a 3 1/2 - 1/2 bashing of Bulgaria. They now top the statding with 25 points.
Defending Champions Russia har a hard faught 2 1/2 - 1 1/2 win over a Armenia to retain their second position with 22 points. Armenia slip to third position with 21 points and are joined by India who defeated hosts Spain 2 1/2 - 1 1/2.
Unfortunately for the Caribbean, Cuba fell to China 2 1/2 - 1 1/2, a loss which has dropped them to 22nd in the standings. The Dominican Republic had a similar disappointment losing to Albania.
Angola, Nepal, Liechtenstein and Puerto Rico punched out 3 1/2 - 1/2 wins over Surinam, BVI, Aruba and Trinidad, while Uganda found fruitful waters off the Netherlands Antilles with a 2 1/2 - 1 1/2 win.
Jamaica. played to a 2-2 draw with Botswana and the US Virgin Islands went down 3-1 to none other than Afganstan.
China stay on top of the Women´s standings with 2-1 victory over Poland. They maintain their 4 point lead on the group with 20 1/2 points: Lithuania are second with 16 1/2, followed closely by Russia and Hungry on 16.
Mr Denny and company´s next engagement is the C Team from hosts Spain and will find themselves on the main stage next round for a trilling encounter..
Live viewing of the top board matches can be followed every day on the Chess Federation web site www.barbados.org/chess.
---
~ Allan Herbert ~