PRESS RELEASE 6: October 22, 2004
BARBADOS 4-0 UGANDA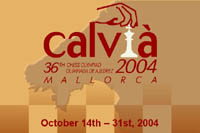 ---
Barbados bounced back on in round 7 of the 36th World Chess Olympiad, currently being played in Calvia, Spain, with a sparking 4-0 triumph over Uganda.
The Bajan quartet of Denny, Warner, Farley and Corbin all won convincingly to avenged defeats at the hands of the Ugandans in their two previous Olympiads clashes.
National Championship International Master Kevin swept to a convincing victory in 35 moves after winning the exchange against Grace Nsubuga (Elo 2217).
On board 2 FIDE Master Delisle Warner (Elo 2291) showed his counter punching ability after an early onslaught from Isaac Munanira (Elo 2200), who sacrifice a Knight for a king side attack. Warner stunned Munanira with a counter sacrifice of his Queen which enabled him to storm to an impressive victory.
Terry Farley and FIDE Master Dr. Philip Corbin demolished their opponents Moses Kawuma and Fred Washaba respectively in under 30 move each.
Tournament leaders Ukraine continued their excellent run with a hard fought 2 ˝ - 1 ˝ victory over India. Winning the key match for the Ukraine was 14 year old Grandmaster Sergey Karjakin (Elo 2576) over Grandmaster Abhijit Kunte (Elo 2550).
The Ukraine moves to 21.˝ points, to establish a 2 point lead over Defending Champions Russia and contenders Bulgaria and Armenia.
Top Caribbean country, Cuba is 2 points further adrift following their a 2-2 draw with Georgia.
Trinidad & Tobago won 3 ˝ -1/2 against Papua New Guinea, while Puerto Rico and Surinam beat BVI and Aruba 3-1.
Dominican Republic were trashed 3 ˝ - ˝ by Demark and Jamaica lost 3-1 to Guatemala, who will be Barbados' next opponent.
Defending Champions China continue to dominate the women's competition lengthening their lead to 4 points with a 2 ˝ - ˝ victory over France. Poland and Lithuania share 2nd on 14 ˝ points followed by England and Hungry on 14.
Live viewing of the top board matches can be followed every day on the Chess Federation web site www.barbados.org/chess.
---
~ Allan Herbert ~