PRESS RELEASE 4: October 20, 2004
BOLIVIA STOPS BARBADOS 3-1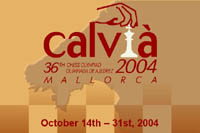 ---
The third meeting between Barbados and Bolivia at a Chess Olympiad ended once more in favour of Bolivia, as they scored a precious 3-1 victory on day five of the 36th World Chess Olympiad in Calvia, Spain
Bolivia, who in the previous two encounters drew 2-2 in1986 and won 3-1 in 2000, came prepared to inflict maximum damage and only a magnificent 68 move win by FIDE Master Dr. Philip Corbin on board 3 saved the Bajans from a clean sweep.
The match started badly for Barbados when International Master Johnny Cueto (Elo 2306) defeated FIDE Master Delisle Warner (Elo 2291) with some easy.
Lodge School student and Sagicor Open Junior Champion Martyn del Castilho, making his debut in the match, had the terrible misfortune of losing a evenly poised game when be blundered his queen in an ill fated attempt to force a draw by repetition of position.
With the Bolivians two points to the good, National Master Kevin Denny (Elo 2334) on board 1, lost grip on a tense game against International Master Osvaldo Zambrana (Elo 2473) to secure the winner for the Bolivians.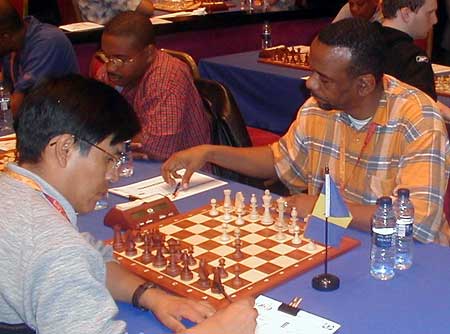 Dr. Philip Corbin, Barbados vs Alfredo Cruz of Bolivia
Corbin's game went on for much longer, as the Bajan veteran of nine Olympiad keep his head and gracefully outplayed Alfredo Cruz (Elo 2179) to end the match 3-1.
On the main stage leaders Ukraine battled to an all Grandmaster draw 2-2 against Israel, thus retaining the slender ˝ point lead on 16 ˝ points. Israel keep their 2nd place with 16 points and Azerbaijan moved into a clear 3rd with 15 points after beating Bosnia Herzegovina 3-1.
Defend Champions Russia share 4th place with Bulgaria on 14 ˝ point and will need to find something special if they are catch the Ukrainians.
Cuba suffered their first defeat of the championships losing 2 ˝ - 1˝ to France, while Dominican Republic feared no better losing by the same margin to Colombia.
Puerto Rico had a terrible day losing 4-0 to Tajikistan, while Jamaica and Trinidad & Tobago just missed the rubber losing 3 ˝ - ˝ respectively to Libya and Honduras.
Surinam drew 2-2 with Manco, Aruba lost 3-1 to San Marino, as did Bermuda to the BVI. The US Virgin Islands drew 2-2 with Guernsey and the Netherlands Antilles score a desperately needed 4-1 against the Seychelles.
Live viewing of the top board matches can be followed every day on the Chess Federation web site www.barbados.org/chess.
---
~ Allan Herbert ~