PRESS RELEASE 2: October 17, 2004
UKRAINE AND CZECH REPUBLIC LEAD OLYMPIAD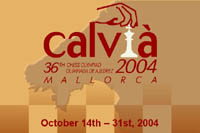 ---
Ukraine and the Czech Republic lead the standings with a perfect score of 8 points when the curtains came down on day two of the 36th World Chess Olympiad in Calvià, Spain.
The Ukrainians, who are second seeds to defending Champions Russia, blitz the B Team of hosts Spain 4-0 to maintain an unblemished record. Winning for the Ukrainians were the Grandmaster quartet of Vassily Ivanchuck (Elo 2705), Andrei Volokitin (Elo 2652), Alexander Moiseenko (Elo 2653) and Pavel Eljanov (Elo 2629).
Bangladesh was on the receiving end of the 4-0 drubbing by the Czech Republic, who are seed 21st. The Czechs, also featuring an all Grandmaster line up, romped home with wins from Grandmasters David Navara (Elo 2620), Vlastimil Babula (Elo 2571), Tomas Oral (Elo 2565) and Petr Haba (Elo 2520).
Defending Champions Russia recovered somewhat from their 1st round mishap with a 3-1 win over Switzerland. The surprise of the match was a 14 move win by Russian Grandmaster Alexander Morozevich (Elo 2578) over the legendary, and former Russian great, Viktor Korchnoi (Elo 2601).
Canada, Israel, Seberia Montenegro, Bulgaria and Slovakia trail the top two by ½ a point of 7 ½ while the Russians will have some catching up to do being placed 14th with 6 ½ points.
In Barbados' round 2 match, a cunning win on the first board by National Champion FIDE Master Kevin Denny (Elo 2334) over International Master Nathan Zilberman (Elo 2338) of Kyrgystan went a begging as FIDE Master and former National Champion Dr. Philip Corbin (Elo 2242), the exchange up, and Terry Farley (Elo 2247), with a strong attack, let their positions slip against Algis Shukuraliev (Elo 2248) and Milan Turpanov (Elo 2307).
Kyrgystan sealed their 3-1 victory over the Bajans with a well played ending by FIDE Master Vladimir Ilinsky (Elo 2331) against former National Champion FIDE Master Delisle Warner (Elo 2291).
Commenting on the result after the match, the Barbados Team Manager, himself a former National Champion, Peter Dawson said that while disappointed at such a golden opportunity being missed the team could take heart that the result was an improvement over our 1998 4-0 drubbing at the Elista Olympiad against this former Soviet Republic.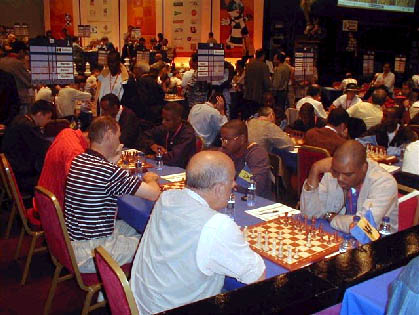 Barbados vs Kyrgystan on day two of the 36th World Chess Olympiad, Calvia, Spain
Caribbean powerhouse Cuba had a good round with a 3-1 win over Iceland. Winning for the Cubans were Grandmasters Lenier Dominguez (Elo 2645), Walter Arencibia (Elo 2516) and Yuniesy Quezada (Elo 2513). Iceland's lone point was scored by Grandmaster Throstur (Elo 246) over Grandmaster Jesus Norgueiras (Elo 2546).
The Netherland Antilles narrowly avoided a wipe out by Paraguay thanks to a draw by junior Marvin Dekker (Elo 2133) over Paulo Jordorcovsky (Elo 2278). Surinam was not so fortunate going down 4-0 to Tunisia.
The Dominican Republic falter badly against the lower rated Sri Lanka 1 ½ -2 ½, while Jamaica loss by the same score against New Zealand. Winning for the Jamaicans was Shane Mathews (Elo 2251) over FIDE master Roger Nokes (Elo 2333) while Duane Rowe (2197) drew against FIDE Master Robert Smith (2251).
Ravishen Singh (Elo 2093) and Frank Yee (Elo 2101) of Trinidad & Tobago held on to draws on boards 1 and 4 against Tunveer Gillani (Elo 2277) and Amjad Baiwa of Pakistan but lost in the middle two boards to concede 3-1.
Other Caribbean results were British Virgin Islands losing 3-1 to Libya, Puerto Rico 3 ½- ½ against Aruba and Malta also 3 ½ - ½ against US Virgin Islands. Bermuda drew 2-2 against Mauritius.
In the Women's competition Germany, Kazakhstan and Latvia lead the standings with 6 points. Six countries, including Defending Champions China, Russia, The Netherlands, Vietnam, Sweden and Slovenia, trail them by ½ point on 5 ½.
Live viewing of the top board matches can be followed every day on the Chess Federation web site www.barbados.org/chess.
~ Allan Herbert ~
---