PRESS RELEASE 12: October 29, 2004
UKRAINE AND CHINA ARE WORLD CHESS CHAMPIONS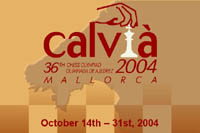 ---
Ukraine and China are the new Kings and Queens of World Chess.
In a historic moment, the Ukraine, a former Soviet Republic, finished in style with a 3-1 victory over France to dethrone Russia and top the Men's standings with 39 ˝ points.
Former Champions Russia, also winning by a 3-1 margin against China, held on to the team silver by the narrowest of margins, scoring 36 ˝ points.
Armenia's valiant effort of 3 ˝ - ˝ against Georgia, secured the bronze medal with matching score 36 ˝ points, but proved insufficient for tie-break against the Russians..
36th World Chess Olympiad - Top 10 Men
The power house of Caribbean chess Cuba bounced back from their prior round 2 ˝ -1 ˝ loss to Russia ,to draw their final match 2-2 against Israel and turned in one of their finest efforts in Olympiad play, placing 7th with 34 points.
Barbados once again confirmed their position as the top team from the English speaking Caribbean posting 25 points to place 97th. A strong 3-1 win over Panama in the penultimate round, was sufficient to compensate for a final round disappointment against Malaysia, to whom they went down 3 ˝ - ˝.
A relieved Barbados Team Manager Peter Dawson said that while not happy with the final points tally, the team did equal the Barbados score of the previous three Olympiads against a stronger opposition, maintaining its standings as the number one team among the English speaking Caribbean. Most important of all, FIDE Master Dr. Philip Corbin, turned in the best individual performance by any Barbadian in the Men's Olympiad in placing 14th overall on the Board 4 with 9 points from 13 matches.
36th World Chess Olympiad – Caribbean Team Standings Men
In Women's competition Defending Champions China brushed aside Slovakia 2-1 to regained their crowns, topping the standings with 31 points.
The USA nipped Russia for the silver with a 2 ˝ - ˝ win against Vietnam which put them ˝ a point ahead on 28 points. The Russian Women defeated France 2-1 to take bronze with 27 ˝ points.
36th World Chess Olympiad - Top 10 Women
Cuba once again was the class act for the Caribbean, placing down the standing on 24th with 23 points due to a bad last round where they lost 2-1 to Germany. Puerto Rico was the 2nd best with 18 ˝ points on 76th just a ˝ ahead of Dominican Republic on 77th with 18 points. The Trinidad & Tobago women scored 12 points to place 84th .
36th World Chess Olympiad – Caribbean Women Team Standings