PRESS RELEASE 11: October 29, 2004
BARBADOS NAIL SAN MARINO 3½-½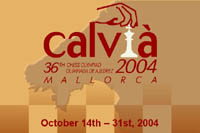 ---
Barbados rebounded from a 2 1/2 - 1 1/2 loss against Surinam in round 11, with an almost flawless 3 1/2 - 1/2 win aginst San Marino on day 12 of the 36th World Chess Olympiad, currently being played in Calvia, Spain.
National Champion FIDE Master Kevin Denny (Elo 2234) on Board 1, FIDE Master Delisle Warner (Elo 2291) on 2 and 4th Board FIDE Master Dr. Philip Corbin (Elo 2242) masterminded the Barbados victory, winning quite easily against Roberto Cecchetti, Danilo Volpinari (Elo 2053) and Enrio Grassi (Elo 2104).
It was only a determined Nicola Renzi (Elo 2110) who would turn out to a the party spolier, holding Terry Farley (El0 2247) to a draw and avoid the 4-0 rubber for San Marino.
But the sensational news for the Caribbean on day 12 was the fantastic 4-0 result by Cuba over Slovenia, putting the Cubans on 30 points and 5th position.
Ukraine seem set to be crowned the new World Champions, even though they were held to a 2-2 draw by Poland. They amintain 1st position and move to 34 1/2 points a full 3 1/2 points ahead of Defending Champions Russia.
Russia stumbled badly today losing what may turn out to their most critical match, when they lost 2 1/2 - 1 1/2 against Georgia. They still retain their 2nd postion with 31 points, but only 2 round left it looks almost certian that they may run out of track to catch Ukraine.
Armenia fought to a 2-2 draw against the USA to hold 3rd position with 31 points, while Israel are 4th on 30 1/2 pointscompliments of India who lost 2 1/2 - 1 1/2 against them.
Dominican republic continue to be the most successful Caribbean team after Cuba but are down the standings in 79th position with 23 points due toa 3-1 loss against Italy today.
Puerto Rico, only 1/2 point behind on 22 1/2 points, are 87th, losing to Luxemborg 2 1/2 - 1 1/2. Barbados move to 96th position with their 21 1/2 points to be the best of the English Speaking Caribbean. Trinidad have 20 1/2 points to be 103rd in the standings, with Jamica 108th with 19 1/2.
Next round will see Cuba booking a date with Russia, a match which will determine the medal fortunes of both teams and sure to be full of fireworks. Barbados are paired against Panama, Jamaica against Afganstan and Trinidad face Cyprus.
In other news Sagicor Open Junior Chanpions and Lodge School tudent Martyn del Castilho continues to perform wel in the Calvia Amatuer Champions winning 5 of his 7 mathes. With 2 rounds to go del Castilho is well poised to finish in the prizes and is growing in confidence with each round.
Live viewing of the top board matches can be followed every day on the Chess Federation web site www.barbados.org/chess.
---
~Allan Herbert~