PRESS RELEASE 10: October 26, 2004
THAILAND 3-1 BARBADOS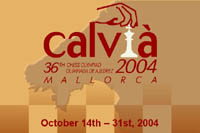 ---
The fortunes of the Barbados team continue to slide at the 36th World Chess Olympiad as they register their third loss in a row with going down 3-1 to Thailand.
The match started poorly for the Bajans on Board 1 when FIDE Master Delisle Warner (Elo 2291), having won the exchange on move 17 against Taweechai Thamtavatvorn (Elo 2214), blundered horribly to lose his queen in a won position and with it the game.
On Board 4, Community College student Mark-John Allyene (Elo 2077), playing his first match of the tournament, terribly mismanaged his time and soon found himself with 2 minutes to his opponent's hour and 20 minutes. Under such time pressure it was only a matter of time before Alleyne in a blocked position, blundered his queen to give Uaychal Saelee (Elo 2165) Thailand's second point.
FIDE Master Dr. Philip Corbin playing his pet Dutch Defense misplayed the ending to allow FIDE Master Boonsueb (Elo 2242) to score the Thai's 3rd and winning point.
This loss left Terry Farley (Elo 2247) stranded for the second match in a row, looking a 4-0 in the eyes.
Fortunately for the Bajans, Farley thwarted the Thai's ambitions of a clean sweep and scored the Barbados' only point by beating Wisuwat Theerapabpaisit (Elo 2277).
On the leader tables, USA put in a fine performance to hold Ukraine to a 2-2 draw and Defending Champions Russia beat France 2 ˝ - 1 ˝ . The Ukrainian continue there course to gold leading the standings with 29 points but Russia are starting to close the gap, moving to 27 points.
Armenia keep the pressure on the top two with 26.5 points thanks to a 3 ˝ - ˝ blow out against Slovenia.
Cuba moved to 7th position with 25 points, India being their victims in a 2 ˝ - 1 ˝ affair.
The nearest Caribbean team to the Cubans are the Dominican Republic in 76th position with 19 ˝ points, drawing 2-2 with Ecuador. Puerto Rico are next on 18 ˝ points in 87th position, after a 2 ˝ - 1 ˝ lost to Tunisia.
Trinidad & Tobago put up a 2 ˝ - 1 ˝ win against Sri Lanka to move to 18 points and 91st position.
Barbados and Suriname are in 104th and 107th respectively with 16 ˝ points, and paired to play each other next round. Jamaica, held to a 2-2 draw with Uganda, are 109th with 16 points. BVI and Aruba are 120th and 122nd respectively with 14 ˝ points, followed by the Netherlands Antilles and Bermuda on 123rd and 124th with 14, while USVI are 128th with 10 1/2.
USA created a major upset in the Women's competition beating Defending Champions 2-1 compliments of International Master Irina Krush (Elo 2464) on board 2 over Woman Grandmaster Yuhua Xu (Elo 2487).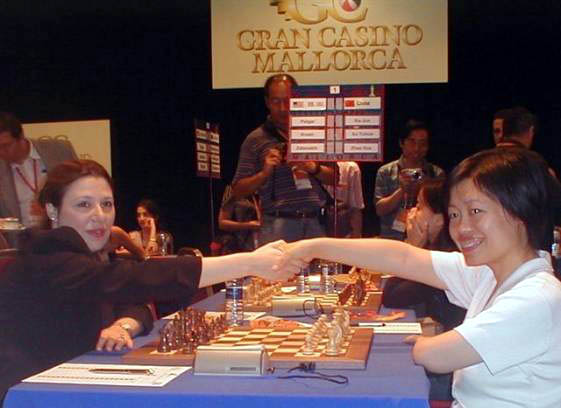 Grandmasters Zsuzsa Polgar (Elo 2567) and Xie Jun
shaking hands at the start of the USA vs China match.
The Chinese still hold a massive lead with 24 ˝ point, 4 ˝ ahead of 2nd place Hungry on 20. The US share in 3rd spot with India and Georgia with 19 ˝ points.
Live viewing of the top board matches can be followed every day on the Chess Federation web site www.barbados.org/chess.
---
~Allan Herbert~