A Brutal Weekend
~2004 JAMAICAN CHESS CHAMPIONSHIP~



---

Last weekend's rounds of the 2004 KRYS FINANCIAL SOFTWARE-sponsored 36th Jamaican national chess championship were bloody with only one draw in eight games.
EIGHTH ROUND (20th March, 2004)

FM Warren Elliott maintained his great form to notch his sixth straight victory with a ruthless demolition of candidate master Daren Wisdom's Benoni which ran into mate on the 29th move. NM Russel Porter stayed in contention for the title by profiting from NM Duane Rowe's error (36…Rxh2??) to win a piece, and the game (with 37.Rxc7+) in what was a watchful English opening.

The defending champion NM Shane Matthews won his fifth straight game easily defeating NM Ras Malaku Lorne's listless Caro-Kann. Deborah Richards, the second woman to play in the championships after the pioneering Dr. Hope Anderson, will have to wait another day for her first victory as her King's Indian defence was no match for the Montegonian NM Mark Holness who had his first win of the campaign. NM Robert Wheeler and Bertram Scott had byes.

.
NINTH ROUND (21st March, 2004)

With Bertram Scott again "resting" and Deborah Richards getting some respite, interesting events unfolded on the battlefield. Elliott played the Tarrasch variation of the Queen's Gambit Declined but gained nothing against Lorne's solid play with the white pieces and had to settle for a draw on the 28th move, bringing his winning streak to a grinding halt.

Porter handed the veteran Wheeler his first defeat of the tournament after Wheeler, playing the English opening, blundered with 40.Kh2?? and resigned three moves later when the loss of his queen was imminent. The correct 40.Kg1 would have given him a chance for a draw. Holness, after going winless for five straight games, had his second win in a row, his French defence (Tarrasch) easily routing a hapless Wisdom who is obviously in a crisis.

The marquee game of the round was the clash between Rowe and Matthews (pictured below), reprising their epic, decisive encounter in the final round of the 2003 championships. Rowe, again with the White pieces, faced the Sicilian Scheveningen and gained sweet revenge, blowing Matthews off the board, the defending champion resigning after Rowe's 32.Bg5+ with mate just a few moves away. After the smoke had cleared the points standings are as follows:1. Elliott 6½/7; 2.Porter 6½/8; 3.Rowe 5/7; 4.Matthews 5/7; 5.Wheeler 3½/7; 6.Lorne 3½/8; 7.Holness 2½/7; 8.Scott 2/7; 9.Wisdom 1½/8 and 10.Richards 1/8.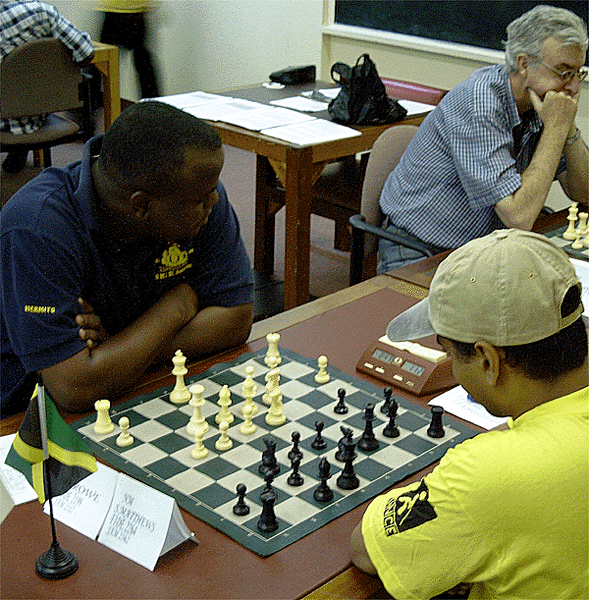 FINAL TWO ROUNDS

In the tenth round, scheduled for Saturday 27th March, 2004, Porter and Wisdom have byes, Shane has white against Wheeler, Holness moves first against Lorne as does Scott against Richards. Probably the game to decide the tournament winner will see Elliott "pawning off" against Rowe in what is likely to be a bruising encounter. The four top places for the Olympiad seem decided, while Wheeler is a good bet for the fifth spot. Lorne will have to defeat Holness or at least draw to give himself a chance of nabbing the sixth and final place to Mallorca in October.

In the final round on Sunday 28th March, 2004 Lorne and Richards will be idle while Wisdom plays Scott for pride, Wheeler faces Elliott, Porter battles Matthews and Rowe tackles Holness. The players with white are named first.

The FIDE (Olympiad) time control (90 minutes to complete with an increment of thirty seconds per move from move one) is being used.

The tournament director is one of the JCF vice-presidents, Markland Douglas. All games begin at 2 pm local time.


---
Ian Wilkinson, President, Jamaica Chess Federation 26th March, 2004