SOUTH AFRICAN CHESS - Part 1
by NM Jerald Times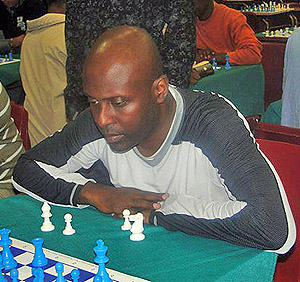 There seems to be two movements in South African chess, the first being the club movement or certified organizations at specific locations that pay fees to Chess South Africa (The official name of the South African Chess Federation) to be an official club. Clubs also give tournaments and many of these competitions show no dividing line between adults and children. A coterie of adults complain that they must compete in a tournaments with much lower rated youth.
A more popular complaint is a single organizer controls the rating system and everyone must use his software. Most feel his rating system is far too low as many South African players find that their FIDE ratings are higher than their National ratings. Ratings have been elevating worldwide and there seems to be a consensus that this measurement system is dated.
One of the issues amongst club owners is that membership fees used to be paid to their clubs. These institutions financially benefited from the former because they took a cut from the memberships fees. Paying directly to the federation has not only reduced club membership but also seemed to have distancing effects on chess culture as these clubs were both intergenerational havens and places for community talk and exchange. Another factor competing against the club movement might be globalization, a lot of people play chess on line and no longer need to meet at the same locations. What is becoming clear is that the future of South African chess can no longer rely on this dissipating institution.
The second movement in South African chess is the growing scholastic movement. In the 2010 SAJCC (South African Junior Chess Championships) there was close to 2,000 youth participants in the tournaments. South African chess now has governmental support under the initiative 'Moves for Life' headed by international Master Watu Kobesi. In the promotional video there were three analogies of chess to life that were quite poignant.
· Chess is like martial arts. In the beginning of a game you shake hands and in the end of the game you shake hands. In karate you bow in the beginning of a match and you bow at the end of a match.
· Chess is identical to flying a plane since the pilot has to be strategic about reaching his/her destination. In chess clear goals are drawn such as, winning material, checkmating the king, or defending a weak point. A pilot is constantly making calculations to achieve a smoother flight, as a chess player with the upper hand has to maneuver correctly to avoid pitfalls even in a winning position.
· Chess is similar to cricket in that the batsmen have to swing diagonally to achieve maximum performance. This of course implies that the best path is not always straight so we must learn to move like a bishop in life and thus making chess a breeding ground for later thinking.
Moves for Life seems well on its way to making an impact on South African chess but it is only in the incipient stages of implementation. NGO's (Non Governmental Organizations) are still needed to support the scholastic development of chess in SA because of the growing number of young chess players.
JOHANNESBURG NATIONALS
The first day is registration and a award ceremony honoring the top rated junior players and a few of them were given FIDE master awards for competing in professional tournaments. Pamphlets, score sheets and a schedule of the rounds were given out to all competitors. Participants must be at the playing site at least 5 minutes before the round starts. You are not allowed to come after the rounds starts and if you do your game is automatically forfeited.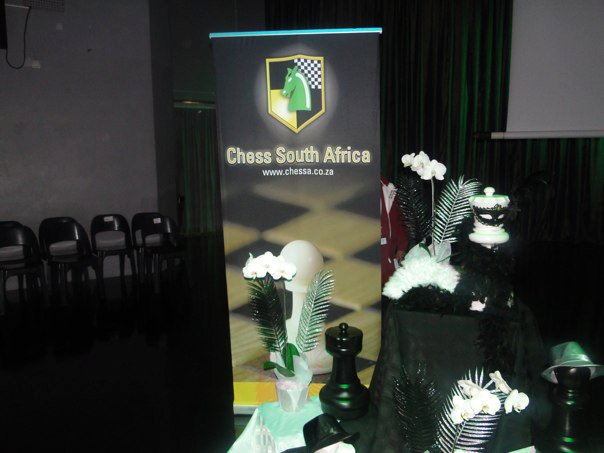 Day 1 also saw a pageantry of team introductions according to the region. Last year's Nationals was held in Cape Town and they had the higher number of participants. This year's competition showed the majority of students coming from Johannesburg.

DAYS 2-4 is the team competition. Team competition is divided by age group and rating but not by gender. Age group begins at under 8 and by going every 2 years up ends at under 20. Lower rated players play in Section C and the higher rated players play in Section A. Team Guguletu had no one playing in section A. You can only move to a higher section by getting a higher rating or winning a board prize for your team. Teams A, B, and C are broken up into 10 players each. Important to note is that teams do not represent a school they represent a regional province. Team Guguletu is part of the Western Province, which includes Cape Town. You can only win a National Championship based on your region not your school. This shares similitude with our Team Amateur Championships in the US, which are regional team tournaments.

Teams can collect 1, ½ or 0 match points per round. If you win 5 ½ to 4 ½ your team collects a match point. In the inverse proportions your team would lose the match and 5 to 5 is a draw. Best match points a team can get is 7. Teams are also measured by cumulative scores as well which means a team could get 70 points in total or all 10 players having 7 points total.

Team Guguletu sent 9 students and 2 of them won board prizes. One boy and one girl.  Western Province had no top team in the 7 age categories in any of the sections. They did not win a National Championship in the Team tournament though several teams took second. The boy and girl from Guguletu won best board prizes will be moved to a higher number board next year's Nationals or be placed in a higher lettered section. They both won trophies. The first part of the tournament are the team championships had 1,941 participants. Both the Team and the Individuals were held had the University of Johannesburg. Here are their team and individual scores for team Guguletu in the 2010 SAJCC. 
Team Tournament

Scores out of 7 rounds

Bongiwe Mbulawa

Nhlanhla Mamputa

Kuhle Mbiko

Zintle Qotywa

Nontle Qotywa

Bongiwe Makubela

Ndimphiwe Ngqaneka

Happy Sinda

Siphamandla Mdleleni

4

5

3

4 ½

3 ½

3

6

5

4
Individuals

Scores out of 9 rounds

Bongiwe Mbulawa

Nhlanhla Mamputa

Kuhle Mbiko

Zintle Qotywa

Nontle Qotywa

Bongiwe Makubela

Ndimphiwe Ngqaneka

Happy Sinda

Siphamandla Mdleleni

4

3

4 ½ 

4

3 ½

3

5

5

4
The Region selects their top board players for each age category and section. Sometimes the best player in the trials do not go due to lack of financial support. Teams are allowed to have additional players or alternates in case someone gets sick.
All 9 Guguletu players qualified to be in the team tournament. They showed great tactical and fighting ability. Coach George Daniels must have gone over a lot of tactics. Many of the Xhosa children show a remarkable memory at times as often they could memorize their games or regurgitate a position(s) I gave them. I will have to work on their notation as English is their second language. Many of them moved too fast and probably were not use to the longer time controls. I believe my biggest contribution was the focus I gave in the postmortem analysis which indicated not only their flaws and brilliant moves but more importantly that a chess game means something and is worthy of your complete attention. Mr. Foster, an anonymous parent and I bought all the participants from Guguletu chess sets. Two Guguletu students won board prizes in the team tournament… Ndimphiwe Ngqaneka and Nhlanhla Mamputa.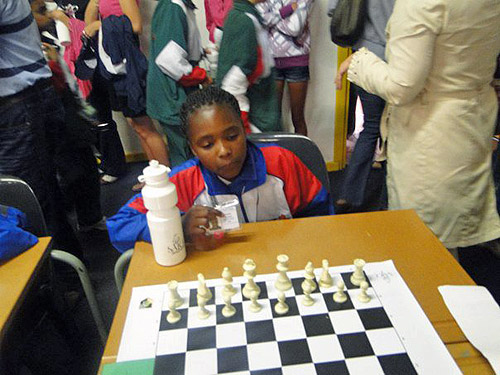 DAYS 5- 11
Day 5 begins the second part of the tournament, which is the Individuals. You Do Not Have to Qualify for the Individuals. The Individuals is 9 rounds while the team tournament is only 7. The Individuals is divided by gender. You compete for top boy and girl in the country according to age group. There are no A, B and C-sections as this part of the tournament is completely open. I do not know the exact number that competed in the individuals but I was told that it was approximately 40% less participants. Unlike our Nationals the Individuals are more prestigious as both coaches and regions want to lay claim of training the best minds and chess players in the country. The main reason why the Individuals is more prestigious is that the top 7 boy and girls in each age category qualify for the Closed Tournament in April. The Closed Tournament itself is a qualifier for the African Championships. Being a National Champion only qualifies you for the Closed Tournament. Winning the Closed guarantees your place in the African Championships where you can receive an International Master title by scoring 70% in this tournament. Participating in the African Championships also guarantees you a FIDE rating which is beneficial for competing in international tournaments.
The new rule in the South African Junior Chess Championships is that all games (including team games) must be entered into a database for general consumption. Everyone can see every game you played! The games are posted on a website immediately after the round. This gives coaches extra ammunition and also extra work. Several times I had to use chessbase to prepare students from the Western Province for the next round. There is an off day two days before the tournament ends and most coaches and students go to the mall or to the movies for a breather. Many coaches of course use this day as an additional day of preparation. I prepared several students for the last two days on this off day and one of them made the closed, which was Tiffany Agalis.
Students who scored high in the team tournament saw their numbers drop in the individuals as the general rating of this part of the SAJCC went up due to a shedding of the less qualified players who participated in the Team tournament. However, if a player played on a high board in the team tournament his/her score might have increased in the Individuals. Western Province took top Girl under 12 (Tiffany Darling) as their only claim to a National title. There were several playoffs for students that were tied for the same score. Afterwards there was a second award ceremony for the individuals champions and the Western Provence team took the plane home on the same day.
Coaches do not get paid for the Nationals but the region pays all expenses. Most of the top rated coaches do not come from Western Province though there are a lot of talented player from this region. Historically I was told that the region does better in the Individuals due to self motivated players such as Kenny Solomon and Daniel Steel who show more flare in their chess game than due players from other regions.
TEAM GUGULETU
Having been in Johannesburg for 11 straight days I realized that I have two challenges with team Guguletu. First is the Xhosa language. I will have to devise a plan (besides learning a little Xhosa) to teach them the more subtle concepts of chess that are abstract but necessary for a player's growth. For example, intermezzo, zugzwang and tempo are all critical concepts to grasp.

The second challenge is just as difficult as they have been trained in memory culture not thinking culture. In memory culture information is given and applied. In thinking culture information is given, questions are asked and then application is followed. Memory culture lives in the past, only recognizes patterns and has a hard time adapting to changes. Thinking culture is a dialogue not a monologue since beating you means I must understand you. Questions arise like, "how did your last move change the position?" "Is there another way to achieve the goal?" "Can we go into the endgame or should I prolong the middle game." Memory culture is being taught what to think, thinking culture is being taught how to think. Nevertheless, team Guguletu showed great fighting spirit and talent.
TEACHER TRAINING
Teacher training is also in great need since many of the coaches are fathers and not actually trainers. Talent can go so far without proper and adequate training. There are least three important development tools that trainer brings.
Firstly, preparation for tournament games which implies arming them with information for a general field as well as specific opponents. Secondly, correcting their mistakes and not just criticizing their blunders. In criticizing they may repeat their mistakes in correcting we have to work hard as trainers to find remedies to critical erroneous patterns. Lastly, we much challenge our students to have a more focused and quality performance. We must raise our expectations of their performance, I have often said that, "Expectations is hope on steroids." However, as a teacher trainer I must first work on their basic knowledge of the game and the pedagogy or simply the method of how to communicate this knowledge.
WESTERN PROVINCE
Aforementioned, National Championships are not won as a school in South Africa they are won as a region. I am in the Western Province region that includes Cape Town. Currently, my teacher training is in Durban once a month but I am trying to devise methods to do teacher training in my Province, which also needs organization and clear goals on which to focus. Do they want to win a National championship? Are they more focused on individual nationals than team nationals? Do they want to attract more talented coaches? Are they willing to pay for these coaches? Do they deem it necessary to have teacher training workshops? Do they see chess as a life skill?  These are just a few questions I had while in Johannesburg at the SAJCC. Not only was I in a quandary but also several parents are thinking about forming a new division within the Western Province. While it is not my place to get involved in the internal politics in the region I certainly understand their sentiments. While I was in Johannesburg Western Province had no team room and several coaches had to be prompted to analyze games. We can say that…
Western Province needs a clear definition of regional goals.
Workshops for teacher training
Methods of identifying talent and nurturing it strong chess players
Leadership & management that is willing to take the necessary steps with making the region competitive with the rest of the country.
TIMES IN THE TOWNSHIPS
I see a teacher as being a soldier or someone who willing to take risks to stand up for his/her convictions. My conviction is that chess is a life skill and I am willing to take that philosophy to at risk youth in all parts of the world. Learning to read is academic; reading to learn is a life skill. What to think is academic, how to think is a life skill. My primary function is as a skilled laborer teaching young minds to focus and giving the blueprint of disciplinary thinking through chess. In the process of mastering these skills our young people will gain success by winning games, trophies and championships. Their success will breed confidence where they will become, as Abraham Maslow would say, 'self-actualized' human beings. It is at this moment whether they are living in a ghetto or township that they cease to be a victim. Achievement in chess requires that you are not passive or accepting of your environment but in fact you are a co-creator who can actively take steps to produce a more positive outcome. Chess as a tool of empowerment by the means of becoming conscious of your own abilities is at the core of my mission in Guguletu or any place else in the world.
Growing up in the inner city and a broken home I mostly learned chess through an autodidactic process. There were few teachers and community role models at the master level who I could dialogue with about the game. A tertiary effect of being in the township is the role modeling as an African American chess master in these townships. In crude analogy young people there need to know that the Black pieces can win. David MacEnulty has mentioned that part of my formula is making young people believe that they can do what I can do. Thus, the teacher just doesn't pour things into to you but draws things out believing that there already there.
Finally, the journey is its own medicine. Through the process of learning chess our young people will learn to internalize these strategic lessons. It's okay to lose it is not okay to lose the same way again. Wisdom is not the absence of error it is the absence of the same error. Young minds will become more conscious of shallow ways of thinking and will begin to auto-correct their mistakes. It is here that we can say that chess is not the hero that saves you it is the hero who teaches you save yourself.
PERSONAL NOTES
In conclusion, it has been an amazing 30 days in South Africa. Cape Town locals have been wonderful hosts and many of them have driven me around to different parts of the country. On Christmas Eve I spent the day with Deon Foster's family. On New Year's Eve another family invited me for dinner. Others in the city have asked me to come to the beaches and to enjoy nightlife… it's hard in Africa!
Looking forward to 2011 I have two personal goals for the year. The first is to ride in the 100-kilometer bike race in Cape Town. I've already started training. Secondly, is to climb mount Kilimanjaro in Kenya. Several new made friends are considering this trip, which is organized by a tour and vacation company in June when school is out for three weeks. Such a trip is not only symbolic of a personal accomplishment but the partaking of a spiritual journey.