---
Former State Trooper Says Chess -- Not Sports ---
is the Way out of the 'Hood

Many inner city youths spend hours playing basketball and football hoping that they'll make it to the NBA or NFL. While involvement in sports is healthy, Orrin C. Hudson will tell your audience that their chances of achieving athletic stardom are slim to none -- so kids would be better off playing chess, where they'll learn strategy, character, patience and so much more.

Hudson, a motivational speaker and former Alabama state trooper, recommends that all children play chess in order to be more successful. The two-time citywide chess champion can discuss:
How he once beat a Russian international master in 18 moves.

How he coached elementary students to beat high school students at chess and took a last place team to three straight chess championships.

His Be Someone program that has been featured nationally on CNN American Stories, CNN Headline News, Court TV and Sky Angel Network.

His own experiences of growing up in the projects as one of 13 children.
CREDENTIALS: Orrin C. Hudson is the recipient of numerous awards including the 2004 Martin Luther King, Jr. Award, 2004 Beacon of Hope Award, and 2004 TBS Superstation Pathfinder Award for education. He is the co-author of the # 1 best-seller, Wake-Up and Live the Life You Love, and the author of the new book, ONE MOVE AT A TIME. Visit his Web site at "http://www.besomeone.org/"
Georgia, nationwide by arrangement and via telephone CONTACT: Orrin C. Hudson, 1-888-227-1507 (toll free) or (770) 484-1887 (GA);
orrin@besomeone.org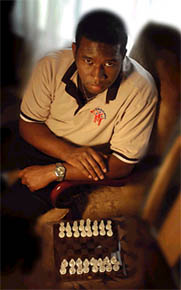 Orrin C. Hudson
---